At the moment, gold seems to correlate positively with the stock market most of the time, a sign that it is probably driven by the same liquidity-related considerations.
When we last wrote about gold we noted that the rally looked good to us from an e-wave perspective because it consisted of clearly discernible impulse waves at every degree of trend. Alas, we also pointed out that gold looked short term overbought and it was probably time for a correction – only, the correction was a lot more violent than we expected, as gold fell by nearly $100 in a single day in short order.
If one looks closely at the correction however, it appears it was so far a fairly routine 50% retracement of the rally from the December low: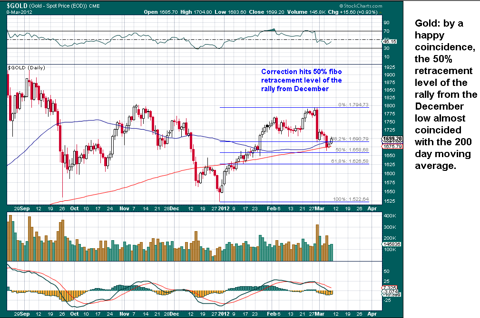 In the recent downturn, gold has hit the 50% retracement level of the rally from December to late February as well as the 200 day moving average.
It is of course too early to say whether there is going to be another down leg in this correction or if it already finished. We suspect that once the stock market turns down gold will at least initially go down with it. It will however also be the first asset to react positively if more hints of additional monetary easing measures begin to emerge. From both a fundamental and sentiment point of view, we believe gold to be a much better buy than stocks here.
As an aside to this, it is also noteworthy how disinterested/bearish people are on gold stocks nowadays. Consider the two charts below as an example of a quite strange dichotomy: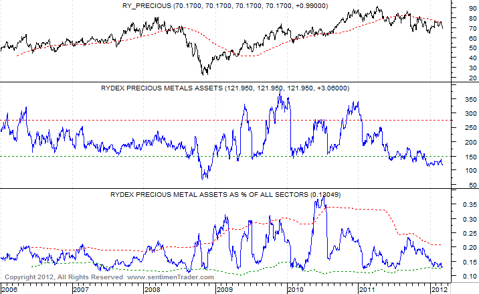 Rydex precious metals fund assets: people haven't been this bearish on gold stocks in a long time.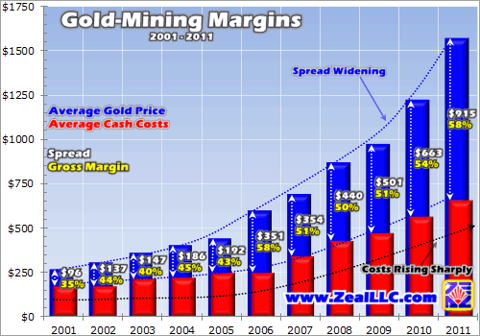 Gold mining profit margins, via Scott Wright of Zeal: while people are bearish on gold stocks, their profit margins are at a new record high.
This strikes us quite odd – market participants are evidently more disinterested in gold stocks than at any time in recent years since the 2008 crash. However, at the same time, gold miners enjoy the biggest profit margins in history.
Either these profit margins are in danger of disappearing – which is of course always possible – or market participants are dead wrong about the sector, which per experience is somewhat more likely.