If you were to fly to Toronto tomorrow and drive almost anywhere within Ontario, you would see a few of the 149 Chartwell (OTC:CWSRF) managed retirement homes.
I have been watching this company for just under a decade now. The reason that I have been watching as opposed to heavily investing in this business, is because I couldn't wrap my head around the balance sheet. I simply couldn't put money into a company that doesn't make money. Furthermore, I like to think of myself as a value investor who seeks to purchase companies at reasonable book valuations.
This chart shows the history of Chartwell Seniors Housing REIT vs. the percentage performance of the S&P TSX:

The fact that Chartwell lost about .45 cents last year still bothers me, but not as much as it used to. I would rather see management spend money and fund future properties, while paying roughly a 6% annual dividend, than sit on a pile of cash. The growth that I have seen with my own eyes, while paying a dividend, combined with consistently maintaining high occupancy rates are the reasons why I am now turning bullish on this stock.
The reason I am going to purchase more of this stock is because I have realized that every dollar management has spent must have been wise as Chartwell properties are mainly located across Ontario and the rest of Canada, with a small American operation.
Retirement homes are not cheap to stay in. The prices range depending on the type of service being provided. The list ranges from nursing homes to active adult retirement communities. The cost of a room is in the thousands of dollars. The prices residences pay in Ontario where the majority of Chartwell's properties are located go up to $7500 per month.
Chartwell has positioned itself in the Ontario market as a leader in the seniors' retirement housing industry. I am not sure of their exact market share but it is substantial. Chartwell has grown its assets by both building and acquiring seniors' homes. Chartwell has exposure to the US market with 15 properties south of the border.
When one considers the economics of Chartwell's industry demographic, the figures look promising. The baby-boomers are just starting to enter the beginning stages of an age where a significant portion will seek alternative living arrangements in the form of retirement or nursing homes.
Over the next 10 years the population of elderly people will grow. Currently about 16% of the Canadian population is over the age of 65. With a Canadian population (as of July 2012) of 34,300,083 there are 5,488,013 Canadians over the age of 65. The elasticity of demand in the seniors retirement industry is inelastic. This means that the level of demand for seniors homes doesn't have wide variances of change due to price changes for rooms. If Chartwell raises their prices the seniors aren't buying (living) across the street. They are fairly committed, happy, and used to their environments in my opinion. I would argue that the seniors are probably not going to undertake a move at this stage of their lives over higher costs. Thus the demand is very stable and inelastic. You have stable growing demand that isn't easily affected by a change in price. This gives Chartwell the ability to raise prices and not experience a loss of occupancy.
There are significant barriers to entry into the seniors' retirement housing market. Unlike the hotel business where money can buy the land and buildings, operating nursing homes requires skill, specialization, and expertise. Furthermore the brand, history, and reputation of the retirement home are critical to success. Chartwell has established itself as a major player in the Ontario market.
Five years ago there were some Chartwell properties on the road, but nothing compared to what you see now. Chartwell builds fast, fills the building up faster, and has demonstrated high consistent occupancy rates over the last seven years.
People are living longer, want high quality of retirement life and Chartwell is like sleepover camp for retired people. The only difference is that they don't leave, and pay their life savings to stay. All of the analysts according to TMX.com have a positive outlook on the company, shown here: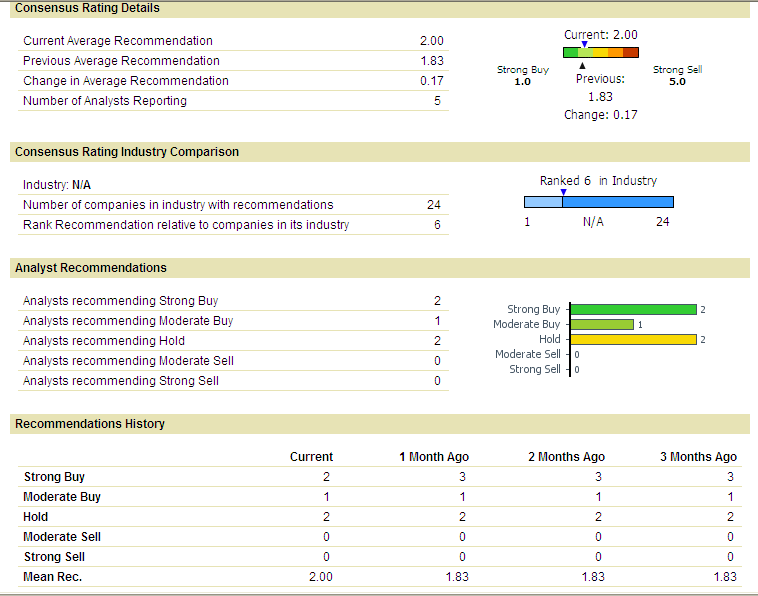 I am looking at good long term investments. Other than the inevitable depreciation of the USD, and investing in below book value gold stocks, the seniors retirement housing industry is a stable industry and I am happy to hold this stock for the next 20 years and get paid a nice dividend to wait.
Disclosure: I have no positions in any stocks mentioned, and no plans to initiate any positions within the next 72 hours.