When it comes to choosing an ETF for buying gold miners, investors are faced with a choice between two funds: Market Vectors Gold Miners Index ETF (NYSEARCA:GDX) and Market Vectors Junior Gold Miners ETF (NYSEARCA:GDXJ). While there are other gold miner plays such as Global X Pure Gold Miners ETF (NYSEARCA:GGGG), and SPDR S&P Metals & Mining ETF (NYSEARCA:XME), the largest and most direct plays are GDX and GDXJ.
Size and Liquidity
Both GDX & GDXJ are large and liquid. GDX has a market cap of $8.4 billion while GDXJ has a market cap of $2.2 billion. GDX has a 10-day average trading volume of 15 million shares while GDXJ has a 10-day average trading volume of 3 million shares. Investors can buy either GDX or GDXJ without fear of a possible lack of liquidity when entering or exiting a position.
Holdings
GDX top 10 holdings (31 total holdings):
GDXJ top 10 holdings (81 total holdings):
Alamos Gold Inc.: 4.85%
Silvercorp Metals Inc. (SVM): 2.91%
Minefinders, Ltd. (MFN): 2.87%
Perseus Mining Limited : 2.83%
B2Gold Corp.: 2.58%
Medusa Mining Ltd.: 2.50%
Banro Corporation 2.43%
Dundee Precious Metals Inc. : 2.31%
Kingsgate Consolidated Limited (KCN): 2.21%
Kirkland Lake Gold Inc: 2.16%
The major take away from the comparison of the top holdings is that GDX is a play on the largest gold miners while GDXJ is a play on smaller gold miners. GDX is also much more concentrated because it holds just 31 miners compared to the 81 miners held by GDXJ.
I believe the increased concentration of the top holdings in GDX presents a risk than GDXJ does not face. The top three holdings of GDX make up 38.75% of the fund. This compares to GDXJ where the top three holdings make up just 10.63%. While the miners that GDX holds are much larger companies, it does not mean that they are immune from major downside risks. Take for example, Agnico Eagle Mines Ltd (NYSE:AEM), a large-cap gold miner with a market cap of $6.2 billion. Shares of AEM are down nearly 50% over the past 6 months. Water inflows and rock instability at the Meadowbank gold mine forced the company to report a loss for Q4 2011 and to take a $644 million write down.
6-month chart: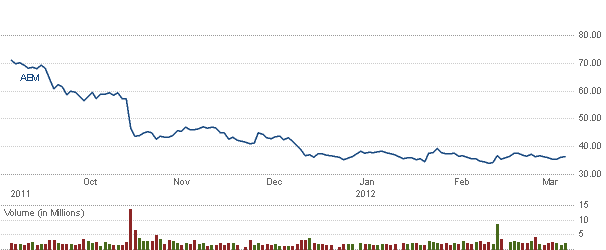 Souce: CNBC
Charts
The chart below (click to enlarge images) shows the physical gold bullion ETF, SPDR Gold Shares Trust (NYSEARCA:GLD) (blue), GDX (orange), and GDXJ (green).
1-year chart:
Source: CNBC
As you can see, GDXJ has lagged far behind both GLD and GDX. This under-performance presents investors with a chance to pick up GDXJ while it is unloved.
Takeovers
GDXJ is poised to benefit from increased merger activity in the mining sector because it owns the small mining companies that will be targets of larger mining companies. In late 2011, BlackRock, the world's largest money manager, told Bloomberg that it expects "massive" mining industry consolidation. Some recent takeovers include AEM's C$ 275 million takeover of Grayd Resource Corp, and ABX's C$ 7.4 billion takeover of Equinox Mineral Ltd. Jaguar Mining Inc (NYSE:JAG) has also recently announced that it is putting itself up for sale.
Conclusion
GDXJ is a better gold mining investment than GDX.
Disclosure: I have no positions in any stocks mentioned, and no plans to initiate any positions within the next 72 hours.