3M Company (MMM) is one of the best well-diversified manufacturing companies in the world. With over 65% of its revenue coming from outside the United States, it has six different business segments: Healthcare 18% sales; Industrial Transportation 30%; Consumer & Office 15%; Display & Graphics 15%; Electro & Communications 10%; Safety & Security Protection 13%. As one can see, it is well diversified and balanced.
One of the positive things 3M has going for it is its multi-national appeal. While growing emerging markets like China, Russia, India, and the Middle East continue to grow their economies at a faster rate than the developed nations, more nationals are interested in 3M's disposable goods. This is expected to forecast continued sales growth at double digit levels. With the North American economies picking up this is also good news at home for the company.
With amazing products, it will continue to be in demand by consumers. Some examples of 3M products:
3M Scotch-Weld Instant Adhesive set a world record for the heaviest weight lifted with glue when it held a 8.1 ton forklift in the air for an hour.
It recently introduced a new Adhesive Remover- Renew. This is considered environmentally friendly because it is made with 60% renewable materials. It can easily replace many chlorinated or petroleum based solvents now on the market.
If the market continues to move like it does, there is a good chance that 3M will slow down because money may move toward growth stocks. Now 3M is a solid growth company and a dependable dividend company, but investors may be looking for aggressive growth as opposed to steady slower long term growth. At the same time, as the dollar increases in strength this could slow down some sales abroad for exported products like in Healthcare.
Presently, on a long chart, 3M is still very bullish and that is good for the long term investor. We are also interested in capturing short term opportunity in the stock as well as long term investing. It looks like the stock is either topping out at about 88.6 as it has pulled back. It is either consolidating from its recent high before it moves up or we may see the beginning of a trade zone for a period of time.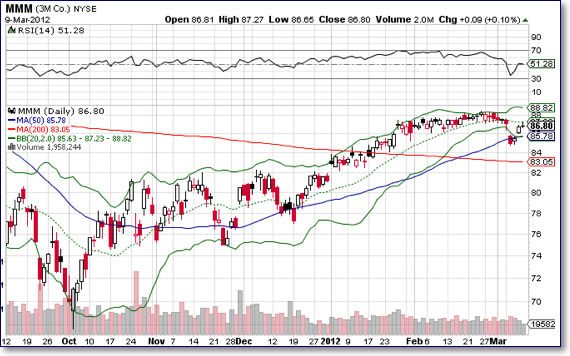 Since analysts have slightly moved their positions on the stock to hold, and it appears the strength is not yet there to capture an upward move, we are going to attempt to capture a profit on a pull back. Recently, when the stock had traded in a zone, it had a peak and valley formation with about 4 points between. For this reason, we are looking at capturing a drop in the stock just OTM.
The Option Play
We are looking at a Bear Put Spread with about 6 months time decay insurance.
Buy an October 2012 '85' put option (priced at $5.60)
Sell an October 2012 '82.5' put option (priced at $4.50)
Net debit to start: $1.10
Maximum Profit: $1.40
Reasoning behind the Trade
3M has a solid foundation at 82 and this is well within the 4 point spread from the last trading zone 3M was in. With analysts quietly preaching 'hold' and compared to buy, we see the stock leveling off. Weakness in the bullish trend is evident but we are not so much bearish on the stock as we are seeing it consolidate and move sideways for a season. This is what we would like to capitalize upon.