As a value investor, Intel Corporation (INTC) is one of my favorite stocks. For the past six weeks, it's traded within a narrow band between $26.50 and $27.00 a share. Furthermore, the consensus 2012 EPS of $2.44 is only a nickel better than last year's blowout numbers.
Meanwhile, the share price has had a good run, climbing from $19 last August.
Intel Corporation: One-Year Price Chart and Volume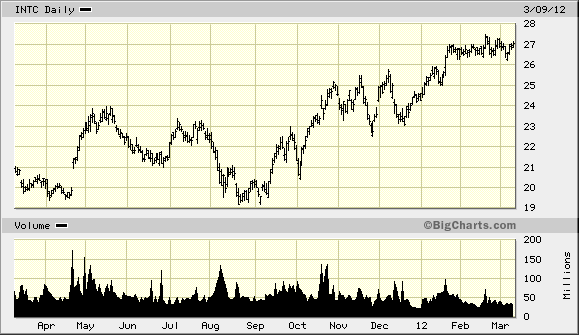 Has Intel stock become wrung out, or are we consolidating? Recently, I refreshed my homework on the company to determine if the investment thesis remains intact.
Let's walk through my previous investment thesis, the current fundamentals, and review the charts. Then I'll offer my valuation opinion and amend the reasons for owning the stock as appropriate.
Previous Investment Thesis
"Investors have been slow to recognize Intel's potential as it has transitioned from a dot-com growth story to a value stock. INTC possesses a fortress balance sheet, outstanding cash flow, and a consistently strong income statement."
"Indeed, the business storyline continues to build forward momentum, despite the Street's disdain for the stock. Many analysts and investors have missed two key data points:
A significant portion of company revenues have been driven by emerging markets. These markets have been underestimated by marketing outfits that forecast future PC sales growth.
Intel's overall business growth is not limited by global PC demand. The company has and will continue to leverage their leadership position into new products and markets."
The Fundamentals
Benjamin Graham would be proud of Intel Corporation's balance sheet. The debt-to-equity and debt-to-capital ratios are 16 and 13 percent, respectively. Intel holds nearly $3 a share, or $15 billion, in cash and short-term investments. The current ratio is 2.2. Long-term debt in 2011 rose from previous levels, but this was due to acquisitions and bond issuance that leveraged the company's strong debt rating to attract historically low interest rates.
The Equity-to-Assets ratio is 64 percent: Professor Graham noted a figure north of 50 percent is a confirmation signal of a strong balance sheet.
Notably, the number of shares have dropped significantly due to aggressive share buybacks.
| | |
| --- | --- |
| Year-Ending | INTC shares out. |
| 2007 | 5.8 billion |
| 2010 | 5.5 billion |
| 2011 | 5.0 billion |
Meanwhile, the company is a cash machine.
The Price-to-Cash Flow ratio is 6.4; a multiple below 10X is excellent. Intel spun off $2.04 per share FCF (Free Cash Flow) in 2011.
Dividends have grown at an annualized 14 percent clip over the past five years. Company management has recommended the board target approximately 40 percent of FCF to cash dividends. The 2011 payout was spot-on the marker. The current yield of 3.1 percent is generous and secure.
A strong 4Q 2011 iced another outstanding year for Intel. Gross margins have remained high for several years running. Margins were 63.6 percent for 2011, down a bit from a torrid 65.5 figure in 2010. However, the fourth quarter 2011 gross margin was back up to 65.5 percent. Management forecast 2012 midpoint gross margins at 64 percent.
Other Valuation Metrics
The P/E ratio is a modest 11.2X. However, some other valuation metrics re-affirm the continued strength of the enterprise.
The Return-on-Capital Employed (EBIT / Total Assets less Current Liabilities) is 30 percent. This figure demonstrates management is ensuring a premium return on investment. Furthermore, the EBIT / Enterprise Value of 14.4 percent confirms that the underlying market valuation has not become too rich. I consider a ratio greater than 10 percent quite acceptable.
I also like to check the ratio of capital expenditures to operating cash flow. Premier companies dedicate less than half their cash flow to capex. Last year, Intel's 51 percent ratio is on track. It should be noted that the company registered unusually high capex charges in 2011, partly due to a short-term tax code provision that permitted one-year expensing of what would normally be depreciable spend.
Bottom Line: Intel is hitting on all cylinders.
Forward EPS and Price Targets
The 2012 Street consensus EPS is $2.44 a share. I come up with a higher figure: Intel management provides investors fairly detailed guidance on their conference calls. Using generally midpoint range inputs, my simple model offers a $2.69 EPS forecast. I am encouraged by a higher estimate by management's penchant for beating the Street. Intel Corporation has done so in eight of the last ten quarters.
Up against last year's $2.39 EPS, analysts expect this year to be somewhat flat. This affords an opportunity for the long-term investor. I will pick at the shares upon overall market weakness. I suspect that Warren Buffett did precisely that when he opened a position on Intel shares: historically Mr. Buffett has avoided tech companies. However, I believe that Intel represents not only a high tech best-of-breed chip manufacturer, but an industrial powerhouse in a long-term secular uptrend.
Placing an 11.5X multiple on the 2012 consensus EPS indicates a price target of $28. Not much upside. However, using that P / E on my $2.69 earning premise yields a $31 stock. That offers the investor a potential 15 percent share boost, if he/she bought today, coupled with the 3 percent dividend kicker. Frankly, I believe that Intel shares should trade at a higher P / E multiple than most regulated utilities, but I'll leave this discussion for another time. I'll simply suggest that there is not a great deal of P / E compression downside.
The Technical Charts
Going back in May 2011, I identified that Intel cracked a seven-year down channel, whereas the stock had been making lower highs and lower lows. Using the ten-year monthly chart, I premised that once the stock broke through the $21.50 level (the top of the channel), it could continue to rise. Indeed, once this happened, the stock has been on a up-cycle, outpacking the S&P 500. I believe the chart has simply confirmed the fundamentals. Please note the associated On Balance Volume technical study reaffirmed the "big guys" were starting to buy back as far as 2006.
Intel Corporation: Ten-Year Monthly chart and OBV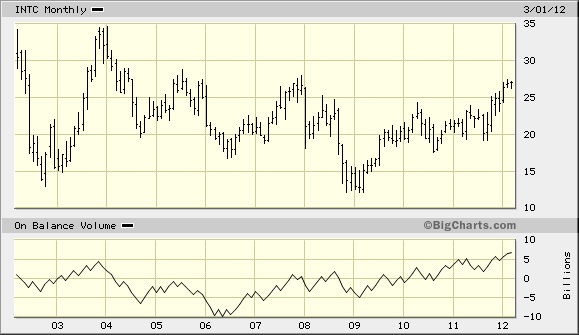 It should be pointed out that the short-term, one-year daily chart appears to reflect a pause in investor sentiment. The MACD is actually negative. This may provide an opportunity for a healthy pullback and chance to enter or add to share holdings, assuming one subscribes to the long term investment thesis.
Amended 2012 Investment Thesis
"Investors have noticed Intel Corporation's share value. While improved, the shares remain undervalued. Rapid earnings (five-year 23 percent annual growth rate) and cash dividend (five-year 14 percent growth rate) uplifts have kept the intrinsic value ahead of the market."

"The balance sheet and cash flow statements are pristine."

"Fiscal Year 2012 will see growth abate from the previous EPS growth rates, but it is simply "a pause that refreshes," in a multi-year secular business uptrend. A reasonable 2012 price target is $31 a share, plus dividends."
I will buy additional Intel shares on overall market pullbacks, seeking a $25 opt-in target via direct purchase or through selling cash-secured puts.
Additional Commentary
Analysts have begun to appreciate the depth of Intel's penetration into the EM chip markets, as well as their dominance in the gangbusters server chip ("cloud computing") markets.
Nonetheless, INTC continues to provide tech leadership and innovation in ancillary new businesses.
For instance, on March 6, Intel management introduced the Xeon ES processor family. These new devices can encrypt / decrypt data at a rate far faster than any previous commercial chips, making dragnet data coding possible, even for larger servers. The company recognized that "cloud" computing security is paramount issue. The Xeon chips integrate security right into the hardware itself. Indeed, the value of the McAfee buyout has begun to evidence itself.
Disclosure: I am long INTC.