Republic Services Inc (RSG) is the third largest trash removal company in the U.S., with its chief competitor being Waste Management (WM). Its marketing strategy has been successful as it has focused on working in population growth centers, establishing trash pickup and disposable strongholds in these areas. As would be expected, three-fourths of its revenue comes from trash collections.
I'm not sure if it is due to slow economic recovery, but RSG showed growth last quarter as well as last year. For the quarter, 1.5% growth manifested and cash flow for the year ended up being $909 million, which was above expectations. These are good signs for a company influenced by economic conditions. Consumer spending and consumption has a direction effect upon the amount of waste and recycled material a company like Republic Services takes in.
This company will forever be a good investment for dividend investors. Coming in at 3%, it is well below its rival Waste Management at 3.8%. But the stock has been dependable and consistent. Very quietly, analysts have gravitated toward 'hold' on the stock. JP Morgan downgraded the stock in mid January to neutral/hold. They are no longer interested in value growth as they also lowered their one year projections from 35.50 to 31.00.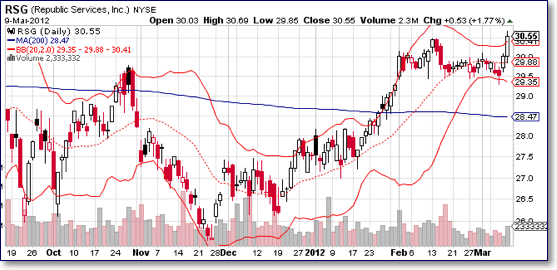 With this in mind, we expect the stock to continue as it has long term. For the last two years, RSG has been moving between a trading zone (24-32). For the first year and a half, it was slightly bullish. Since mid 2011 it has been slanting ever so slightly to the bearish side where it sits now. It is presently at the top of that zone, and we expect it to move down now. With this in mind, it is possible to capture a profit on the move down.
We would recommend a straight options buy outright with a stop loss on the play. Look into buying the July 2012 '30' put option (priced at $1.80). Set your stop loss to whatever you feel comfortable at. Buying out in July gives us a little time if the stock continues sideways before moving down. Another play to consider if you have done your research and are convinced the stock is moving down would be the April option with the same strike price. There is less time but the risk is only $0.70. Depending on your outlook, either play can be executed. It depends upon outlook after your research.