New York-based hedge fund Tiger Global Management, founded in 2001 by Tiger cub Chase Coleman, manages $5.7 billion in assets, per its latest SEC 13-F Q4 filing, up from $5.1 billion in 13-F assets at the end of Q3 and $3.7 billion at the end of 2010. Coleman, like fellow hedge fund veterans Stephen Mandel at Lone Pine Capital LLC, John Griffin at Blue Ridge Capital Holdings LLC and Lee Ainslie at Maverick Capital, is a Tiger Cub, meaning that he honed his investment skills while working for legendary hedge fund manager Julian Robertson at Tiger Management LLC. Also, as an interesting tidbit, Mr. Coleman is a direct descendant of Peter Stuyvesant, the last Dutch governor of New York and a major figure in the early history of New York City, who was responsible for the building of the 12-foot wall fortification that gave the district the "Wall Street" name.
Tiger Global runs a long/short equity fund, focusing mostly on the technology, consumer and industrial sectors. At a 45% return, it was the best performing hedge fund in 2011, well above the 0% return for the S&P 500 index and negative returns for the average hedge fund in 2011. Long-term, Tiger Global has returned well over 20% compounded annual returns since inception in 2001, including a 47% average annual return from 2001-07. About two-thirds of Tiger Global's assets are deployed in large-caps, another 20% in mid-caps and the remaining 10%-15% is invested in small-cap equities.
We analyzed Tiger Global's equity holdings in its Q4 13-F to determine its highest conviction bets, selecting the largest buys and sells in size, where the buy/sell is also a significant proportion of its prior quarter position in that company. Based on that analysis, the following are its high conviction bullish positions, that are also trading at a discount to the peers in their group (see Table):
Priceline.com Inc. (NASDAQ:PCLN): PCLN, the pioneer of name-your-own price service, is a diversified online travel services company. It provides airline ticket, hotel room, car rental, vacation package, and cruise services through Priceline.com. At $789 million, including $492 million added in Q4, this is Tiger Global's largest buy and also the second largest position at the end of Q4. Other major institutional investors with large bullish bets on PCLN in Q4 include hedge fund guru Stephen Mandel's Lone Pine Capital adding 0.8 million shares to its 0.7 million share prior quarter position, and also hedge fund guru Andreas Halvorsen's Viking Global adding 0.3 million shares to its 0.3 million share prior quarter position.
PCLN has been one of the strongest performers of the last few years, up an astounding 25-fold plus in the last six years, including being up 38% YTD in 2012. Earnings growth has kept pace with the rise in the stock price, up from $1.37 in 2005 to $23.45 in 2011 and a projected $38.26 in 2013. Thus, despite the huge run-up, the stock still trades at an attractive 17-18 forward P/E and 12.6 P/B compared to averages of 70.5 and 5.4 respectively for its peers in the Internet commerce group. While shares are a bit extended technically with the sharp rally this year, we would look at any pullback in this premium company as an opportunity to buy.
Google Inc. (NASDAQ:GOOG): GOOG is the Internet's premier search engine. Tiger Global added $397 million in Q4, its second largest buy, to its $39 million prior quarter position. Other major institutional investors with large bullish bets on GOOG in Q4 include UBS adding 0.9 million shares to its 0.6 million share prior quarter position, and health care and technology-focused hedge fund Columbus Circle Investors adding a new 0.3 million share position.
GOOG currently trades within striking distance of its all-time highs, and at 12 forward P/E and 3.3 P/B, a discount compared to averages of 17 and 1.6 for its closes peer Yahoo! Inc. (NASDAQ:YHOO), while earnings are projected to grow at a stellar (for a company this size) 17.3% annual rate from $36.06 in 2011 to $49.62 in 2013 compared to the sub-10% annual earnings growth rate for YHOO.
Furthermore, the current P/E also represents a steep discount to its growth rate. We believe that the stock is likely to dip back to the mid-$500s, and we would take advantage of that and buy on dips. The stock has been an excellent long-term performer, up almost six-fold since its IPO in 2004. It is likely that it will continue outperforming the market going forward.
C & J Energy Services (NYSE:CJES): CJES provides hydraulic fracturing and coiled tubing services, with a focus on complex, technically demanding well completions, to the large exploration and production companies with unconventional resource positions. Tiger Global added a new $25 million position in Q4, making it the second largest institutional holder of CJES. Other major institutional investors with large bullish bets on CJES in Q4 include Lord Abbett & Co. adding 2.4 million shares to its 1.0 million share prior quarter position, and small-cap mutual fund guru Chuck Royce of Royce & Associates adding a new 0.5 million share position. CJES shares trade at a current 6.1 P/E and 2.5 P/B compared to averages of 17.7 and 1.5 for its peers in the oil field services group.
Other high conviction buys by Tiger Global in Q4 include (see Table):
Baidu Inc. (NASDAQ:BIDU), often touted as the Google of China, a leading Chinese provider of internet search, targeted online advertising and other internet content services, in which it added $78 million to its $252 million prior quarter position; and
Michael Kors Holdings Ltd. (NYSE:KORS), a luxury lifestyle brand that markets accessories, footwear and apparel in 74 countries via a global distribution network that includes company-operated retail stores, leading department stores, specialty stores and select licensing partners, in which it added a new $16 million position.
The following are Tiger Global's high conviction bearish picks based on their Q4 selling activity (see Table):
Table
click to enlarge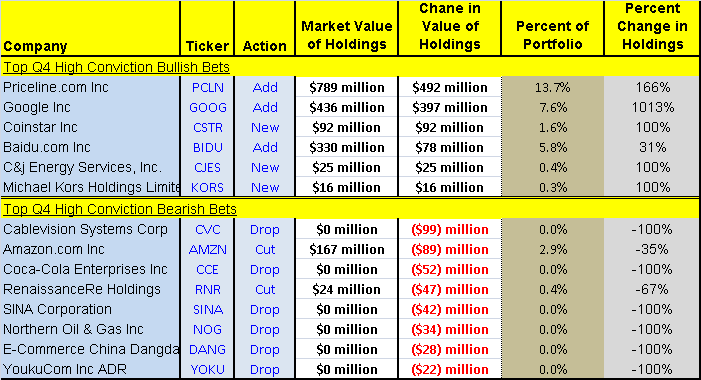 Click to enlarge
Credit: Historical fundamentals including operating metrics and stock ownership information were derived using SEC filings data, Zacks Investment Research, Thomson Reuters and Briefing.com. The information and data is believed to be accurate, but no guarantees or representations are made.
Disclosure: I have no positions in any stocks mentioned, and no plans to initiate any positions within the next 72 hours.
Disclaimer: Material presented here is for informational purposes only. Nothing in this article should be taken as a solicitation to purchase or sell securities. Before buying or selling any stock you should do your own research and reach your own conclusion. Further, these are our 'opinions' and we may be wrong. We may have positions in securities mentioned in this article. You should take this into consideration before acting on any advice given in this article. If this makes you uncomfortable, then do not listen to our thoughts and opinions. The contents of this article do not take into consideration your individual investment objectives so consult with your own financial adviser before making an investment decision. Investing includes certain risks including loss of principal.