Navistar (NYSE:NAV) makes commercial trucks, buses, step-vans, diesel engines and chassis for motor homes. Otherwise, the company focuses on the large motor vehicle sector.
This stock provides one of the most compelling valuations in the market today, if the company can hit financial goals. That remains a big 'IF' for this company considering the recent disaster of a Q1'12 reported just last week.
Hence the question on whether the stock is cheap enough to buy considering the constant inability to hit targets. The last 4 quarters have seen 3 profits misses all by at least $.15. These misses have caused 2013 earnings estimates to plunge from $8.13 only 90 days ago to $6.52 now. The most pessimistic analyst is already down at $5 showing a growing distrust with the ability to hit targets.
Stocks typically aren't cheap enough when the earnings estimates continually drop. Will Navistar prove to be any different?
Competition
Below, Figure 1 highlights the valuations of some competitors in the general heavy-duty truck and engine sector. Cummins (NYSE:CMI) is the worldwide leading engine producer while Oshkosh (NYSE:OSK) and PACCAR (NASDAQ:PCAR) manufacture heavy-duty trucks.
Just using basic measures like Price to Sales and Price to Earnings, Navistar is the cheapest in the group. Unfortunately the company has earned that distinction based on numerous earning warnings.
Figure 1: Truck/Engine Competitor 2012 Multiples
| | | |
| --- | --- | --- |
| Company | 2012 Price/Sales | 2012 Price/Earnings |
| Navistar | 0.17 | 8.5 |
| Cummins | 1.12 | 11.5 |
| Oshkosh | 0.27 | 14.6 |
| PACCAR | 0.97 | 13.7 |
| | | |
Q1'12 Earnings Highlights
Reported a loss of $153 million, or $2.19 per diluted share, for the first quarter ended January 31, 2012, which included a charge for pre-existing warranty expense of $112 million related to legacy and initial-built 2010 engines.
Consolidated net sales and revenues rose 11 percent in the first quarter of 2012, versus the year-ago first quarter, which is driven by increased truck volumes in traditional and worldwide markets. In the year-ago first quarter, Navistar reported sales and revenues of $2.7 billion.
Additionally, at its analyst day February 1, the company said it expected a first quarter 2012 loss due to a series of factors, including higher year-over-year healthcare costs; the start up of a new foundry operation; a brake supplier issue that interrupted truck shipments; the temporary shutdown of a key OEM customer of its South America operations due to the Thailand floods; and efforts to improve customers' vehicles during a traditionally slow period.
Most notably, revenue increased in all segments yet earnings declined further pointing out the issue with cost containment.
2012 Forecasts
Updated its guidance for adjusted net income attributable to Navistar International Corporation for fiscal year ending October 31, 2012, to be between $295 and $365 million, or $4.25 to $5.25 adjusted diluted earnings per share.
This expectation also includes the absorption of approximately $90 million in higher post retirement health care costs compared to last year.
An effective tax rate of 25 to 30 percent with cash taxes expected to be below 10 percent.
North America truck demand will increase 5 to 18 percent in the fiscal year ending October 31, 2012, to a range of 275,000 to 310,000.
Chart
The chart remains interesting as the stock has several layers of support right below the current price. The chart also highlights where the stock can go when the company delivers better results. The stock peaked at over $70 less than a year ago.
Figure 2: NAV 18 month Chart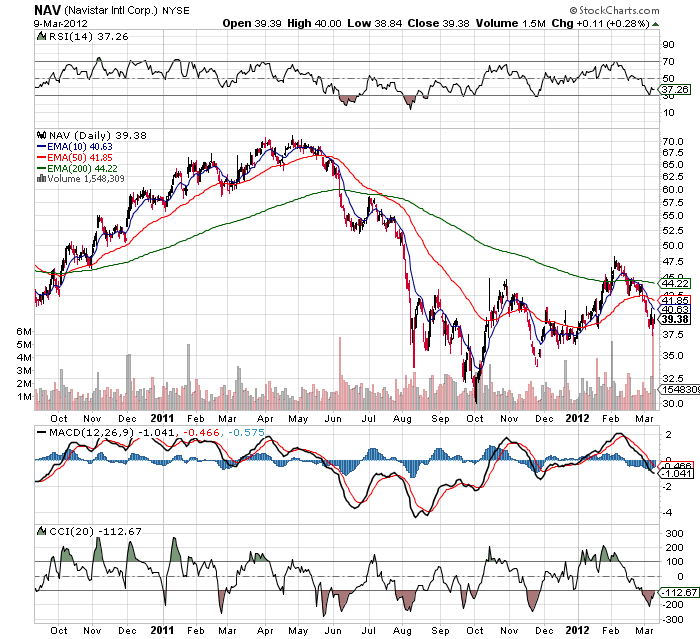 Conclusion
Navistar warrants further research as the truck and engine sector remains in a global bull market. This stock also provides the best potential for upside, but the company probably needs to show the ability to generate beyond forecasted results. Until then, the stock will always remain at risk of further downside.
Disclosure: I have no positions in any stocks mentioned, and no plans to initiate any positions within the next 72 hours.
Disclaimer: All data sourced from Yahoo! Finance. Please consult your financial advisor before making any investment decisions.