"A man lives by believing something; not be debating and arguing about many things." - Thomas Carlyle
I continue to be amazed at this continuous focus on the lack of "confirmation" in the Transports relative to the Industrials as an excuse to be bearish on markets. Conditions continue to favor reflation, and Transports have been weak as broader markets have rallied. For those unfamiliar, the often cited Dow Theory argues that unless Transportation stocks rally in a way that confirms Industrials, the current trend is suspect. The idea effectively is that since Transports move things and Industrials make things, any kind of "disconnect" is a warning sign.
The interesting thing about the news is that its not new, and that often when things are pointed out it is near the end of the move anyway. Take a look below at the price ratio of the iShares Dow Jones Transportation Average Index (NYSEARCA:IYT) relative to the Dow Jones Industrial Average (NYSEARCA:DIA). As a reminder, a rising price ratio means the numerator/IYT is outperforming (up more/down less) the denominator/DIA.
click to enlarge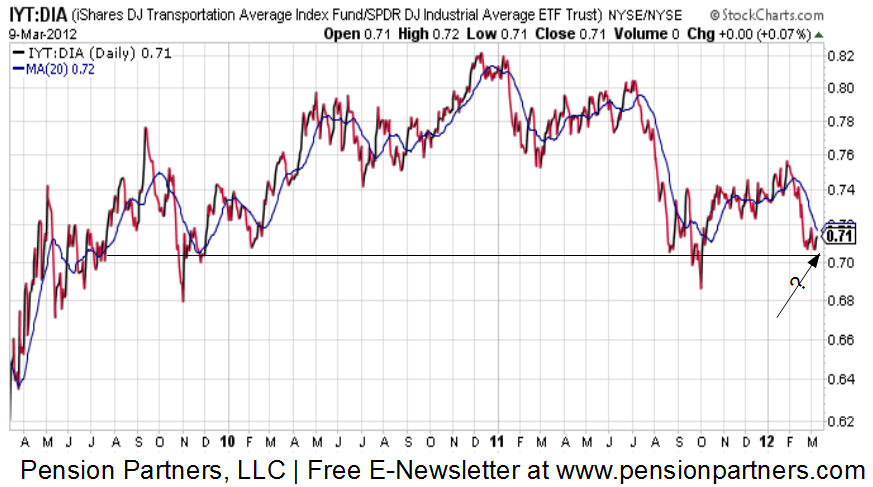 Click to enlarge
I've drawn the resistance line to show that we may actually be near the end of weakness in Transports, where a reversal may be in the cards and leadership resumes. If markets were going to correct based on this alone, it should have already happened. The decline may simply have been a false signal. Either way, given the possibility of strength returning shortly, shouldn't those focused on this now suddenly get more bullish?
Disclosure: I have no positions in any stocks mentioned, and no plans to initiate any positions within the next 72 hours.