Last week, precious metals markets remained quite volatile as prices for gold and silver made big moves up and down over relatively short periods of time, plunging on Tuesday with most other asset classes and then rising after new talk of Fed money printing, only to plummet again on Friday within minutes after the release of the monthly labor report before rebounding again.
Oddly, in the end prices ended up not far from where they began the week as gold rose 0.1 percent, from $1,711.00 an ounce to $1,713.50, and the silver price fell 1.1 percent, from $34.73 an ounce to $34.32. Gold is now up 9.4 percent for the year, but down 10.9 percent from its high last year, and the silver price has gained 23.2 percent so far in 2012, now down 30.1 percent from its peak last spring.
On Tuesday, the gold price fell more than two percent in heavy trading, breaching the important 200-day moving average for the first time since January on new fears of a messy Greek debt default, however, lower prices spurred more physical buying and futures markets quickly rebounded. Silver also sold off, falling more than three percent on Tuesday to under $32.50 an ounce before reversing course.
As has been the case so many times over the last few years, since metal prices began rising sharply earlier in the year, physical demand has waned, however, after the recent sell-off in futures markets, bar and coin buyers have returned at lower prices, the latest evidence of this being surging demand in China at mid-week as the Shanghai Gold Exchange saw its heaviest trading volume in two months.
Holdings at the world's gold and silver ETFs have held steady or risen over the last ten days, however, as shown in the chart below from a recent report by Morgan Stanley (who urged clients to "Stay long gold"), they have not been a major demand driver in the physical market for some time.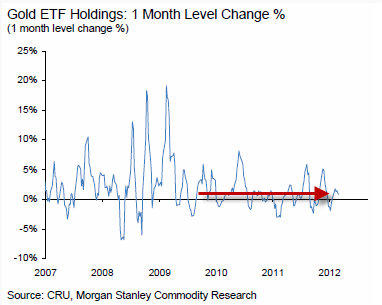 As shown in the graphic below, bar and coin buying, mostly from China and India, continue to be the driving forces behind physical demand and that seems unlikely to change over the near term, though it will certainly fluctuate from month to month.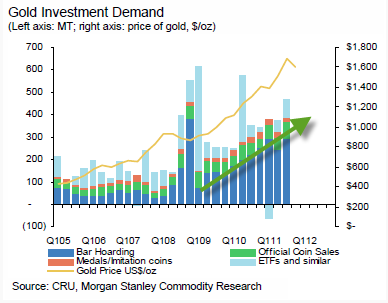 Citigroup analysts cited demand from Asian when they reiterated their call for a $2,400 an ounce gold price sometime this year and $3,400 an ounce in "the coming years", though they cautioned that the correction that began in December may not yet be over.
As was the case in Asia, physical demand in the U.S. in the form of American Eagle gold and silver coins tumbled last month as prices rose, the U.S. Mint reporting that coin sales plunged from 127,000 ounces in January to just 21,000 in February. At recently lower prices, look for sales to climb again this month.
There was also news about precious metals from Europe last week as elected officials in both Germany and Switzerland have apparently become concerned about their gold reserves, much of which are stored for them by the Federal Reserve Bank of New York.
In another sign of the times - as the yellow metal has gone from a "barbarous relic" and irrelevant artifact of a bygone era to an increasingly important asset class for the world's governments and central banks - four members of the Swiss parliament presented a "Gold Initiative" and they intend to collect the required signatures to allow the Swiss people to vote on securing the nation's gold reserves, specifically, on the following issues:
Storing all Swiss National Bank gold physically in Switzerland
Prohibiting the Swiss National Bank from selling its gold
Requiring the Swiss National Bank to hold at least 20 percent of its assets in gold
They cited ongoing devaluation of both the U.S. and euro currencies via central bank money printing along with the error of selling some 250 tonnes of Swiss gold in recent years (at much lower prices) and seek to protect the "property of the Swiss people".
In Germany, according to the newspaper Bild, a Parliamentary Budget Committee will be considering repatriating the estimated 60 percent of the nation's 3,396 tonnes of gold reserves held outside the country (mostly in New York) amid increasing nervousness amongst the public and elected officials that central banks' balance sheets have become dangerously overextended.
Clearly, the role of gold as an asset for central bankers is changing right along with the role of gold for investors.
Disclosure: I am long GLD, SLV.
Additional disclosure: I also own gold and silver bars and coins.