India ETF products were on their way towards a forgettable week's worth of performance until a sharp rebound on Friday occurred after the Reserve Bank of India (RBI) announced a rate cut for banks. Here's the India ETF performance grid for the week, which highlights Friday's strong rally.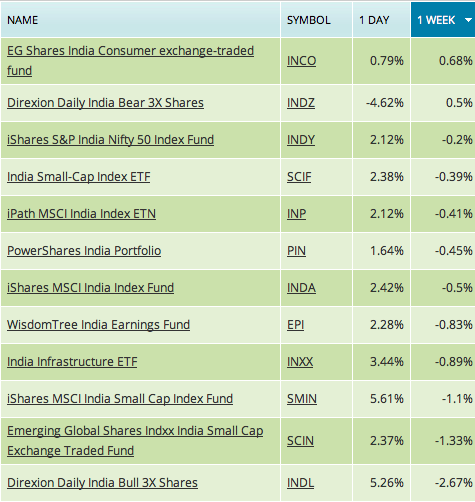 Source: IndiaETFs.com
The most widely followed India ETFs like PIN, EPI and INDY were all down less than 1% for the week. 2012's best performing India ETF segment, small cap stocks, finished down about 1% for the week and lost a bit of their lead on the pack. SCIF, the small cap ETF from Market Vectors, remains the top performing unleveraged India ETF this year gaining over 47%. INCO, EG Shares India Consumer ETF, trails all unleveraged India ETFs with a respectable return of just over 20% year to date.
Friday Surprise
After Indian markets closed on Friday the RBI announced a 75bps cut to the cash reserve ratio rate for banks, thus loosening money policy. This move was unexpected even though it followed a 50bps reduction of the rate earlier in the year. The surprise cut thrilled investors who were focused on March 15th, which is the next time the RBI comments on interest rates. With interest rates currently at 8.5%, the markets had been pricing in the likelihood of a cut given lower Indian inflation and productivity numbers. Some seem to view this surprise action by the RBI as a sign that interest rate cuts will be aggressive going forward. Others believe that Friday's indirect liquidity move lessens the pressure on the RBI to cut rates on March 15th and instead allows it to push any decision to the end of the quarter after India's budget is presented. Whatever the outcome, markets will move in India on March 15th based off RBI comments and/or action.
Major Events
Year to date India ETF products have gained 20 - 45% for the year. This performance has plateaued of late as several major events within Indian are being weighed or anticipated. They are last week's election results, interest rate policy and the presentation of India's 2012 Union Budget.
Recent election results in India seem to have been a negative blow to the reform movement and it weighed a bit on the markets. India is in need of governing and business reforms and postponing this movement is a tax on the markets. This week's RBI announcement on interest rates has been anticipated since January although some feel it could be a non event after Friday's cut. Shortly afterward the Indian government's presentation of the 2012 Union Budget occurs. This budget will be examined closely as fiscal responsibility - perhaps even a little austerity - is what the markets expect given India's current deficit issues. Remember India's markets are highly dependent on Foreign Institutional Investors and any sign of fiscal softness could change the strong flows India has captured in 2012 already.
From a global macro perspective, a flare up and then the resolution of the Greek debt crisis has hampered markets. Secondly, and now more important to the Indian economy, the price of oil has been flirting with levels that would severely hinder India's productivity. This is because India imports around 85% of the oil it uses.
With all these factors combined, Indian markets have essentially had a month of bull market action and then a month in a choppy holding pattern. External shocks like the EU crisis and oil prices aside, it seems that interest rate policy and the Union Budget will determine the next big move in Indian markets. Here's the year to date performance grid of all India ETF and ETN products.
Source: IndiaETFs.com
Outlook
Going forward Indian markets should be fixated on three issues next week: the RBI's interest rate comments, any weakness emerging out of Greece or Europe and oil prices. These three areas have been headline drivers of the Indian markets over the last month and are still ongoing but in different stages. The EU crisis appears stable for now but it will likely revisit markets again soon. Oil prices appear to have stabilized, a positive sign for India which imports around 85% of its oil. Finally an interest rate reduction within India is not a question of if, but when.
The RBI may or may not cut rates on March 15th but they must do so soon to avoid further slowing of the Indian economy. While there does not seem to be much consensus in the amount of cuts in the short term, the opinion seems to be that a 100 - 250bps interest rate reduction by the end of the year is the target.
Given India's recent slowdown in GDP, inflation risks are now backseat concerns versus the risk of a large decline in economic growth. Thus liquidity is about to be turned on in India through the use of interest rate cuts and not just by altering reserve ratio requirements for banks. For Indian consumers and businesses, an interest rate reduction means increased purchasing power, economic activity and growth. For investors in India ETFs it may mean that current valuations are actually a bargain.
Disclosure: I have no positions in any stocks mentioned, and no plans to initiate any positions within the next 72 hours.