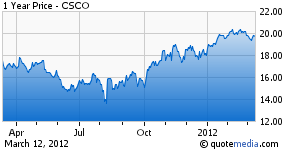 It goes without saying that networking giant Cisco (NASDAQ:CSCO) had somewhat of a tumultuous year in 2011. To me, it often seems as if the company spent most of the year either offering up justification to investors for decisions that turned out to be mistakes or acknowledging "OK, you've got us, we screwed up." Neither approach did anything to help the share price or inspire confidence in its leadership. However, to its credit, it has since turned things around to the extent where it has now delivered three consecutive solid earnings reports.
Seizing the Moment
For Cisco, one of the questions for investors continues to be, how can the company transform itself from its strict tradition on the corporate enterprise to something more modern? When I hear this question I often wonder if investors still remember that the company tried to branch out of the enterprise once before and into consumer markets, and the result was a disaster. The flip video camera comes to mind and the Linksys router comes to mind. But with the new crave attached to tablet devices and mobile computing in general, I have begun to wonder if there is indeed an untapped opportunity in this market, particularly since Cisco has its own tablet device, the Cius.
While the device is not an iPad in terms of functionality, it is however very efficient it its own right. It focuses more on the business aspect and optimized for communications and workplace mobility. Clearly the tablet phenomenon is not new. It is however a market that is still in its infancy as PCs still dominate both corporate and consumer demand - though on the decline. With the slew of Google (NASDAQ:GOOG) Android devices as well as the third iteration from Apple (NASDAQ:AAPL) termed the new iPad to hit the market soon, this only opened up more opportunities for companies such as Cisco and to a lesser extent Hewlett Packard (NYSE:HPQ), which also has its own tablet, the TouchPad to make headway in the corporate enterprise from the standpoint of integration.
As a long time Cisco shareholder, I continue to wonder if the company can figure out a way to leverage its expertise in the network and have it play a critical role in opening up devices such as tablets and smart phones? It is clear BYOD or "bring your own device" into the workplace has taken off to the extent where Apple's iPad, as well as various other devices on the Android platform though were initially aimed at consumers, they are proving extremely popular in corporate enterprise. This is yet another market opportunity for Cisco. The question is, can it seize the moment? That remains to be seen. But the company continues to show that it is seizing its opportunity to regain its status among the elite on Wall Street.
As noted, after a rough patch last year, the company has now started to turn things around, aided by some corporate restructuring. More rebounding evidence was shown by its recent strong earnings performance last month in the quarter that ended January 28. The company reported net income that climbed 44% and arrived at $2.2 billion, or 40 cents per share. This compares with earnings of $1.5 billion, or 27 cents per share, year-over-year. If you factor out that the costs associated with stock-based compensation as well as some acquisition-related amortization, the company actually earned 47 cents per share - 4 cents per share above analysts' expectations based on polls by FactSet. Revenue was $11.5 billion, up 11% from $10.4 billion a year ago and compares favorably to the $11.2 that was projected.
Summary
Its results clearly demonstrate that Cisco is keen in improving its margins as the metric improved a full point from the previous year while also exceeding analyst estimates. I continue to be pleased with the progress that the company is making to defend its turf from the likes of Juniper (NYSE:JNPR) and F5 (NASDAQ:FFIV). But I also know that there is still plenty of work left to be done. I'm now of the opinion that one of these should be placing a new emphasis not only on its own Cius tablet device and leveraging its enterprise footprint, but it should also seize the opportunity that the tablet crave itself has now presented corporate IT as a new source of service revenue.