For most investors, we look at making money through betting that a stock or company will appreciate in value, rather than depreciate. What many investors fail to consider is that just as much money can be made betting against the stock, or even betting that the stock will do nothing at all. We'll start with the bad news, here, and the prime short candidate of the three, followed by the neutral, and finish with the good.
Pandora Media (NYSE:P) - short, bearish candidate
Number one on my list is Pandora Media. Having suffered a recent earnings miss and decreased guidance, the stock was significantly punished losing over 25% of its value overnight. As is typically the case with such sudden, large moves, the stock has rebounded somewhat in the last two trading days and the share price currently sits at $11.50.
I do not feel this stock has a viable business model. With increasing costs relative to increasing subscribers, and difficulty in selling advertising for the mobile market, Pandora is on a very rough track right now. Given that the required infrastructure for mobile delivery is insufficient at present relative to Pandora's needs to be available conveniently "everywhere," I feel it will be a long while before Pandora can convince advertisers to pay enough for ad time. By the time this happens, due to the low cost of entry Pandora will be facing expanding competition.
Keep an eye on Pandora's share price, watch for stagnation, and get ready to sell between $12.50 and $13 to make money on a retrace to $10. Those with more risk appetite may buy puts, instead, for increased gains.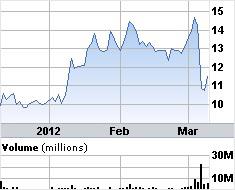 Johnson & Johnson (NYSE:JNJ) - neutral candidate
Johnson and Johnson has had a fairly consistent share price for the last year, and does not look to be changing this trend any time soon. Because JNJ pays a dividend, money can be made simply by buying and holding the stock at a rate of 3.52% per year. This is a nice yield in itself, but for the savvy investor, this is certainly not enough.
A great way to place your bets with this stock, is by selling covered calls against your position. By buying Johnson and Johnson at $64.74, and selling calls at $3 per for the January 2013 $65 strike price, you will potentially increase your yield to 8.1%. Maximum gain is achieved at option expiration at a share price of $65, and by selling the call you effectively give yourself downside protection to $61.74 share price. If your sentiment is slightly bullish, entertain the call options at the $67.50 strike for less initial funds, and potentially larger gains down the road.
This is a great neutral strategy, if you feel the stock will remain range-bound for the immediate future. Consider the 1 year chart, look at the projected financials, and decide if this is the right move for you.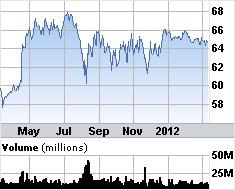 Liberty Media (NASDAQ:LMCA) - long, bullish candidate
The basis of my bullish sentiment towards Liberty is formed, in large part, around their 40% stake in Sirius XM (NASDAQ:SIRI) and their ability this year to increase their stake in SiriusXM, or buy out the company completely. Liberty also has a variety of holdings which may be found on their website. These holdings offer a good deal of diversity as somewhat of a hedge to protect against the underlying volatility of the SiriusXM stake.
I see this company appreciating at a considerable pace this year, right along with SiriusXM. Because of that, my play would be as follows.
Assuming a $10,000 initial position, purchase 100 shares at $9,020, leaving $980 to purchase two $90 July 2012 calls at $490 each. This gives you triple exposure at the $90 level, and triple your gains as the share price appreciates above $90.20, or above $94.90 as time nears option expiration in July.
If you are bullish on this stock like I am, this may be a great play for you.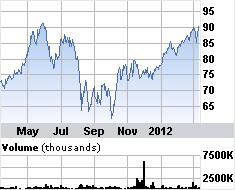 Summary
Three sentiments, three stocks, and three different plays. Each play is appropriate for the sentiment and should return from good to exceptional gains if sentiment proves correct. Make a choice, and most importantly, make some money.
Disclosure: I am long SIRI. I am long SIRI June $2 calls.