Will low earnings growth be the new normal or is there light at the end of the tunnel? As I look at the broad economy I remain hopeful that we will return to better times of higher growth but I cannot rationalize over-weighting a portfolio with high-growth stocks. Why?
Because if the general economy is experiencing sluggish growth, it becomes increasingly difficult to find the black swans that will expand rapidly on the backs of its peers. Until I see clear indications of global sustainable growth I will continue to investigate strategies that profit from strong current earnings trading at deep value instead of buying a flashy stock with a great story and high potential but no current meat on the bone.
The strategy in this article is to target companies with strong earnings where the total investment gain is not dependent on rapid expansion of the economy, industry or firm. My goal is to beat the broad market by investing in sound, defensive companies with a potential upside of 10% plus.
Defensive Dividend Investing
One of the most defensive and profitable plays over the past decade has come in the form of certain utility stocks and pipeline MLPs. Most investors are already familiar with the defensive nature of utility companies, which supply water and electricity to consumers in all market conditions. That is not to say they can't become overvalued - they definitely can but the underlying fundamentals are typically less volatile than cyclical sectors.
Then we have pipeline Master Limited Partnerships. I group these in as a "cousin" to utility stocks, but you need to know the difference. The American Association of Individual Investors wrote a good article on the differences of MLPs (e.g. distribution units, cash flow distributions, taxation as a partner, etc.) and why leasing pipelines and being paid based on volume creates a solid investment vehicle for risk-averse individuals.
MLPs and utilities form the investable universe for my strategy.
Separating the Good From the Mediocre
To know whether we have a suitable strategy or not we need to use an appropriate benchmark. The Alerian MLP Infrastructure total return index (AMZIX) has risen 48% over the past 5 years. The mirroring fund is the Alerian MLP ETF (NYSEARCA:AMLP).
(Click charts to enlarge)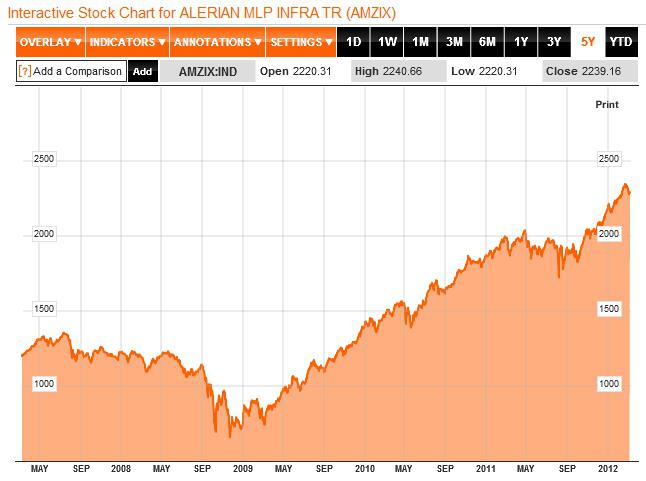 The SPDR Select Sector Utilities Fund (NYSEARCA:XLU) has dropped 8.78% over the trailing 5 years.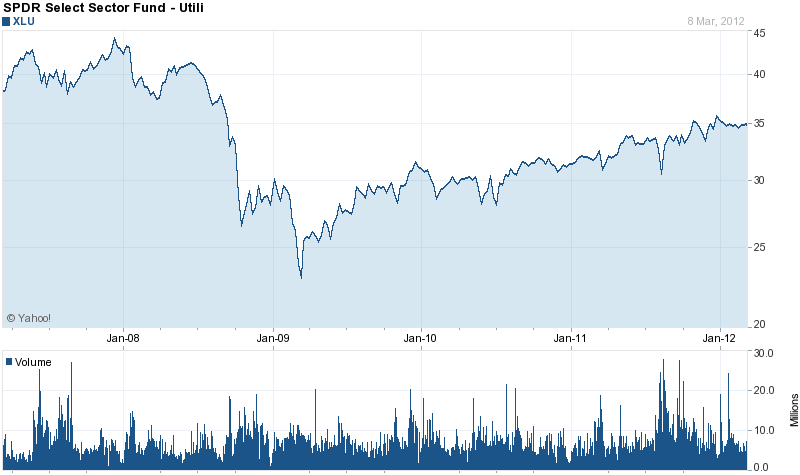 Can we carefully pick a basket of 10 stocks that have higher-than-average upside potential while staying defensive against a market fall?
Stock Picking Criteria
The following will be based on the stock screening and backtesting platform called Portfolio123 although you should be able to copy the methods with any similar program.
My buying criteria includes the following:
Positive dividend and earnings growth when averaged over the last 5 years
Yield higher than 4%
U.S. companies
Highly ranked according to quality/value/growth metrics (QVG ranking system)
Every three months I re-evaluate the holdings and sell if the comprehensive ranking falls significantly. These companies are already highly defensive so I won't need a long list of specific sell rules. As a broad indicator, if the company weakens across the three key areas of earnings quality, value and growth (price performance is pretty much the only category I don't consider), I choose another company at the three month mark.
Here is the list of companies meeting the criteria today:
| | | | | | |
| --- | --- | --- | --- | --- | --- |
| Ticker | Name | Last | QVG Rank | MktCap | Yield |
| (PEG) | Public Service Enterprise Group Inc | 30.52 | 90.57 | 15444.66 | 4.65 |
| (OKS) | Oneok Partners LP | 57.03 | 87.17 | 11623.6 | 4.28 |
| (POR) | Portland General Electric Company | 24.83 | 85.51 | 1871.37 | 4.27 |
| (WR) | Westar Energy Inc | 27.66 | 84.62 | 3490.4 | 4.77 |
| (NEE) | NextEra Energy, Inc. | 59.76 | 84.22 | 24872.63 | 4.02 |
| (PPL) | PPL Corporation | 28.08 | 83.84 | 16264.91 | 5.13 |
| (EPD) | Enterprise Products Partners L.P. | 51.49 | 83.44 | 45627.39 | 4.82 |
| (EXC) | Exelon Corporation | 38.46 | 83.04 | 25524.11 | 5.46 |
| (NWE) | NorthWestern Corporation | 35.06 | 81.69 | 1272.63 | 4.22 |
| (SRE) | Sempra Energy | 58.45 | 81.43 | 14017.4 | 4.11 |
These 10 companies meet all of my buying criteria to be held for the next 3 months before you need to re-evaluate. Just how robust has this strategy been over the past 5 and 11 years? We need to perform a little backtesting to find out.
Backtesting the Defensive Strategy
The first test is over 10 years with rebalancing every 3 months. Keep in mind that the chart below reflects share price returns only and you would need to add in a minimum 4% yield to the annual growth rate (averaging closer to 4.5%). Once you include dividends this works out to a 14% compound annual growth rate. This doesn't include what you will need to pay in taxes or the compounding effects of re-investing dividends.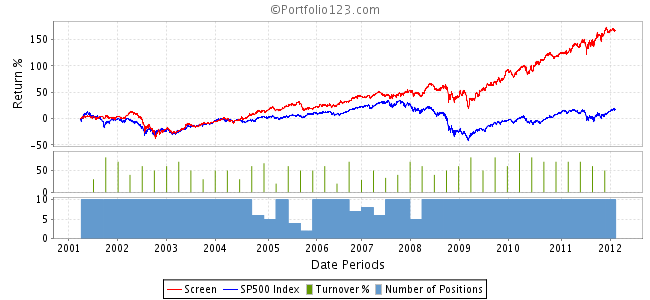 The second method to backtest over the trailing five years attempts to mimic a real trading environment. The annualized return is 15.4% (which does include actual dividends payments) versus a slightly negative return of the S&P 500. This is a trailing 5 year total return of 105% which soundly beats both of our benchmarks mentioned earlier.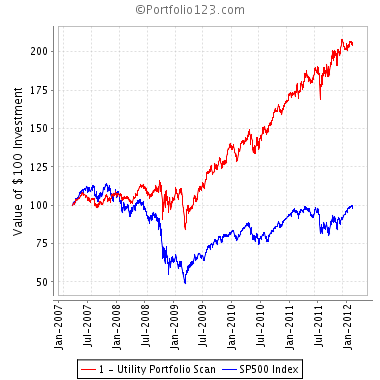 What is really impressive is that this portfolio had a maximum loss or drawdown of 28% while the broad market fell over 50%. So far this has been an excellent strategy with half of the loss of the broad market and with relatively high gain (at least in this economic climate).
Looking Forward
Perhaps when bond yields and interest rates soar when the economy is booming I will re-examine my high-growth strategies more carefully. For the time being, I recommend that investors begin with a lower risk system - such as one based on Benjamin Graham's ideals - and look for ways to make it relevant to today's low-growth market.
Disclosure: I have no positions in any stocks mentioned, but may initiate a long position in PEG, OKS, POR, WR, NEE, PPL, EPD, EXC, NWE, SRE over the next 72 hours.