There are many ways to make big profits in stock markets. Generally, these require hard work, the development of skill sets, exercising patience and discipline, a healthy dose of common sense and, usually, a touch of good fortune. Some people develop and rely on technical skills, others concentrate on fundamental research and some do it individually whilst others do it as part of larger organizations such as hedge or investment funds.
I will outline my own methodology which I use for the aggressive portfolio quartile. This can be used by many investors without impinging on my own efforts.
Know your Economic and Market Backdrop
U.S. consumer spending drives 67% of U.S. GDP. Between the early 1970s and 2008 U.S. consumer debt grew from 40% of GDP to 100%. This expansion of debt not just goosed U.S. GDP growth during this period to artificially high levels - in essence taking growth from future periods - but it has also left us with an excess debt legacy that will take years to peg back to more manageable levels. Consequently, it is inevitable that we will now experience a long period of sub-par growth.
Overlay this scenario with the end of cheap oil and tight supplies - this means that improvements in the economy will be accompanied by higher oil prices. With consumer spending and overall GDP joined at the hip it doesn't take much of an increase in gas prices at the pump to cause a follow-on economic slowdown.
The stop-start nature of economic activity during this new era will lead to enhanced market volatility and, as happens during all periods of elevated risks, continued investor skepticism. Also, it will cause traditional seasonality to become more pronounced.
Invest with the Market, Invest with Seasonality
For an investor to achieve excellent annual returns, the most important aspect by far is to invest in accordance with the market. In particular, this means investing in tandem with the seasonality that the economic backdrop throws at us.
Seasonality will normally have the following pattern:
September/October-February: Improving stock markets from September/October through to the end of the Q4 reporting window in February. This should be accompanied by a pickup in the economy as supported by better consumer sentiment and an improving wealth effect.
March: After the end of the Q4 reporting season there should be consolidation or a market pull back, especially when consumers are paying higher gas prices brought about by the economic uptick. Because year-end reporting requirements are more cumbersome than for other quarters the year-end reporting window finishes about 3-4 weeks later than other quarters. Consequently, the gap between Q4 and Q1 reporting windows is short. This helps explain why any market pull-back between these two reporting windows is generally transient and modest. By the same token investors should be strongly aware that any pull-back in this window is a very clear forewarning about a bigger pull-back that will occur during the longer lasting gaps between Q1 and Q2 and between Q2 and Q3.
April-May: Strong stock markets once again for the Q1 earnings season in April and early May. Investors should sell into strength during this period. Don't be greedy, sell early and stay out.
May-September: Thinly traded and generally weak markets. Expect confirmation that high gas prices are hurting consumers which, in turn, will slow the economy and hit stock prices. In late June or early July investors may find that the summer pull-back is overdone and that they can make profitable trades into the July earnings window. However, this is a short-term play and dangers abound.
September/October: Look to buy beaten down stocks to play the entire cycle again.
The above listed time frames should be used as guidelines, not as 100% definite hard and fast dates. Investors must layer-in other events and circumstances. For example a significant oil price spike as a result of the outbreak of conflict in the Middle East would hurt U.S. economic activity and cause a market pull-back. Such an event, especially if stock prices experience a major drop, could represent a buying opportunity. Separately, investors should keep an eye on significant market tops or bottoms from the charting community. For example after a major up-move the DJ Index may have a relative strength index (RSI) deep into overbought territory (over 70) in which case investors should consider trimming or closing out positions. Vice versa, if the RSI is deep into oversold territory, under 30, this would generally indicate a buying opportunity.
Overall, this strategy is aggressive. It is to be applied only to a portion of a portfolio, specifically that portion earmarked for higher risk and higher reward.
Picking the right Stocks
Because it is important to properly understand the underlying business of a given company I limit my choices to about 5 or 6 stocks for the aggressive portfolio quartile. Fewer than 5 stocks is too concentrated a risk profile and running with more than 5 stocks can dilute the research and detailed understanding of each company. Different investors will have their preferences, each to their own.
All stocks chosen must have the following ingredients:
Strong growth
High beta
Undervalued
Definite catalysts that will move the stock price
Good liquidity
Two current favorite aggressive plays are oil producers Kodiak (NYSE:KOG) and Carrizo (NASDAQ:CRZO).
Kodiak
Kodiak is a well known and widely followed oil producer in the Williston basin. I'll not repeat the details about its Bakken acreage and all that, this is already well appreciated. The stock still has excellent upside potential for investors at the current $10 level. KOG was a sub-$3 stock in 2010 and last year spent a long time in the region of $6. On both occasions the stock enjoyed excellent surges between September and the following April. These surges were no accident. The major driver for the stock price appreciation comes from the company strongly growing its oil production and in particular generating dramatically higher profits year after year.
Sales during 2010 were $120 million, rising to an estimated $610 million this year and forecast to hit $950 million in 2013. Earnings per share during this same period are $0.10, $0.83 and $1.33. Ballpark, KOG should be able to achieve analysts forecast EPS of $1.33 for 2013. At the current $10 stock price this represents a forward p/e of 7.5. This is much too cheap - any company with obviously strong growth prospects should be trading on a forward p/e of more than 10.
Take a look at KOG stock price movement over the past 3 years. This tells a compelling story of continued progress.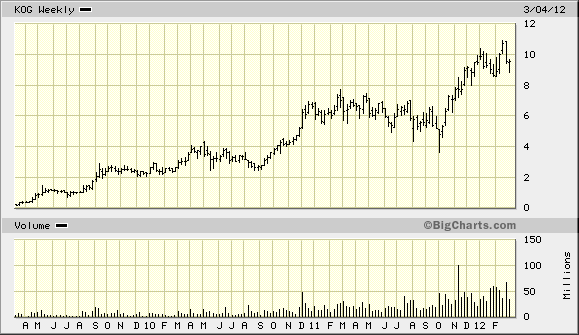 Click to enlarge
(Click to enlarge)
So the question becomes - can KOG actually keep growing for the next few years or will 2013 represent a growth peak? Given KOG's large core Bakken 157,000 net acres, its recently bedded-in acquisition (the process of which caused some short-term performance shortfalls in Q4), and its ever-growing cash from operations figures, there is every reason to anticipate further strong production and sales and EPS growth beyond 2013. Just this past week Credit Suisse issued preliminary 2014 EPS figures. I won't cite their EPS number as it may be a touch optimistic, but I will say that it's higher than $2 per share.
Now investors must ask themselves - in early 2013, when sites such as Yahoo Finance update their forward EPS estimates and show a Next Year EPS for KOG of over $2, what then would the stock price be? Certainly we're looking at mid teens even using a really low multiple.
My strategy for KOG is to continue to hold a core position. Additionally, I have a trading position that will be sold in April or May or earlier if/when the stock price moves into the $12/$13 range - at this price the stock would still only be on a forward p/e of 10. In the meantime the stock, at $10, is very cheap.
Buy and hold gets you over 50% return with KOG over the next 12 months. Trading with seasonality should get you over 50% and, maybe up to 100% if you are fortunate.
Carrizo
Carrizo is a company on a fast-track transition from a nat gas producer to an oil/liquids company. During Q4 its sales were split approximately half nat gas and half oil/liquids. Full year 2012 guidance, issued in February, has domestic US liquids production of 2.7 to 3.0 million Boe. This is about $300 million in sales or 70% of full year sales estimates, with nat gas sales at only 30%. The year-end 2012 oil/gas ratio will be higher still driven by CRZO spending 83% of its $440 million 2012 capex budget on oils.
Carrizo has 41,000 net acres in Eagle Ford, 58,000 net acres in Niobrara, substantial nat gas assets in Barnett and Marcellus, a small holding in the Utica and a minority stake in a North Sea oilfield that is expected to commence production in October.
CRZO stock, currently at $29.75, is on a next year p/e of 6.4.
There are some big near-term catalysts that will move the stock. These include:
CRZO well spacing in Niobrara is 320 acres. In February 2012 CRZO completed a 160 acre down-spacing well. A successful test would imply an almost doubling of CRZO's well inventory - from 8 to 16 years at current exploitation rates - as well as the overall EUR factor. An announcement can be expected in the next few weeks.
Carrizo's current well spacing in Eagle Ford is 115 acres. Receiving almost no publicity in CRZO circles is that EOG Resources (NYSE:EOG) recently completed down-spacing tests in its Eagle Ford properties and confirmed in February (see about 1/4 way down) that 65-90 acre spacing works and is much superior. For CRZO this increases drilling inventory by about 33% with a similar increase in the overall recovery factor. CRZO has not undertaken its own down-spacing tests in Eagle Ford but it is a neighbor to EOG and a significant % increase in CRZO's Eagle Ford drilling inventory can be expected.
In April or May Carrizo is due to close the sale of a part of its Barnett (nat gas) shale for $150 to $200 million.
Carrizo is actively considering selling its minority stake in the North Sea but only provided it gets full price which may be in the region of $200-$250 million.
The company is negotiating to buy as much as 100,000 oily acres in Utica to add to its existing small holding. This, combined with the cash from the sales of Barnett and North Sea assets, would immediately make CRZO a significant player in the Utica to compliment its Eagle Ford and Niobrara oil holdings, and give the company an excellent multi-year growth platform. Expect an announcement in the next couple of months.
Including sizable Utica acreage and with the superior spacing at Eagle Ford (under 100 acres/well) and Niobrara (160 acres/well) , this overall may be akin to CRZO having 400,000-500,000 acres of Bakken where efficient well spacing is 640 acres (ongoing tests for tighter spacing are only showing mixed results). Whilst a direct comparison it difficult to do, this gives CRZO total acreage equivalent to something like approx 3 times that of KOG. And this ignores the fact that Eagle Ford oil sells at WTI plus about $5 whereas Bakken sells at WTI minus $10, that top slice being a big part of profit margins.
CRZO's long-term growth potential can be appreciated by noting that KOG currently has an enterprise value of $3.3 billion - and still has strong upside potential from that level - whilst CRZO's, with oil producing assets 3 times greater than KOG, is $1.9 billion. This valuation gap will close when the market better views CRZO as an oil company and not as a nat gas company which currently tends to occur. This will soon change.
A word about debt: Yes CRZO currently does have high debt levels. However, this is almost entirely covenant-free long dated Notes with only $40 million borrowed on the $340 million bank borrowing base (total bank line is $750 million). Additionally, CRZO's future expansion is set to be entirely self-funding after the current year and this will quickly lead to a falling debt-equity ratio. Hence, the debt is properly structured and under control.
Overall CRZO has several big catalysts occurring during the next 2 months that should boost the stock. These, plus support into the Q1 earnings announcement in April/May with CRZO being a cheap stock, make CRZO a very good short-term play as well as it having excellent long-term potential. As with KOG, I have a long-term core holding in CRZO in addition to a trading position that I'm planning to cash-in during April/May in the mid $30s.
In addition to the individual catalysts identified for KOG and CRZO, it should be remembered that the shale oil patch experiences occasional acquisition activity and any such announcement during April/May, on top of normal share prices rises running into earnings announcements, is very likely to boost prices further. There are several good reasons to play these stocks.
Other companies
There are other appealing oil shale companies such as Bonanza Creek (NYSE:BCEI), Triangle (NYSEMKT:TPLM) and Voyager (VOG) that, due to their potential, may be very good for seasonal trading. I do not, as yet, hold any positions in these companies.
BCEI's 2013 earnings per share may be in the region of $2.50. At the current $19 share price, and given the clean balance sheet, this would put the shares on an attractive forward p/e of 7.6. The 2013 EPS will become known within a day or two of the company announces their Q4 2011 results.
A similarly attractive 2013 forward earnings picture may emerge for TPLM. However, there are some reservations concerning the thickness of some of Triangle's acreage in the Bakken so let's see what emerges in the Q4 earnings announcement and what analysts forward estimates we get thereafter.
VOG also looks like a value play. Analysts EPS estimates for 2013 might come in as high as 40-50 cents which again makes these shares very cheap. VOG is currently thinly traded at just 300k shares per day and, for now, this represents a headwind against wider participation.
Given that many Bakken players have been reporting some drilling execution delays it might be wise to anticipate that these three small producers will also report similar problems when they announce their Q4 results soon. Still, I'd advocate keeping them on the radar with a view to possibly picking up a few cheaper shares during the summer lull.
Summary
The 2012 economic and stock market trends appear to be well set to follow the seasonal pattern outlined above. Economic activity has picked up as have gas prices at the pump. Nonetheless, Q1 earnings reports in April/May are likely to be in-line or better. All told it should take further economic improvements and higher gas prices before the consumer starts to cool spending. Overall, the seasonal trend is likely to hold true this year - thus setting up a nice selling opportunity in April/May with a good buying opportunity to present itself later in the summer.