Within the bull market we are currently in, there is considerable focus on stocks that have taken off at a rapid pace. Don't let that sidetrack you, though, from quality investments that may not have appreciated as much as the more speculative stocks. These three below are sporting a low P/E ratio, high growth rate relative to their sector, and high gross margin.
Intel (NASDAQ:INTC)
With a market cap of around $135 billion, and quarter after quarter of beating earnings, Intel is well positioned as a candidate for the top spot on this list. Intel's bread and butter comes from notebook computer processors, which account for 36% of its business. Server processors make up 22.7%.
Consider their trailing twelve month or "TTM" P/E ratio, a measure of price divided by earnings, of 11.2X on earnings per share of $2.39. This is better than 67% of its peers in the semiconductor industry. Intel's growth rate outperforms 65% of other companies in the semiconductor industry, and its gross margin of 62.51% is higher than a whopping 92% of its peers.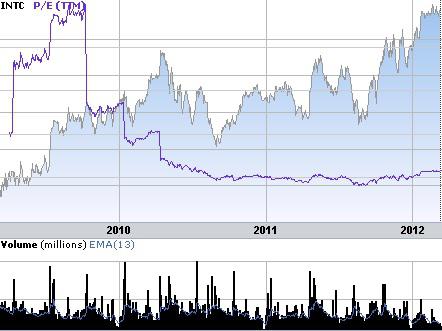 Intel is positioned well to take advantage of these favorable metrics going forward, and as share price catches up to earnings, investors could see considerable benefit.
Microsoft (NASDAQ:MSFT)
Sporting a market cap of $268 billion, Microsoft is another company that has had steadily increasing earnings in recent history. Microsoft's business is mainly software, with Microsoft Office making up 37% of earnings, followed by their Microsoft Windows operating system at 26.5% of earnings.
Microsoft's TTM P/E ratio is 11.59X, which places it in a better position than 76% of all companies in the software and programming industry. Earnings per share were $2.69 for 2011. Growth rate was directly on par with its peers, and the gross margin of 76.38% is better than 77% of peers.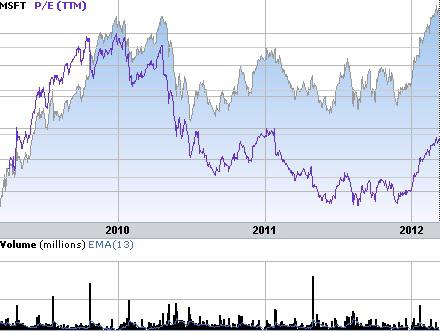 While looking at the graph above, it is not as favorable when compared with Intel, but do not let that fool you. Microsoft is still undervalued based on P/E. If it can maintain or improve growth going forward, share price should eventually equalize relative to earnings.
BP PLC (NYSE:BP)
BP is in recovery from a damaged image based upon the recent gulf oil spill. With a market cap of $147.7 billion, BP had a bit of a rough year in 2011 missing earnings, but posted a blowout quarter in the fourth quarter 2011, a full 82 cents over analyst estimates. BP's main source of income is Oil and Gas sales, totaling over 40% of its balance sheet.
BP's TTM P/E ratio is a low 5.78X and this places it in a better position than 81% of its peers in the Oil and Gas industry. Earnings per share were $7.58 for 2011. Growth rate for BP was top, number one, greater than 100% of its peers. Gross margin, affected by the recent gulf spill, suffered and placed BP below 81% of its peers. I see no cause for concern on this, as this cost is easily handled by BP moving forward, which should turn this metric around.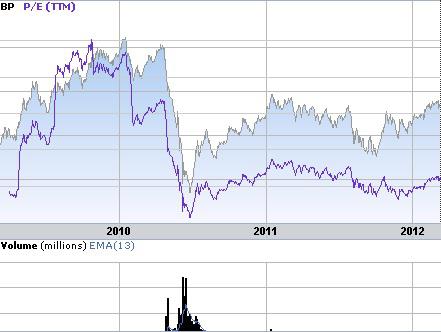 As you can see by the graph above, the 2010 gulf spill had a major impact on BP's share price, yet earnings remained stable and have since increased while the share price has not appreciated at the same rate. I believe BP is undervalued and as time wears on and the gulf spill is more of a distant memory, BP's share price should appreciate to bring P/E inline with its peers.
Summary
The above three stocks are good examples of solid companies that appear to be undervalued and could see significant appreciation, especially in this bull market. All are good choices to consider as holdings for your portfolio moving forward, and their high market cap and low P/E positions give them stable room to grow.
Disclosure: I am long INTC.