Weatherford International (NYSE:WFT) provides the unique opportunity to invest in an oil services play reporting record revenue and EBITDA numbers while trading well off all-time and 52-week highs. This company also provides an ideal investment in a company highly focused on the international oil service markets and domestic oil. Mostly avoiding the domestic natural gas slowdown by having a North American focus of 80% oil based. It provides this opportunity due to numerous hiccups with financial reporting, mainly focused on a continued problem with accurately reporting taxes.
International Focus
The four major domestic oil service companies include Baker Hughes (NYSE:BHI), Haliburton (NYSE:HAL), and Schlumberger (NYSE:SLB). As the Figure 1 below shows, all of the domestic oil service provides have a diversified mix with at least 40% of revenue focused on international markets. The key for Weatherford is that outside of $100B industry leading behemoth Schlumberger, it has the highest international exposure.
Figure 1: North American versus International Revenues - Q4'11
| | | |
| --- | --- | --- |
| Company | North American Revenue (%) | International Revenue (%) |
| Weatherford Int'l | 45.7 | 54.3 |
| Baker Hughes | 52.4 | 47.6 |
| Haliburton | 58.2 | 41.8 |
| Schlumberger | 34.1 | 65.9 |
| | | |
Valuation
The problem with investing in Schlumberger is the law of large numbers. The company expects over $45B in revenue for 2012 and currently trades at more than 2x that sales figure. That is by far the highest sales multiple in the group.
Weatherford on the other hand expects $12.9B in 2012 revenue and trades at a value slightly below that figure. This provides a lot more upside if Weatherford achieves the margin expansion it expects.
The downside is that being the smallest company in the group, the vast international diversification might be having a negative impact on margins.
Conference Call Highlights
Below are some major points from the Q4'11 conference call that highlight the ability for Weatherford to grow margins and earnings this year and beyond:
The tax rate currently at 35% is expected to decline over the next few years as the updated tax reporting allows the achievement of lower rates. For example, the cash tax rate for 2012 will be below 30%.
Additional corporate expenses in Q4 will decline as the tax issues are cleared up hopefully by Q2'12.
International margins have plenty of room for expansion before reaching past peak levels in 2008 and early 2011. For example, margins in the Middle East, North Africa, and Asia Pacific increased 350 basis points to 6.5%, but remained far below the peak rate of 25%.
Starts up costs in Kuwait and Saudi Arabia are starting to reach breakeven points.
Chart
The chart remains interesting as the stock approaches a breakout point. Any move higher from this point will lead to the bullish golden cross where the 50ema passes the 200ema. Conversely, if the stock breaks down from here, it could quickly fall back to the previous support around $13 or roughly 20% lower from current levels.
Figure 2: WFT 8 month chart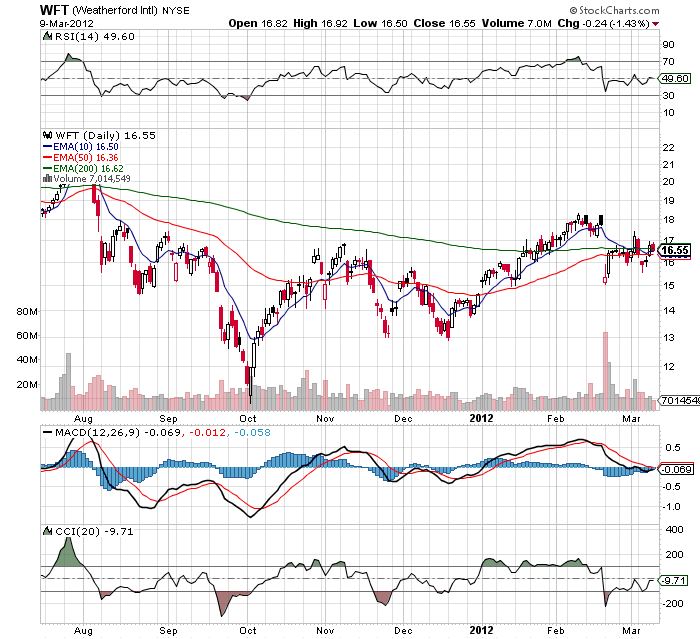 Conclusion
Weatherford currently offers the ideal combination of cheap valuation and exposure to the international markets where both oil and natural gas prices remain extremely high. The chart also suggests that any alert investor should be prepared for a breakout or breakdown, shortly leading to an outsized move either way.
Disclosure: I am long WFT.
Additional disclosure: Please consult your financial advisor before making any investment decisions.