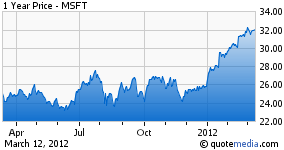 Last week, I talked about how I felt software giant Microsoft (NASDAQ:MSFT) was heading to $52 per share. This is despite the fact that it has climbed almost 30% so far on the year. Yet, by virtue of its extremely low P/E of 11, it is clear to me that the stock is still being traded at a considerable discount to the earnings that it is projected to earn. Now I will concede that it appears pretty farfetched for anyone expecting a stock rise of 62% - particularly one that has already climbed 30% on the year. However, when your premium brand dominates a segment of the market and has the potential to branch off further into emerging growth markets, than it becomes more accepted. But as far as the share price movement, my argument was as follows:
With the company currently trading at $32 per share, I continue to think that its share price has not grown commensurate to its earnings. This is in contrast to its pre-tech bubble valuation where the argument can be made that it was then overvalued because it simply rose too much and too quickly. The stagnation in the share price since then has had a lot to do with the fact that it has not been able to fully recover from that drop by virtue of its (then) inflated valuation back in the late '90s. But clearly investors can now see evidence that its uptrend is primed for resurgence - one that started at the beginning of this year.
Given that the past two decades the company has traded on an average price-to-diluted-earnings ratio of 26.70, multiplying those averages with the earnings per share each year, the company is undervalued by at least over 50% - this is also taken into account its low P/E of the last five years as well as some conservative assumptions. I will concede that my model is not perfect and highly biased, but the company should be trading right around $52 per share if the market made any sense at all. But you don't have to take my word for it as the company more than demonstrated its worth during its most recent earnings announcement.
Admittedly the above comes from someone who also believes in the saying, "past performances don't necessarily guarantees future results." But for Microsoft, it seems that the stars are once again beginning to align perfectly for a second act - a lot of which has to do with its flagship operating system. This time, it's with the soon to be released of Windows 8 - an event that I think will immediately add $8 to the company's share price.
Windows 8 to the Rescue
It is no secret that the primary driver of Microsoft's stock movement has been its periodic releases of Windows. However, the difference this time is that Windows 8 tells investors that Microsoft not only realizes where the company is, but it firmly understands the direction it needs to go to remain relevant - and that's with mobile devices. And I will admit this is one of the biggest reasons that I have turned extremely bullish on the company. The company recognized that in order to expand its Windows franchise beyond traditional PCs and into the mobility realm, it had to adjust its legacy ways of thinking. It is with that, Windows 8 was borne and with it my belief that $40 is the next to fall.
The company built the new iteration of the OS with the ability to scale not only to traditional laptops and desktops, but more importantly, now to tablet and smart phone devices as well and built to run on ARM Holdings (NASDAQ:ARMH) chip technology. Now this is somewhat of a drastic change from the company's long standing partnership with chip giant Intel (NASDAQ:INTC) which had a completely different architecture. That is just one key difference, but also the interface is said to come with an app store as well as a touch-friendly version of Office. I think these are all significant upgrades to the operating system as well as reasons for investors to get excited. But I can't help but continue to wonder if the company is prepared to address whatever challenges the new chip change may present and also will it have enough consumer interest to withstand the competition from Apple (NASDAQ:AAPL), which will always be the true measure of its success. I know for certain that any level of success will only support my projection of a $52 stock.
As far as other significant improvements, the company continues to work hard to develop its footprint in the cloud. And to that end it has placed a huge bet on a development platform for cloud applications called Azure. How successful that transition is remains to be seen. But considering the fact that database giant Oracle (NASDAQ:ORCL) as well as several other cloud firms have made significant acquisitions for cloud advancement, the company will certainly need to step up its game in order to leverage its enterprise dominance as a seamless cloud entry.
Summary
Clearly these are certainly positive events for Microsoft. However, the company continues to face some negative perceptions from the investor community. How it handles the Windows 8 launch will go a long way toward restoring some of the level of respect that it has lost over the years. But I think the best way to assess Microsoft and its value is on its own performance rather than on what the competition is doing. At $32 and trading at a P/E of 11, value investors with 12-24 month investment horizons should consider giving the company a long look at current levels as $52 by 2014 is no longer out of the question. But certainly any level of success with Windows 8 can push the stock to $40 easily this year.