Youku (NYSE:YOKU) plans to buy rival Tudou (NASDAQ:TUDO) in a stock-swap deal that would value Tudou at ~$1 billion. Tudou's shareholders will receive 1.595 Youku ADRs for each share of Tudou ADR.
In my September 12, 2011 note titled "Tudou's Future Lies In Its Acquisition" I pointed out that Baidu (NASDAQ:BIDU), Sina (NASDAQ:SINA), and Youku were likely acquirers of the company and pointed out that that Baidu was the most likely acquirer due to its high cash reserve, followed by Sina, which already invested 10% in Tudou to expand its online video business. Youku was believed to be the least likely acquirer due to a lack of capital. Should this acquisition take place, Youku would need to issue additional equity or debt, or both.
Youku's acquisition of Tudou highlights:
China's online video industry is undergoing consolidation amid rising bandwidth and content costs, and companies are trying to establish economies of scale through M&A
Youku-Tudou will become the leading online and mobile video platform in China with no clear number 2 in sight
The acquisition of Tudou by Youku is a sign that industry consolidation is underway. While many Chinese online video companies are showing robust topline growth, none of them are profitable due to rising bandwidth and content costs. Rising content costs are due to the large number of competitors bidding up the content prices, while rising bandwidth cost is due to increasing usage of resource-intensive websites and applications such as gaming and social networking.
Youku and Tudou have natural synergy as a single company. While Youku-Tudou can benefit from combined user base, content library and bandwidth infrastructure, this acquisition allows Youku to enter the fast growing mobile video market that Tudou has experiencing tremendous success over the past several quarters.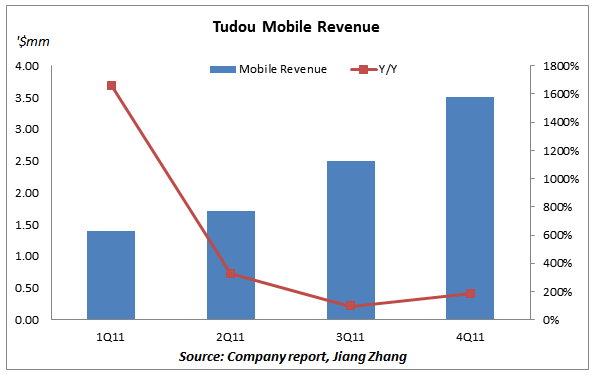 Youku-Tudou will become the clear dominant player in China's online video market, followed by Sohu and Baidu's Iqiyi. However, neither Sohu nor Iqiyi will pose a short-term threat to the Youku-Tudou in terms of user base, content, and bandwidth infrastructure.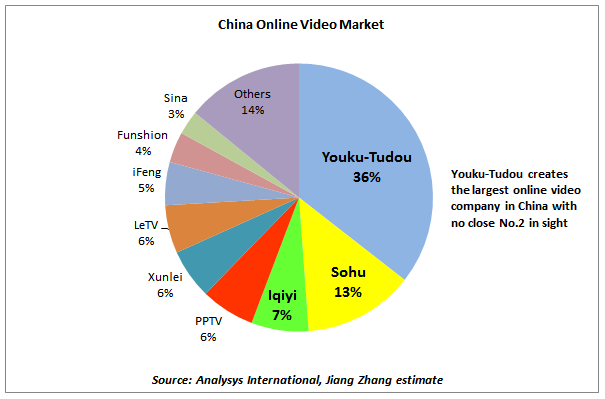 Finally, smaller players that once seemed irrelevant are starting to emerge as potential acquisition targets. Besides Youku and Tudou, Ku6 Media also operates user-generated-content website in China with 220 million monthly unique visitors as of February and 200,000 daily uploads. The company also formed a partnership with Youtube that allows its international users to view videos from China. Ku6 Media currently trades at trailing 4x EV/Revenue.
Disclosure: I have no positions in any stocks mentioned, and no plans to initiate any positions within the next 72 hours.