This article breaks from our typical analysis in that we will simply make some concise comments to highlight an opportunity whose timing is shorter term in nature. Friday's trading (3/9/12) presented an interesting opportunity to examine Abercrombie & Fitch (NYSE:ANF) at a critical technical level. Fundamentally we believe ANF will trade at $63 per share by the end of 2012.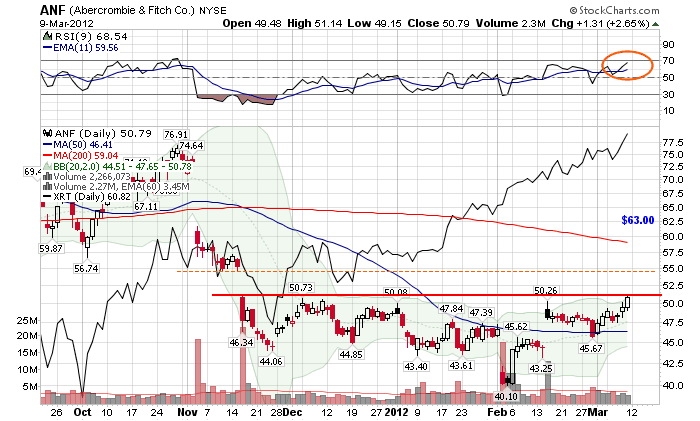 Click to enlarge
(Click to enlarge)
ANF closed just below resistance on Friday and may be poised to breakout. The breakaway gap formed on February 15 was mostly filled by trading on February 29 and March 1 as it found support around the 50 day MA and has since traded with the centerline (20 day MA) of the Bollinger Bands. Price has now climbed towards the resistance level first created by the downside breakaway gap on November 16. We feel this break is firmly supported by the fundamentals. $55 is the next likely sticking point (the RSI would likely need a breather after this move and a retest of the $51 level could provide this pause, as well as another opportunity for trade entry).
Fundamentally we believe Abercrombie is undervalued by almost 20%. Earnings for FY12 are projected to be between $3.50 and $3.75 per share. This would give Abercrombie a forward earnings multiple of 14.5. With quarterly revenue growth of 15.6%, significantly decreased cotton costs in Q2-4 2012 and gross margins better than competitors American Eagle (NYSE:AEO), Aeropostale (NYSE:ARO) and Gap (NYSE:GPS) we believe ANF is attractive at this level. Abercrombie's leadership in the teen retail space and their proven ability to grow internationally while maintaining hefty margins leads us to believe a forward multiplier of 18 is warranted. We believe management has the right strategy to provide shareholders with EPS growth in the foreseeable future.
Again, our target price for ANF at the end of 2012 is $63 per share.
Disclosure: I am long ARO. I have no position in ANF and no plans to initiate any positions within the next 72 hours.