It seems to me that the market continues to ignore the progress that computer and printing giant Hewlett Packard (NYSE:HPQ) is making. The company is by no means a market darling nor am I proclaiming that it should be, but it does continue to show that it can compete effectively with other names such as Cisco (NASDAQ:CSCO) and Oracle (NASDAQ:ORCL) - both of which have had their own fundamental challenges but have not been beaten up as much on the market. For Hewlett Packard, hiding amongst what I consider to be an overreaction to its recent earnings disappointment is the fact that the company is slowly positioning itself for not only what will be a remarkable rest of the year, but more importantly, it is now laying the foundation for what will likely become a significant next two to three years.
Betting on Converged Infrastructure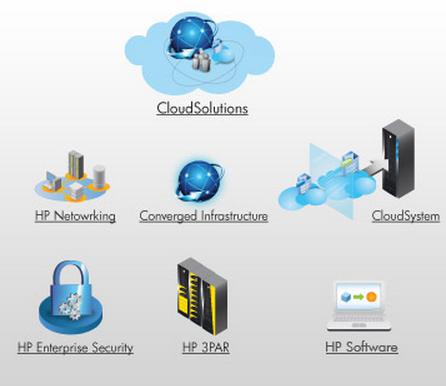 It is no secret that the catch phrase on the market these days is "the cloud" and for Hewlett-Packard, this is where the success of its future is going to start to unfold and where it will seek to gain its competitive advantage from the aforementioned Cisco and Oracle.
The company has what is called "Converged Infrastructure" or essentially taking everything that is in the enterprise and making them collaborate in a way to meet business efficiency. It is no secret that there are a significant number of corporations today that deal with what I would consider "unfavorable" IT infrastructure - where the primary drivers consist of aging hardware, legacy architectures and complicated networks. When you add the fact that there is usually a vital need to manage the volume of data traffic on the network, it then becomes a hassle.
This is what Hewlett Packard realizes and also what investors must consider when making a play for the cloud. The company's "Converged Infrastructure" stands out by establishing a shared services data center environment to simplify and accelerate IT, significantly lowering operational costs, shifting resources to innovation, and driving business agility. Clearly HP is ahead of the curve by having introduced this Infrastructure strategy two years ago. The fact is, everyone talks about "the cloud," but not everyone is adequately prepared to capitalize on it. HP however is one of the few that gets it, but does the market care?
Battling Perception
While Hewlett Packard has had some challenges of its own internally, one of the bigger challenges for the company is the fact it is viewed upon as a slow moving legacy company that underperforms. Granted, its revolving door at the CEO posts has done little to inspire confidence on Wall Street, but investors need to realize that this company also appreciates its current reality and appears determined to alter that perception. One of those ways is with its Converged Infrastructure cloud efforts and it seems the company just might be entertaining the idea of becoming a service oriented company to model the transformation of IBM (NYSE:IBM) and to some extend Dell (NASDAQ:DELL).
In its most recent report, it showed some signs of strength, but clearly there were several areas that required significant attention. Net income of $1.47 billion, or 73 cents per share, in the three months that ended January 31, was somewhat of a disappointment when compared to $2.6 billion or $1.17 per share in the year ago period. Adjusted for one-time items, the company earned 92 cents per share, above the 87 cents expected by analysts surveyed by FactSet. Revenue was $30 billion, down from $32.3 billion and slightly below expectations of $30.7 billion. This represented the fastest revenue decline for the company since the recession hit 2009 results.
Summary
As I have said before, I think it seems that Meg Whitman has indeed placed her stamp on the company and appears to be more dedicated and focused on improving the company's existing business and leveraging strengths rather than hiding problems. As the future of the cloud slowly becomes a reality, Hewlett Packard will be one of the companies that is well positioned to capitalize on its demands. With the stock now trading at $24 and at a significant discount with a P/E of 8, value investors with the patience of 2-3 years should make a play for HP current levels as the stock has the potential to reach $40 during that time span.