Canada has vast amounts of natural resources yet to be explored. The country is rich in oil and natural gas reserves, as well as precious and essential commodities. According to the country's official statistics, revenue from natural resources constitute more than 11% of Canada's GDP. Companies in this sector generated revenue of $133 billion in 2009 alone. A significant portion of the productivity in the natural resource field is exported to the U.S. and other trading partners. In 2009, the natural resource sector contributed almost $70 billion to Canada's trade balance.
There are more than 100 Canadian natural resource stocks that trade within the U.S. markets. These stocks offer U.S. investors an opportunity to profit from Canada's vast amount of natural resources. However, some of these stocks are priced with hefty premiums, whereas others are trading at a discount. Over the next few articles, I am planning to examine these stocks from a fundamental perspective, adding my O-Metrix grading system (out of 10) and FED+ Valuations where possible. This is the fifth article on this series. Here is a list of 5 Canadian basic material companies. Based on my analysis, I rate 3 of them as buy, 1 as hold, and 1 as sell:
| | | | | | | |
| --- | --- | --- | --- | --- | --- | --- |
| Stock Name | Yield | EPS Growth Estimate | O-Metrix Score | FED+ Valuation | YTD Return | My Take |
| Penn West Petroleum (NYSE:PWE) | 5.2% | 21% | 6.96 | $25 - $44 | 5.6% | Buy |
| Cameco (NYSE:CCJ) | 1.70% | 19% | 5.88 | $28 - $40 | 30.6% | Buy |
| Eldorado Gold (NYSE:EGO) | 1.1% | 30% | 7.88 | $22 - $28 | 4.3% | Buy |
| Baytex Energy (NYSE:BTE) | 4.8% | 14% | 3.40 | $34 - $45 | 0.1% | Sell |
| Rare Element Resources (NYSEMKT:REE) | 0 | N/A | N/A | N/A | 90% | Hold |
Data from Finviz/Morningstar, and is current as of March 11. You can download O-Metrix calculator here.
Penn West Petroleum - Buy
Since reaching its dip of $14 in early October, Penn West is on the bounce. The stock returned 5.6% in this year alone. However, the annual return of -18% has lagged broad market indices.
Click charts to enlarge.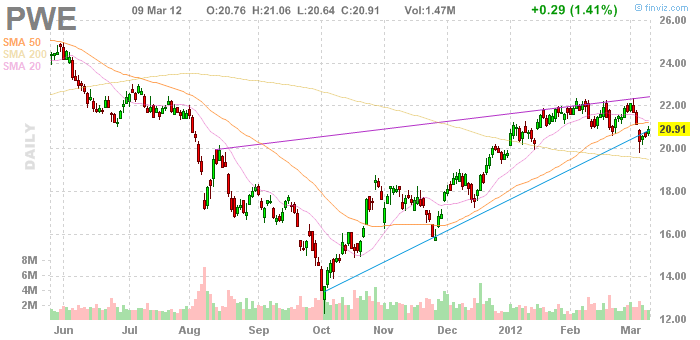 Penn West Petroleum is among the largest petroleum and natural gas developers in Canada. Established in 1979, the Calgary-headquartered company operates in two major regions. The Southern district covers the Manitoba and Saskatchewan regions, whereas the Northern district covers British Columbia and Northen Alberta.
The company has a policy of paying fat dividend checks. Based on the latest announced dividend of 27 Canadian cents per share, the projected yield is 5.45%. In the last year, company spent more than $2 billion in capital expenditure and paid over $1 billion of debt. That is the primary reason for the cut in the dividends. In the future, I expect both the capital expenditures and debt repayments to decline, offering more room for the dividends.
Analysts have pretty bullish expectations on the company's future. Based on annualized EPS growth estimate of 21%, my FED+ fair value range is $25 - $44. Therefore, I think the stock is significantly undervalued with at least 20% upside potential.
Cameco Corporation - Buy
Cameco Corporation is an industrial metal and mineral producer with headquarters in Saskatchewan. The company is a major player in the uranium field. It operates several uranium mines located in Canada, U.S., and Kazakhstan. The company also offers uranium processing services to fuel nuclear reactors. It also runs four nuclear reactors in Canada.
After forming a multiple-bottom pattern, the stock is in high momentum for the last 3 months. Since January, it returned 30.6%. However, the stock is still trading almost 40% below its 52-week high.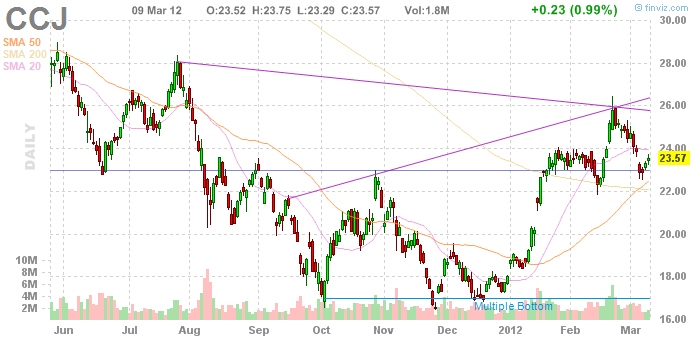 The world is hungry for energy. The conventional organic energy sources such as petroleum is not enough to cover the need of future generations. As these resources deplete, the human society will be looking for alternative energy sources. I think nuclear power is one of the cheapest sources of clean energy.
While it might be argued that nuclear is extremely risky, the advancements in technology aims for zero-error policy. The tsunami disaster initiated a nuclear risk in Japan which might last for decades. But that was a one-time event, which affected an old-tech nuclear center in the country. Suggesting that we should stop using nuclear energy because of one-time events is not a good suggestion.
I think the future for nuclear power generators lies in the emerging markets, which are going to diversify their energy sources. Cameco looks like a safe play in this industry, as it is trading with attractive ratios. At the current valuations, the stock is undervalued by at least 17%.
Eldorado Gold - Buy
Eldorado Gold is one of the important players in the gold mining field. The company has several mining operations in Brazil, China, Greece, and Turkey. Founded in 1992, the Vancouver-headquartered Eldorado has about 20 million ounces of proven and probable gold reserves. The stock has been one of the top performers in the last decade, returning double-digit profits to the shareholders. This year has been a mediocre one, as it returned 4.3% since January.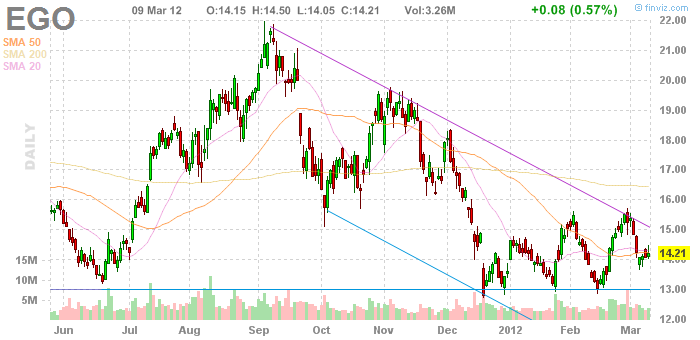 I think precious commodities are in a huge bubble, and the related stocks are significantly overpriced. However Eldoroda looks like undervalued. Analysts have an extremely bullish EPS growth estimate of 30% for the next 5 years. Based on this assumption my FED+ fair value range is $22 - $28. If analysts' estimates hold, Eldorado could be a huge performer. In the last 5 years, the company significantly increased its production. The raise in gold prices also boosted the profit margins. While the future for the gold miners do not look as bright as the past, Eldorado seems like a good play in this field.
Baytex Energy - Sell
Baytex is an independent energy company that is engaged in the exploration and production of oil and natural gas resources. The Calgary-headquartered Baytex is founded in 1993 under the initial name of Baytex Energy Trust. It changed its name to Baytex Energy in 2011. The stock has been a huge performer in the last 3 years, returning almost 400% since 2009. However, it lost its momentum. The year to date return has barely made it to the positive territory.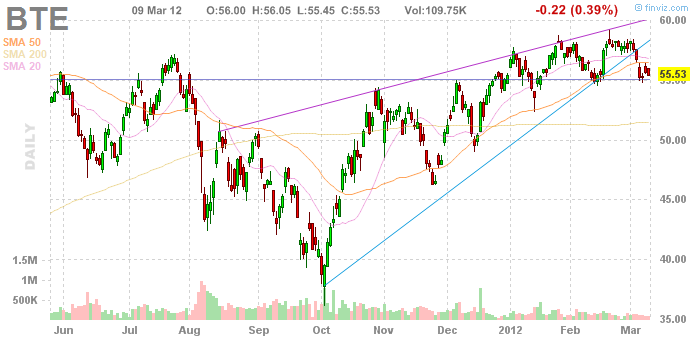 Baytex offers a yield of 4.8%. It was able to increase its earnings at an annualized rate of 19% in the past 5 years. Analysts expect the earnings to grow at an annualized rate of 14% in the next 5 years. Based on this estimate, my FED+ fair value range is $34 - $45. At a price of $55, the stock looks significantly overvalued. Based on this price, it is also trading at a high premium P/B ratio of 5.5. The yield is great, but it is not supported by the free cash flow.
Rare Element Resources - Hold
Rare Element Resources is probably the riskiest stock among this list. The company looks like a relatively diversified rare earth element & gold producer. However, its primary property is the Bear Lodge project in Wyoming. This field is claimed to host the world's largest disseminated rare-earth deposits in North America, but nothing is certain in this industry.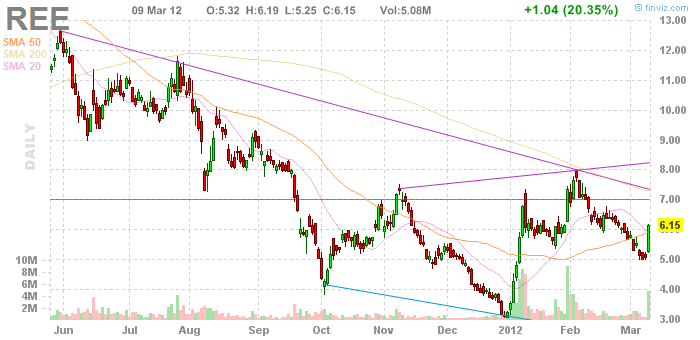 Looking at the stock from a purely accounting perspective, it is hard to justify any valuation. Every ratio is negative, as the company does not generate any revenues yet. However, looking at the management, one can notice several PhDs with significant experience in this field. I am not a fan of precious metals, but rare earth elements are a different area. Elements such as nedoymium, paseodymium, dysprosium, and terbium have substantial industrial applications. Battery producers are among the primary industrial users. According to the company profile, Toyota Prius use approximately 25-27 kilograms each of rare earth elements.
With a short ratio of 15%, the stock is among the shorters top targets. The shorts might have their own reasons, but based on the long-term outlook for the sector, they seem to be playing with fire.
Disclosure: I have no positions in any stocks mentioned, and no plans to initiate any positions within the next 72 hours.