In light of a recent positive earnings report from Tim Horton's (THI) is there still room for further gains? The thesis of this article will discuss THI potential for further upside in the coming year. The article will focus predominantly on THI and its ability to continue to grow in the U.S. market. There will also be a comparison made with its chief U.S. rival Dunkin brands (NASDAQ:DNKN).
THI is a donut and coffee chain that originally began in Hamilton, Ontario in 1964. THI is predominantly known for its coffee which has attracted a loyal following in Canada. Since its inception, THI has grown to over 3,000 Canadian and 600 U.S. locations. THI has a wide moat in the Canadian market as evidenced by 40%+ market share in the quick serve restaurant sales category. (Source Morningstar) Wide moat companies have a dominant market position that is hard to replicate. By virtue of its dominant position in the QSR marketplace THI earnings and revenue are easy to predict and aren't subject to wild fluctuations.
THI in its "More than a Great Brand" plan publicly shared its goals for 2012 which include:
Opening of 250-290 new locations
Diluted earnings of $2.65-$2.75
New share repurchase program of $200 million
Dividend increase of $0.21 per share for a current yield of over 1.5%
For further details please click here.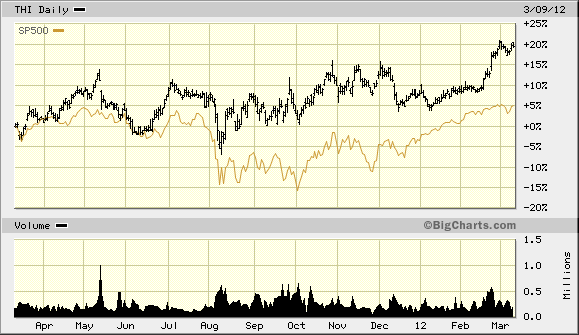 Charts courtesy of Big charts SP500 vs THI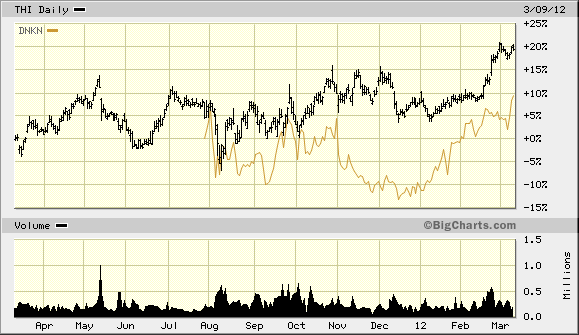 THI vs DNKN
What intrigues me most about THI is its ability to expand in the U.S. THI is currently in states that border Canada and is slowly expanding out. The strategy makes strategic sense as its builds on its tremendous goodwill and dominant presence in Canada. DNKN, in my opinion THI's main U.S. competitor, has over 7,000 U.S. locations. While I don't expect THI to overtake DNKN in the near future I believe the path for expansion is clear.
THI is currently trading for roughly 20 times this year's expected earnings which places it at a premium to the S&P 500 index. The premium is justified based on its dominant market position and strong growth potential. I would personally initiate a position in THI at any price under $48.
Disclosure: I have no positions in any stocks mentioned, and no plans to initiate any positions within the next 72 hours.