Plug Power (NASDAQ:PLUG) continues to dominate in the small but rapidly growing market for forklift truck power plants using hydrogen fuel instead of battery packs.
There was some very good news in the company's Q4 2011 earnings report.
Order rates for Power Plug's fork lift units continued to grow rapidly. Order rates for its products were almost 5x higher for the year 2012

Unit shipment rates were up 57% from the previous year

Revenues from year to year grew by about 41%.

Gross margins on products and services for the quarter improved to almost break even in the 4th quarter, as parts costs declined and volumes increased.
Click to enlarge: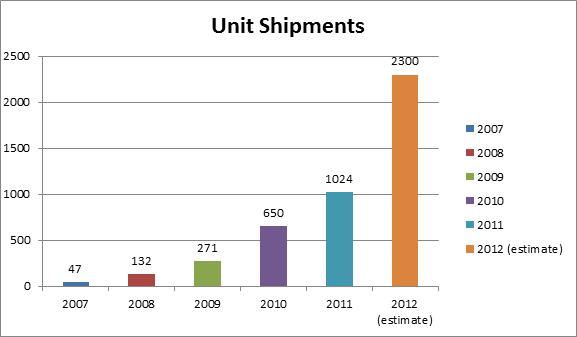 Click to enlarge
Expectations Were Set High
The most recent quarter is a case study in expectation setting. Unfortunately, the company had set some lofty expectations during the latter part of last year.
Although Plug Power shipped some 572 units in 4th quarter (by far its best quarter ever), it had set expectations for higher rates. As a result, the stock price has been punished from its recent $2.55 high.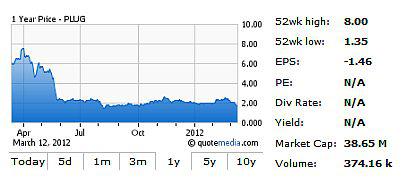 Also, Plug Power has been working to improve its growth margins through product upgrades and better utilization of its manufacturing capacity. Although product gross margins as a percentage have improved dramatically, the company had already set expectations for this good news.
Issues with Shipments
Plug Power is the dominant player in a brand new industry. End customers and hydrogen gas distribution partners are all learning this new industry as they go along. Plug is selling to companies that are household names (e.g. Procter & Gamble (NYSE:PG), BMW (OTCPK:BAMXF), Coca-Cola (NYSE:KO). Although these major companies are clearly moving ahead with hydrogen-powered lift truck projects, the time from sale to installation (and revenue for Plug Power) has stubbornly resisted shortening. The time from when the order is taken until shipment is about twelve months.
Although orders grew by almost 500%, Plug Power can only grow revenues as fast as its customers install the units. As a result, the majority of those new orders are sitting in backlog, likely to show up as revenue spaced through 2012. Since a large chunk of the 2011 orders were placed in the 4th quarter, we would expect the biggest spike in revenues to show up in the 3rd and 4th quarter of 2012.
Assuming orders grow by 50% in 2012 over 2011, it might be difficult to double unit shipments in 2012, as the company works through its backlog.
Gross Margins
The company achieved significant gross margin improvements in the 4th quarter. A benefit that came from the introduction of lower cost components should show continued improvements in Q1 and Q2 2012. The company has set positive gross margin expectations of 10% for the 2012 year.
Possibly Plug Power's biggest challenge over the next two years is to increase its product margins. Plug Power has to limit the price it charges for its product in order to attract customers, and this means that it will have to work to bring down the cost of its technology. Plug Power's key component supplier, Ballard Power (NASDAQ:BLDP) will have an important role to play in this.
Plug Power's stated goal of 10% gross margin will not bring it to profitability in 2012. Plug Power will not likely get to that point until late 2013 or 2014.
The Opportunity
Almost all lift trucks are currently powered by lead acid batteries. Plug Power is dominating the small but rapidly growing group of lift truck users that are switching from batteries to hydrogen fuel. Its orders are coming from leading Fortune 500 distribution center operators and manufacturers. Notable in the 4th quarter:
First time customers in North America: Associated Wholesale Grocers, Procter & Gamble and Kroger (NYSE:KR);

Repeat customers in North America: Wal-Mart Canada, Wal-Mart USA (NYSE:WMT), Sysco (SYS), Coca-Cola, Wegmans and BMW;
The European market is similar in size to the North American. Plug Power began its move into Europe in the quarter with a joint venture with Air Liquide, a major Europe based gas distributor who received Plug Power's first CE-certified products.
Order Backlog
Plug Power's backlog is growing and currently is at $36 million, or more than 1900 units, after taking 2,503 Gendrive unit orders in 2011. The majority of 2012 sales are already in the order backlog. For the full year, Plug Power received orders for $46.1 million from material handling customers; $18.1 million worth of those orders were received during the fourth quarter.
Setting New Expectations
We believe that Plug Power has a little less "irrational exuberance" in its 2012 forecasts. The company is now recognizing the full twelve months of time it takes to get customer installations, and forecasting a more conservative $40 million dollars in products and services sales for the 2012 year. Assuming 12 months of time from order to shipment, most of the 4th quarter orders from 2011 will not turn into revenue until the 4th quarter of 2012.
Plug Power's $40 million products and service sales estimate for 2012 seems quite reasonable given the 2500 units/$35 million dollar existing backlog.
The company has set expectations of annual order growth rates of 25% to 50% for the 2012 year. These estimates seem quite achievable and we see the potential for significant upside on that estimate.
Cash Burn
Although from 2010 to 2011 Plug Power reduced its loss from $47 million to $27 million, it still used about $33 million in operating activities in 2011. With cash on hand of about $14 million Plug Power will likely have to raise cash in 2012.
Risk
It is hard to predict when the company can get gross margins up high enough to start generating cash. Good progress has been made in reducing operating expenses, growing revenue, and reducing product costs in 2011. Our own guess is that it takes 12-24 months of hard work before gross margins could get to the cash break-even stage.
On the positive side, the order rate grew by almost 500% between 2010 and 2011, with a blue chip list of customers, a huge, U.S.-based market, and what looks like a smart strategy for building a European business. Most of 2012's shipments are already in the order backlog.
Valuation
Plug Power is a speculative investment, but with the current stock price about $1.77 and our target price of $4, the company looks attractive to us. Our new target price is a reduction from earlier predictions as the time estimate to positive cash flow has extended. Longer term, the upside on $4 looks very good as Plug Power dominates its segment, and its penetration to date is only a tiny slice of the potential market.
Disclosure: I am long PLUG.