Shares of Nike (NYSE:NKE) hit a new all-time high of $110 in Friday's trading session after Citigroup boosted its price target to $123. As shares have doubled in price in less than five years it is time to have a closer look at the global leader in footwear and apparel.
Innovation
Nike has boosted its innovation budget in recent years and that is starting to pay off. With innovation such as the new "Flyknit," the synthetic woven shoe, but also technological running devices, Nike has increased enthusiasm for sports. This has broadened the appeal of notably running. Many consumers have picked up the sport in a more professional manner, allowing Nike to sell them a lot of high-margin specialized outfits and related devices.
Valuation
Shares have risen some 14% this calendar year already. This values the company at roughly $50 billion. If we subtract the net cash position of roughly $5 billion, this values the operating assets around $45 billion. This valuation implies a 2.2 times annual revenue multiple and 21 times earnings as margins have stabilized around 10%.
For the first half of 2012 revenue growth has accelerated to 18% as the company generated some $11.8 billion in sales.
On top of the price appreciation, investors receive a 1.3% dividend yield per year.

Geographic division
The acceleration in revenue growth is largely driven by a strong performance of its North American division as well as continued strong growth in Central and Eastern Europe, China and Emerging Markets.
Despite the fact that Nike is a truly global brand it still has a strong focus on North America and a weaker market position in Europe, which explains why the European sovereign crisis did not hit the shares that hard.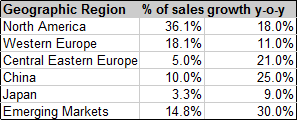 Competition
The main competitor for Nike is German based Adidas (OTCQX:ADDDF).
Adidas, which has a much stronger European focus, has rolled out its "Route 2015" plan. Earlier this week it reported its full-year 2011 results, a year in which the company generated Eur 13.3 billion in sales and profits of Eur 671 million, resulting in a net margin of 5.0%
Shares in Adidas are valued at just $16 billion, roughly a third of Nike's valuation. This valuation implies a 0.9 times annual revenue multiple and values the company at 18 times earnings.
With the European Football Championship being held in Poland this summer Adidas could enjoy a strong year. More favorable valuation metrics and a focus to close the margin gap with Nike (5.0% for Adidas vs. 10.0% for Nike) can be strong fundamental drivers for Adidas in the coming year.
(Click chart to enlarge)

Click to enlarge
Investment thesis
Nike has taken a lead in the continuous battle with Adidas by focusing on innovation in footwear and running devices. Despite outperforming in recent years when Nike returned 108% in five years vs. 58% for Adidas, the German competitor is far from beaten as it has started on its ambitious Route 2015 program and has the benefit of the European Football Championship this summer in Europe.
I would favor an investment in Adidas over Nike at this point in time.
Disclosure: I have no positions in any stocks mentioned, and no plans to initiate any positions within the next 72 hours.