Founded in 1887, the Chicago-headquartered Exelon (NYSE:EXC) is one of the largest diversified utility companies in the U.S. The company has an electricity generation capacity of more than 25 thousand megawatts. This capacity is generated by a diverse portfolio of energy sources, ranging from nuclear reactors to hydro-power plants. More than 5 million households in northern Illinois and southeastern Pennsylvania purchase their electricity from Exelon. The natural gas distribution segment serves approximately 500,000 customers in the Philadelphia region. While most utility stocks outperformed the broad market indices in the last 12 months, Exelon significantly lagged its peers.
As of the time of writing, Exelon stock was trading at $38.91 with a 52-week range of $38.3 - $45.5. It has a market cap of $26.1 billion. Trailing twelve month P/E ratio is 10.4, and forward P/E ratio is 13.7. P/B, P/S, and P/CF ratios stand at 1.8, 1.4, and 5.4, respectively. Operating margin is 23.7% and net profit margin is 13.2%. The company has some debt issues. Debt/equity ratio is 0.9. Exelon is a nifty dividend payer. Based on a quarterly dividend of 52.2 cents, current yield is 5.4%.
Exelon has a 5-star rating from Morningstar. Out of 4 analysts covering the company, 1 has buy and 3 have hold rating. Wall Street has diverse opinion about the company's future. Average five-year annualized growth forecast estimate is 1.8%. This is a remarkably conservative estimate given the company's past 5 year EPS growth rate of 9.8%.
What is the fair value of Exelon given the forecast estimates? We can estimate Exelon's fair value using discounted earnings plus equity model as follows.
Discounted Earnings Plus Equity Model
This model is primarily used for estimating the returns from long-term projects. It is also frequently used to price fair-valued IPOs. The methodology is based on discounting the present value of the future earnings to the current period:
V = E0 + E1 /(1+r) + E2 /(1+r)2 + E3/(1+r)3 + E4/(1+r)4 + E5/(1+r)5 + Disposal Value
V = E0 + E0 (1+g)/(1+r) + E0(1+g)2/(1+r)2 + … + E0(1+g)5/(1+r)5 + E0(1+g)5/[r(1+r)5]
The earnings after the last period act as a perpetuity that creates regular earnings:
Disposal Value = D = E0(1+g)5/[r(1+r)5] = E5 / r
While this formula might look scary, it easily calculates the fair value of a stock. All we need is the current-period earnings, earnings growth estimate, and the discount rate. To be as objective as possible, I use Morningstar data for my growth estimates. You can set these parameters as you wish, according to your own diligence.
Valuation
Historically, the average return of the DJI has been around 11% (including dividends). Therefore, I will use 11% as my discount rate. In order to smooth the results, I will also take the average of ttm EPS along with the mean EPS estimate for the next year.
E0 = EPS = ($3.75 + $2.83) / 2 = $3.29
Wall Street holds diversified opinions on the company's future. While analysts tend to impose subjective opinions on their estimates, the average analyst estimate is a good starting point. Average five-year growth forecast is 1.8%. Book value per share is $21.68. The rest is as follows:
Fair Value Estimator

V (t=0)

E0

$3.29

V (t=1)

E0 (1+g)/(1+r)

$3.02

V (t=2)

E0((1+g)/(1+r))2

$2.77

V (t=3)

E0((1+g)/(1+r))3

$2.54

V (t=4)

E0((1+g)/(1+r))4

$2.33

V (t=5)

E0((1+g)/(1+r))5

$2.13

Disposal Value

E0(1+g)5/[r(1+r)5]

$19.41

Book Value

BV

$21.68

Fair Value Range

Lower Boundary

$35

Upper Boundary

$57

Minimum Potential

-9%

Maximum Potential

47%
I decided to add the book value per share so that we can distinguish between a low-debt and debt-loaded company. The lower boundary does not include the book value. According to my 5-year discounted-earnings-plus-book-value model, the fair-value range for Exelon is between $35 and $57 per share. At a price of $39.90, Exelon is trading at the lower end of its fair value range.
Peer Performance
With a return of -4.7% in the last 12 months, Exelon performed worse than most of its peers. Among the largest diversidied utility providers, FirstEnergy (NYSE:FE) was the top performer with a return of 22.7%. Its performance is closely followed by PPL Corporation (NYSE:PPL) and Dominion Resources (NYSE:D) which returned 16.7% and 15.7%, respectively.
Performance Report

Company

Week

Month

Quarter

Half Year

Year

YTD

Dominion

0.48%

2.17%

1.56%

7.57%

15.76%

-3.37%

Exelon

0.08%

-1.94%

-9.64%

-7.09%

-4.73%

-9.09%

FirstEnergy

0.52%

4.12%

0.16%

4.22%

22.69%

2.19%

NextEra

0.35%

0.44%

6.19%

12.02%

12.80%

-0.45%

PPL Corp.

0.57%

3.03%

-2.18%

2.24%

16.73%

-2.72%
Based on my FED+ valuations, Dominion, Exelon, and FirstEnergy are fairly valued, whereas NextEra (NYSE:NEE) and PPL look like good deals at the current valuations. All of these companies offer great dividends ranging from 4% (NextEra) to 5.4% (Exelon).
Technicals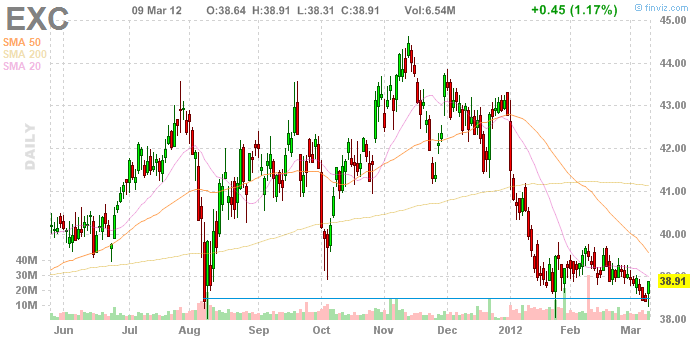 Click to enlargeFrom a technical perspective, the stock has already formed a multiple bottom formation. $38 is a strong support level for the stock. Once the stock finds a strong support, it can easily bounce back to previous highs.
Summary
Utility stocks are among my favorites. Their dividends have a tendency to be ignored by most investors. However, a significant portion of the equity market returns can be attributed to the dividends. Utilities offer safe and stable dividends regardless of the contemporary economic conditions. Exelon is no exception. It offers a yield of 5.4%, which is more than fully supported by the earnings.
While utility industry is known as a boring one, the recent events suggested a more dynamic structure within this field. The Duke (NYSE:DUK) merger announcement with the Progress Energy (PGN) created started a new trend in this field. Following this trend, Exelon announced its intention to merge with Constellation Energy (NYSE:CEG). The merger, which is recently approved by the Maryland Public Service Commission and the Federal Energy Regulatory Commission is expected to create thousands of new jobs with the Maryland area.
The transaction would create an initial cost on the Exelon's adjusted earnings. However, the management expects a break-even, followed by a 5% accretive to earnings after 2013. The synergy created by the merger would benefit both entities in the long-term. The achieved economies of scale can reduce the future variable costs, which will be reflected by higher profit margins. While the markets did not welcome this merger for the moment, the long-term outlook is positive.
Disclosure: I have no positions in any stocks mentioned, and no plans to initiate any positions within the next 72 hours.