It doesn't take a genius to see that the brick and mortar office supply companies are losing business to the likes of Amazon (NASDAQ:AMZN) and other online retailers. For example, office paper sales are in decline as "cloud computing" lets people store files and documents on a network that allows them access whenever and wherever they want. In 2011, the PC market shrank for the first time in a decade, aided by the Apple (NASDAQ:AAPL) iPad stealing share from the PC market; not helping the likes of Office Depot (NYSE:ODP), OfficeMax (NYSE:OMX), and Staples (NASDAQ:SPLS).
All this being said, most people believe that office supply stocks could be headed to a slow death over the next decade as the majority of the products they sell are in decline. The surprise, however, is that I believe OfficeMax is severely undervalued and deserves to be bought right here and right now.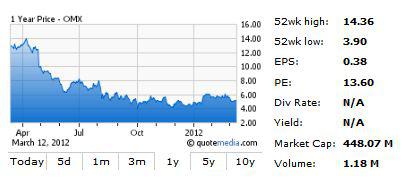 OfficeMax was founded in 1988 and has 990 locations, with sales of over $7 billion. During the last 3 years, the company has been struggling to increase its business but sales growth has been flat. If you look at OfficeMax's balance sheet, the company looks grossly over-levered with $1.7B in debt that could certainly spiral out of control if the U.S. experiences another recession. However, under closer scrutiny, $1.4B of that $1.7B is non-recourse debt from the 2004 sale of its timberland assets to Boise Cascade. OfficeMax explains in its 10-K how it created Installment Notes to defer $543M in taxes until 2020 when the notes expire, and Lehman and Wachovia were each guarantors of half of the notes. On September 15th, 2008, Lehman filed for bankruptcy and caused OfficeMax to take a non-cash impairment charge of $735M. Due to GAAP accounting rules, the non-recourse debt from Lehman has to remain on the balance sheet until Lehman's bankruptcy is finalized and the debt is fully extinguished, legally. On December 6th, 2011 the bankruptcy was finalized, with Lehman later announcing it will start to pay creditors on April 17th, 2012. This should allow OfficeMax to take a non-cash gain on its 2Q 2012 earnings.
After this non-cash gain is recorded and $271M in taxes assessed, of which $195M will be covered by tax-loss carryovers, OfficeMax will see its balance sheet looking much improved. OMX is already trading at a discount to book value of $6.97/share, and the company will add $469M, or $5.75/share, to its book value after this gain occurs. The new adjusted book value will be in excess of $12.50/share, while the current stock price meanders around $5.00. A table below has been provided to help understand the effects to the balance sheet.
Management has also been able to keep revenues flat for the last several years, keeping the company profitable. Analysts expect a slight increase in EPS and flat revenues in 2012 vs. 2011. The company should earn $.61/share in 2012, which makes the current stock price trading at less than 8.5 P/E a bargain, and well below book value.
Another reason I think OfficeMax is a buy, is because there have been numerous rumors over the past years that Staples or a private equity firm may come in and buy OfficeMax or Office Depot. OfficeMax is the more likely candidate since its balance sheet is cleaner and the company trades at an undeserving low valuation. Another potential catalyst is the possibility of Office Depot striking a merger with OfficeMax to create a duopoly in the office supply market, with synergies that could help the merged company compete against Staples. Either of these scenarios would lead to massive stock gains for OfficeMax, and renewed rumors would surely take the stock higher.
OfficeMax is currently being left for dead. With the U.S. economy adding jobs at a faster-than-expected rate over the last several months, small business spending could surprise to the upside. I believe investors will flock to OfficeMax later in the year when the balance sheet looks less complex. Either way, OfficeMax is very cheap at these levels and with a high short interest, shares could quickly reach $10 in the 2nd half of 2012, making this a great contrarian play.
| | | |
| --- | --- | --- |
| | 31-Dec-11 | After Lehman |
| ASSETS | | |
| Total current assets | 1,938,974 | 1,867,974 |
| Net property and equipment | 364,936 | 364,936 |
| Intangible assets, net | 81,520 | 81,520 |
| Investment in Boise Cascade Holdings | 175,000 | 175,000 |
| Timber notes receivable | 899,250 | 899,250 |
| Deferred income taxes | 370,439 | 175,439 |
| Other non-current assets | 239,156 | 239,156 |
| Total assets | 4,069,275 | 3,803,275 |
| | | |
| LIABILITIES | | |
| Total current liabilities | 1,013,301 | 1,013,301 |
| Long-term debt, less current portion | 229,323 | 229,323 |
| Non-recourse debt | 1,470,000 | 735,000 |
| Other Liabilities | 787,658 | 787,658 |
| Total liabilities | 3,500,282 | 2,765,282 |
| | | |
| Total OfficeMax shareholders' equity | 568,993 | 1,037,993 |
| | | |
| Book Value | $ 6.97 | $ 12.72 |
Disclosure: I have no positions in any stocks mentioned, and no plans to initiate any positions within the next 72 hours.