Diversification is key in any portfolio, and often times I find myself seeking it outside my typical scope of technology and service sector stocks. Over the weekend I decided to do just that, and in doing so investigated the financial sector, due to Europe's debt panic subsiding, to choose some ideas for the coming week for possible purchase. I feel the following two stocks are good candidates for a long position.
Bank Of America (NYSE:BAC)
Two fellow Seeking Alpha authors articles assisted in my Bank of America choice. For much more in depth analysis, please read their articles; one by Gestalt Investor, here, and another by John Mylant, here. Mylant believes there will be a short-term pullback before a long-term gain:
It appears that the 50-day MA has become the resistance level at which the stock continues to bounce off and move down. Just like it did at the beginning of 2011 it is now having difficulty pushing through that level. With this is mind, we believe an opportunity exists for an option play.
Gestalt believes that the present $8 level is a great entry point for future gains:
Bank of America's toughest days seem to be behind it, and the patient appears to be in stable condition. As the economy improves, the stock price will begin to march toward its book value. Given the steady stream of positive economic data points, I see Bank of America's current price of $8 as a compelling entry point.
In looking at the recent chart here...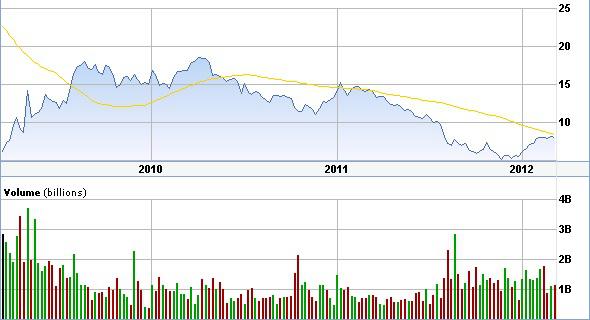 ... I agree with Mylant's sentiment. Because I also believe in Gestalt's long-term view that Bank of America's toughest days appear to be behind it, I would seek entry by selling cash secured puts at the $8 level, since there is no dividend to take advantage of by holding the stock long. This allows us to increase our cash position, lowering our cost basis. If we are assigned the stock at expiration, it fits our long-term view. A more bearish sentiment short-term with the same bullish long-term sentiment would fit a $7 cash secured put sale.
If you believe BAC is not due for a short-term pullback, then going long the stock itself is a great choice.
Citigroup (NYSE:C)
John Mylant again assited with my choice of Citigroup with his article here. He focuses on options, and seems to be quite in tune to the shorter- to mid-term prospects for Citigroup:
It appears we may be on the end (verses the beginning) of the European debt panic (if there is an end). With lending slowly picking up and debt problems shrinking, it appears the stock may turn up through the 50 day MA.
Like Bank of America, with Citigroup fighting its 50-day moving average, a breakthrough could signal a run to the upside. With recent upgrades to both buy and outperform by Goldman Sachs (NYSE:GS) and Wells Fargo (NYSE:WFC) this lends the support of analysts to my decision to consider going long.
Consider also this piece by Seeking Alpha author StreetAuthority. I believe their comment has merit:
Looked at another way, investors are finally realizing that Citigroup's balance sheet is so strong, and its operations are now so stable, that fears of another 2008-style meltdown should be a diminishing concern. As a result, Citigroup's stock should slowly work its way back to tangible book value, or from a current $32 up to $48. That's a 50% gain right there, just on the book value angle alone.
I think Citigroup may be a good investment not only for short-term, but also long-term gains, if you believe in Citigroup's recovering image and balance sheet. As you can see, Citigroup has been recovering since the blows received to most stocks at the end of last year, and certainly has room to grow.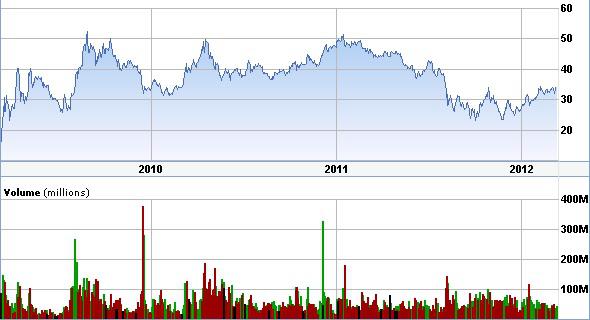 Summary
In balancing one's portfolio, it is often a good idea to drift outside of your usual comfort zone and entertain some securities from other sectors. Often you can find hidden gems or solid long-term opportunities you may have missed. As always, be sure to do your own due diligence before making any purchases.
Disclosure: I have no positions in any stocks mentioned, but may initiate a long position in BAC and/or C over the next 72 hours.