A company that can execute well in two distinct lines of business is hard to find. Even if such a company can be found, it's rare that both business segments are positioned in industries with strong long-term economic outlooks. With LSB Industries (NYSE:LXU), a company still run by its founder, Jack Golsen, and his experienced lieutenants, you get a proven and efficient operator positioned to benefit from the bull market in agriculture and commodities, as well as the rebounding housing market.
LSB Industries operates two distinct businesses in the Chemicals industry and the Climate Control equipment industry. The Chemicals business produces various chemicals for agriculture, mining, and industrial use. The Climate Control business dominates several HVAC niches including Water Source Heat Pumps, Hydronic Fan Coils, and the relatively new Geothermal Heat Pump market.
Despite producing excellent growth and margin numbers over the past year, LXU continues to remain an under-covered stock that flies beneath the radar of many PMs. The attractive valuation numbers allow investors to gain exposure to the nascent housing recovery and the continuing commodities boom at a multiple that would make stocks like Lennar (NYSE:LEN), (a housing market play) at 42x earnings, and even Rio Tinto (NYSE:RIO) (a mining and commodities play), at 18.6x earnings, blush.

Below is a price performance comparison showing LXU relative to two major players in the agrochemical market -- Terra Nitrogen (NYSE:TNH) and CF Industries (NYSE:CF) -- and two companies with significant exposure to the housing recovery -- Lennar and PulteGroup (NYSE:PHM).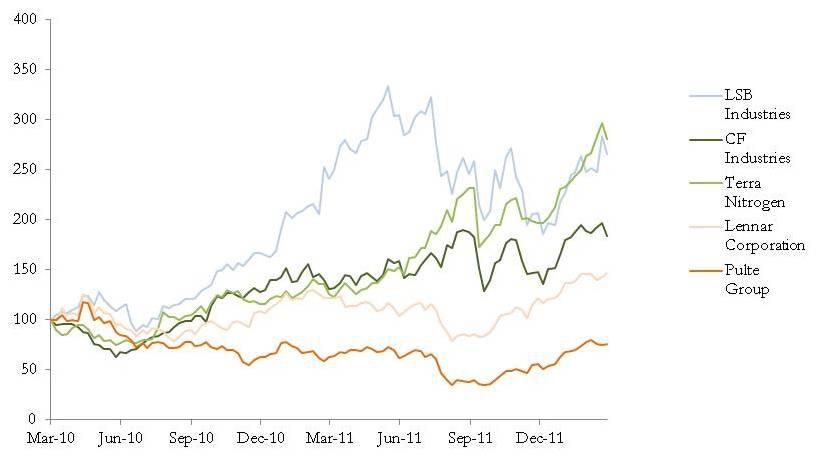 You can see that over a two-year period, LSB has performed as well as, or better than, most of these competitors in both business segments.
Overview of 2011 Results
Results for 2011 showed that the Chemicals segment drove performance while Climate Control delivered good, but not great results. Going forward, we expect Climate Control's results to improve and begin performing in conjunction with the Chemicals segment. In CC, sales were up 12% in 2011, mainly driven by a 43% increase in hydronic fan coil sales and a 7% increase in Geothermal Heat Pump sales. Commercial and institutional sales grew 19%, while residential sales detracted from performance by 7%. We expect that residential sales will improve as the housing market completes its healing process. The McGraw Hill Construction Outlook projects new residential single-family starts to grow by 7%, new multi-family starts by 17%, and commercial starts to be 8% in 2012. These figures point to increased demand for LXU's climate control products.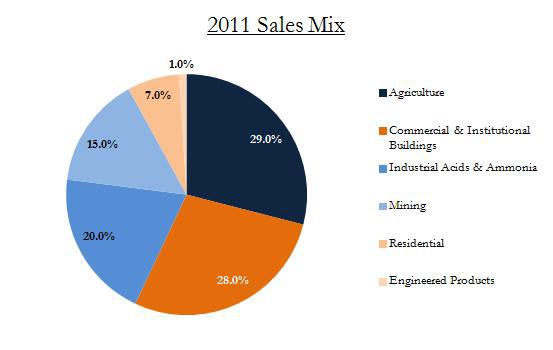 There were two key drivers of the Chemical segment's excellent 2011 results. First, the shift from lower margin UA production (mostly at the El Dorado facility) to high-margin UAN and Ammonia production (mostly at the new Pryor facility) resulted in a benefit from more a profitable product mix. Second, the general rise in chemical prices boosted revenues. The company displayed its operational nimbleness in its shift from a struggling product to higher margin ones. Because LXU's El Dorado facility produces UA from purchased ammonia and not directly from low-cost natural gas, LXU's UA offerings found themselves at a cost disadvantage versus peers as gas prices collapsed.
Additionally, drought in the mid-South region (a major UA demand source) hurt overall sales of UA. Thus, LXU utilized its full UAN and ammonia capacity at its new Pryor facility. Management expects to add 60,000 to 90,000 tons of Ammonia capacity at the Pryor facility over the next few years. A discussion on the geographic differentials in fertilizer pricing took place on the Q4 conference call. Management stated that Pryor's close proximity to the Mid-Western market for fertilizers allowed it to sell its output into a spot market where prices averaged close to $330 (per ton), compared to the $240 level that was common on the Gulf Coast.
Transportation costs provide for the rather large differentials. Pryor's higher margin production has helped boost the company's results for several of the past few quarters.
The good news is that it is unlikely that Pryor represents a one-off lucky hit. During the Q4 call, management mentioned that they were "keeping their powder dry" in search of attractive acquisitions. Though they did say that Climate Control acquisitions were easier to digest, it is possible that certain factories or production assets in the fertilizer business could be acquired that would help the company drive growth and even improve margins further.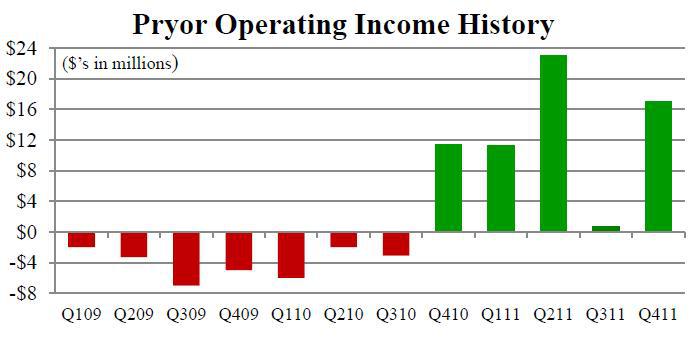 Overall compared to 2010, 2011 results increased 71% in the agricultural chemicals segment, 34% in the mining chemicals segment, and 28% in the industrial chemicals segment [pg 11 Q4 Pres]. A slow, but relatively broad-based, recovery in American industry, as well as the sustained bull market in agriculture and minerals, places LXU in an industry with very healthy economics.
Agrochemical Segment
According to Business Insight's The Global Market Outlook for Agrochemicals 2010-2015, the market for agrochemicals in the United States will increase by a 10.9% CAGR between 2010 and 2015. The underlying driver of this growth is the massive worldwide expansion in population and general income levels, while the amount of arable land remains fixed.
The explosion in demand for poultry, pork, and beef in developing countries requires massive quantities of grain feedstock. Agrochemicals are necessary in order to boost yields, and may be in even higher demand if global warming begins to impact soil quality and nutrient levels. Fortunately for LSB Industries, demand for its agricultural chemical products is exploding at the same time that the economics of the industry have set the stage to turn the segment into a sustainable cash cow.
The crash of agricultural products during the 2008 and early 2009 financial crisis had significant impacts on the capacity for fertilizer production in the United States. On the Q4 conference call, management estimated that capacity in US ammonia production capacity has declined about 40% since 2008, with the excess demand shifting mostly overseas. While many industries might struggle with overseas competition, fertilizers' higher transport costs give domestic suppliers a significant advantage.
On the same conference call, when asked how quickly competitors might be able to add agrochemical capacity, LXU management described the lengthy government permit process (1-2 years minimum), the very high fixed costs of a greenfield plant, and the total time for planning and building (4-6 years). LXU is nearing completion of that process for adding capacity at the Pryor facility. That kind of timetable should mean that LXU continues to generate substantial margins and cash flow from its agrochemical segments.
Input costs for many of LXU's agrochemical products have plummeted due to the depressed price of a major input, domestic natural gas. The impact of unconventional NG production can be seen throughout different industries in the US, and the story is no different here. Since NG is a vital component to the fertilizers produced by LXU, the company has seen its margins bolstered by the decline in input costs.
During the Q4 earnings call, management was questioned about its NG hedging strategy given the depressed price environment. Their response was that they expected NG to remain at a depressed level into the foreseeable future, and thus, believed hedging to prices that might decline may actually hurt them in the medium run. Nevertheless, the company does build its NG on hand ahead of production and currently has 75% of its NG for Q1 and 27% of Q2. Most observers continue to project a supply-rich NG market for several years into the future, and we believe this will continue to help drive LXU's results.
Housing and Construction Recovery
2012 seems like it has a strong case for being the year that the housing market begins its long-awaited turnaround. Despite the continued debate over the existence of a recovery in housing, a consensus is slowly forming around the idea that housing should contribute positively to GDP growth for the first time since 2005. Bloomberg cites a 20% yoy rise in housing starts, a 122% increase in the homebuilder confidence index, and a 26% rise in the volume of lumber shipped by rail car in support of this emerging consensus. In January, existing home sales took place at the fastest pace in months.
Below is a chart that we believe gives some context for what this year's housing pick up could mean. The projections represented by the red line are consistent with Capital Economics' (cited in the above article) predictions of total US housing starts of 750,000 in 2012. While the increase in construction is fairly modest when viewed in historical context, the recovery should pick up pace in the 2013-2015 period and provide meaningful tailwinds for LXU's Climate Control businesses.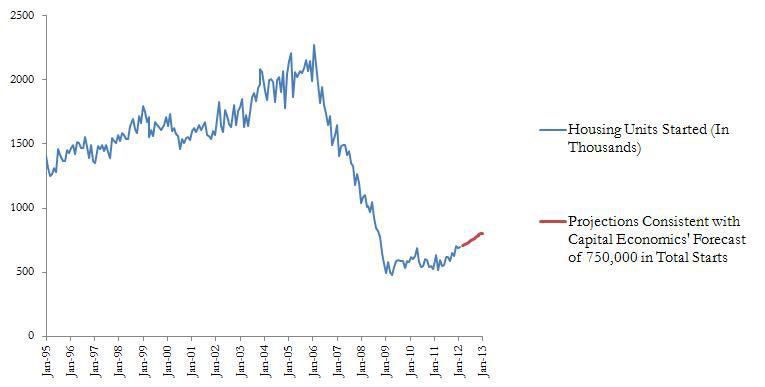 When housing begins to pick up steam, LXU has plenty of operating capacity within its Climate Control production facilities to allow for a rapid ramp-up in production. According to page 20 of the 10K, LXU's fan coil business was operating at 52% of production capacity, while its water source and geothermal segments were operating at 64% capacity. Management mentioned on the conference call that no significant CapEx would be necessary for a stair-step up in Climate Control equipment production and that the segment should offer significant contribution margin when the macroeconomy began to serve as a tailwind.
Though we are not strong believers in geothermal as a mass-scale solution to the issue of carbon emissions, geothermal should have a meaningful place in the array of various smaller-scale solutions. The company's 7% yoy increase in Geothermal Heat Pump sales is evidence that the segment can grow aggressively once the construction market improves. The enhanced environmental consciousness of many companies and high-income individuals is bolstered by the tax credits offered in the Energy Improvement & Extension Act of 2008. The Act's provides for a tax credit worth 30% of the total investment for residential installations and 10% for commercial installations, available until 2016. LXU is positioned to be a major beneficiary of both the environmental trend and the corresponding legislation.
Valuation and Risks
LXU trades at an attractive 7.8x 2012 earnings and only 11.0x LTM earnings. Because of the two distinct business segments, LXU doesn't easily comp against pure-plays in both the construction equipment category or the chemicals category. Agrochemical competitors Terra Nitrogen and CVR Partners trade at 14.6x and 13.7x LTM earnings respectively. There isn't an easy comparable for the HVAC equipment business, though companies like GE, which trades at a forward P/E of 10.7x, or Lennar Corporation (the homebuilder), which trades at a forward P/E of 19.9x, can give you some idea of how the market is valuing the equipment manufacturers and those businesses with exposure to a housing recovery.
What is causing the market to value LXU at levels which are substantially different from its peers in both lines of its business? Though we can't be sure, we'll offer a few possible answers. First, and what we think is the most likely reason, is that the company is simply flying under the radar. Though its MCAP is not that small, there is very little sell-side coverage of the company. A simple Seeking Alpha search (a rough proxy of market awareness, to be sure) shows not a single article focused on the company in the past few years.
We believe the market is not efficiently valuing LXU because the market simply isn't paying enough attention. Another possible answer, and one that we do not think holds any merit, is that the company fetches a lower multiple than comps due to its lack of a focus as a business. Because it is spread across two different businesses, LXU may be perceived as a less effective operator than pure-plays in either one of its business segments. Nevertheless, the margin numbers, ROE, and ROA would serve to discredit that idea. LXU has demonstrated that its business advantage is not necessarily its specialization in either segment, but rather its expertise in operating efficiency.
The product mix versatility the company displayed during 2011 is just one example of management's ability to run a streamlined and dynamic business in both Chemicals and Climate Control. The third answer to the "why is LXU's valuation depressed?" quandary is that there is some unknown or uncertain contingency lurking somewhere which merits a lower valuation. A quick read-through of LXU's contingencies section in its 10K indicates that there is nothing out of the ordinary in terms of contingent liabilities and lawsuits for a normal industrial company. Though uncertain factors surrounding carbon regulation may be on the horizon, they loom over LXU's competitors as well.
Our only conclusion is that the market fails to appreciate the value that LXU represents. Based on our conservative assumptions, we are projecting a 12-16 month price target of $51.35, based on a multiple of 13x our 2013 EPS estimate of $3.95. This represents a 30.1% upside to the company's current share price.
Disclosure: I have no positions in any stocks mentioned, and no plans to initiate any positions within the next 72 hours.