Aerospace and defense is a big business. The items governments want in this realm are short-run items. There are much fewer F-16s sold than blue jeans, so there are less economies of scale - and they require much more precise engineering - a fail on the battle field costs lives, whereas if your alarm clock fails it is only a minor inconvenience.
Ensuring that type of precision is an expensive venture - it takes talented professionals, precise construction and extensive diagnostic testing. And governments are willing to pay dearly for that precision.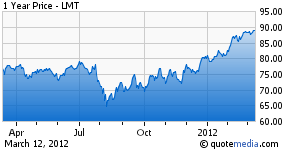 One issue is cost. The price Lockheed Martin (NYSE:LMT) charges for its wares are not set by the company itself in many cases. For instance, in its deal with Japan, the price per plane was set through discussions between the U.S. and Japan. Lockheed Martin has to find a way to make it work. In this case, if it goes over budget or can't deliver by the deadline, Japan could cancel the contract, but as it stands that is one pretty payday.
The cost of materials is also an issue. Smaller orders make it more difficult for Lockheed Martin to buy its raw materials in bulk, so in the case of the Japan contract it costs Lockheed Martin more to make the initial batch of four planes than it would to make all 42 were it awarded the full contract. There are fixed costs related to the company's infrastructure as well, like rents and debt payments. When the contract is small, the company has to spread its costs over fewer items, increasing its practical cost per plane.
Next, there is the fact that these aerospace defense contracts are so large that a government could put a deal on hold. For instance, Lockheed Martin has a $15.1 billion deal ($3 billion higher than the GDP of Iceland, if you were wondering) with the U.S. government to make 179 F-35s over five years, but that deal is on hold right now in a bid for the government to save money. If Lockheed Martin was depending on that income, the delay could put the company in a bit of a bind. In addition to the restriction it could place on its operations, especially if the raw materials were already ordered, the company risks losing investors.
Lockheed Martin beat analyst estimates on its fourth quarter 2011 performance (reported January 26) by 20 cents ($2.14 versus $1.94), and it has beat EPS estimates for the last six quarters. The company recently traded at $88.68 a share. After Japan issued a warning that it may cancel its contract with Lockheed Martin, Forbes revised its price estimate for the company, bringing it down to $86 a share - meaning it is overvalued by roughly 3% by its calculations. But there are analysts that say Lockheed Martin could reach $102 a share in the next year. If they are right, that would be an increase of over 15%. In addition to the upside, Lockheed Martin also pays a $4 dividend (4.50% yield), so investors buying in now could get a return as high as 20% over the next year.
Lockheed Martin is also priced low - it has a forward price to earnings ratio of just 10.48 - and has decent earnings expectations. According to Yahoo Finance, Lockheed Martin's earnings are expected to grow by 8.20% per annum on average over the next five years, versus expectations of 12.85% for its industry. Most of this growth is expected to come in 2014 and beyond. Lockheed Martin's earnings are expected to grow by just 0.40% this year and 7.40% next year.
Even at these low rates, Lockheed Martin has an intrinsic value of $88.37 a share, which is only marginally less than its current trade price of $88.68. In comparison, competitor Boeing (NYSE:BA) is trading at $74.13, has an intrinsic value of $69.39 and pays a $1.76 dividend (2.30% yield). On one hand, if Lockheed Martin's deal with Japan fails, Boeing could pick up the pieces. Its F/A-18 was one of the fighter planes Japan considered before settling on Lockheed Martin's F-35. But, without that, Boeing's outlook is only so-so. The company has a mean one-year target estimate of $84.73. Its sales are expected to increase by 15% in 2012, but that growth will be driven almost entirely by its commercial airlines segment. Boeing's aerospace and defense business revenues are expected to fall by 4.5% this year according to Standard & Poor's.
Rival Northrop Grumman (NYSE:NOC) recently traded at $59.93 a share with a $2 dividend (3.30% yield) and an intrinsic value of $58.33. It has a one-year target estimate of just $60.27, suggesting that analysts are not generally hopeful. Standard & Poor's estimates its revenues will drop 5% in 2012, after falling 6% in 2011. The decline is in part owing to generally more pressure from governments and defense budgets that are already stretched far but the other part is all Northrop Grumman. The company has an established policy of foregoing lower-margin business. This may help preserve the integrity of its brands but if no one is able to pay those margins right now the company is going to have to take the loss. Right now, it seems to me that Northrop Grumman is in a holding pattern. It may be a good investment once the market starts to recover but I doubt it. Right now it is losing a lot of goodwill in an industry that requires it. Going long is the only way I see to play to this stock, and even then there are better companies.
Raytheon (NYSE:RTN) is trading at $51.62 a share, pays a $1.72 dividend (3.30% yield) and has an intrinsic value of $42.32 (suggesting it is overpriced). The outlook for this company isn't any better. It has a mean one-year target estimate of just $51.77. Raytheon is much smaller than these other companies and I doubt it will be able to weather the storm as easily. Its current debt to equity ratio is low at 0.56 but so is its quick ratio, at 0.87. If it can't spark things up and it faces a short-term hardship, as it very well may given the current climate, that money will have to come from somewhere and the company doesn't have it. I think Raytheon has good upside potential over the long term but this is definitely not a shorter term play. I would look elsewhere.
Looking at these companies, Lockheed Martin's intrinsic value is on par, its dividend is higher and it is the only company of these four with earnings that are expected to grow this year. Given its intrinsic value and its high dividend, I think that Lockheed Martin is a great deal for investors with a timeline of three years or more.
Lockheed Martin is also positioned well given the current political climate. There are the issues between Iran and Israel to consider, the latter of which is one of Lockheed Martin's primary export partners. Israel ordered 20 F-35s from Lockheed Martin in October 2010 in a $2.75 billion deal. They are expected to be delivered from 2015 to 2016. Domestic spending needs to be considered as well. Lockheed Martin has a variety of contracts in place with the U.S. government. There is the $15.1 billion deal mentioned earlier, but there are also several more.
Lockheed Martin is partnered with the Federal Aviation Administration ((NYSEARCA:FAA)) for the transformation of the National Airspace System. Lockheed Martin has several operations support projects as well, including: one for the Department of Defense's Joint Improvised Explosive Device Defeat Organization (JIEDDO) worth up to $900 million; a $94 million contract for technical support of the Distributed Mission Operations Center (DMOC) located at Kirtland Air Force Base, NM, among others; and a $921 million contract from the U.S. Army Aviation and Missile Command for hardware and services associated with the Patriot Advanced Capability-3 (PAC-3) Missile Segment program.
In other words, Lockheed Martin is in a strong position to excel. It is priced well, has great prospects and pays high dividends - what's not to love?
Disclosure: I have no positions in any stocks mentioned, and no plans to initiate any positions within the next 72 hours.