Amazon (NASDAQ:AMZN) sells at a 140.03 P/E ratio in a 14.90 P/E market. How can any investor expect to make money buying a stock like that? The stock hit the skids recently, as this graph provided by Barchart shows (click images to enlarge):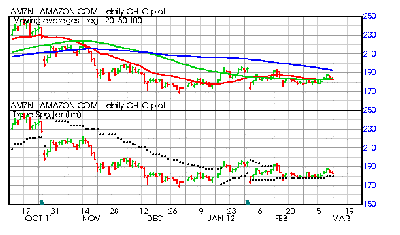 During the last 6 months while the market is up as measured by the Value Line Index this stock is off 25.76% from its 1 year high: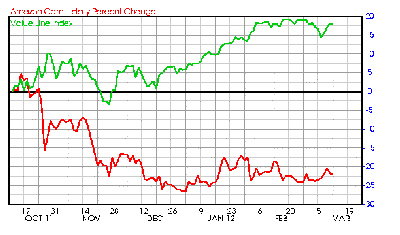 Amazon.com, Inc. operates as an online retailer in North America and internationally. It operates retail Websites, such as amazon.com and amazon.ca. The company serves consumers through its retail Websites and focuses on selection, price, and convenience. It also offers programs that enable sellers to sell their products on company's Websites, and their own branded Websites. In addition, the company serves developers and enterprises through Amazon Web Services, which provides access to technology infrastructure that developers can use to enable virtually various type of business. Further, it manufactures and sells the Kindle e-reader. Additionally, the company provides fulfillment services; miscellaneous marketing and promotional agreements, such as online advertising; and co-branded credit cards. Amazon.com, Inc. was founded in 1994 and is headquartered in Seattle, Washington. (Yahoo Finance profile)
Factors to Consider
Barchart technical indicators:
Mixed signals
8% Barchart technical sell signal
Trend Spotter buy signal
Although above its 20 day moving average it is below its 50 and 100 day moving averages
25.86% off it's 1 year high
Relative Strength Index 49.92% but rising
Barchart computes a technical support level at 180.39
Recently traded at 183.20 which is below its 50 day moving average of 183.44
Fundamental factors:
This has been a long time Wall Street brokerage firm favorite, with 27 brokerage firms assigning 41 analysts to follow the company's numbers
Analysts project revenue will increase by 30.60% this year and another 28.10% next year
Although they forecast earnings will decrease by 5.80% this year they estimate an increase of 106.20 next year and to continue to increase annually by 30.28% over the next 5 years
Theses consensus numbers result in 13 strong buy, 11 buy , 15 hold and an under perform and a sell recommendation for their clients
Analysts are all over the place with price projections between negative and 11% annually for the next 5 years
At a P/E ration of 140.03 in a market with a 14.90 P/E it will be had for earnings to catch up to the P/E
The company enjoys an A+financial strength rating
In the last report although sales were up 41% year over year earnings were down 45%
The company is battling increased costs and very heavily investing in technology and infrastructure
General investor interest:
As measured on Motley Fool, the individual investor is very interested in this stock, with 6,323 readers offering an opinion on this issue
The general readers voted 81% that the stock will beat the market
The more experienced and savvy All Stars voted 85% for the same result
89% of the columnists and firms Fool follows were still positive on this issue
Jim Cramer has it a sell, while Morgan Keegan, Jefferies, Goldman Sachs and Kaufman Brothers are still bullish
Always compare a stock's recent price action to its competitors. The market has the final say. Amazon in the past 6 months was down 22%, while Apple (NASDAQ:AAPL) was up 38%, Barnes & Noble (NYSE:BKS) up 10% and eBay (NASDAQ:EBAY) up 10%: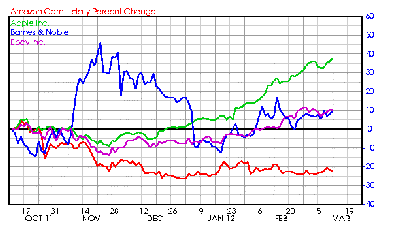 Summary: Amazon will be around, and a revenue leader in its sector for some time. In the long run its investment in technology and infrastructure should pay off, but looking at the P/E of 140.03, the recent price momentum and a sell signal from Jim Cramer lead me to 3 different recommendations. Recent price momentum makes this a dangerous stock to short. If you already own it, hold it, as the price appears to have bottomed out and is in recovery ride it out. If you do not presently own the stock, I think you can find better opportunities elsewhere. You can find 30% annual earnings increases at a far less than 140 P/E ratio. Please look at this 14-day turtle channel chart and see if you reach the same conclusions: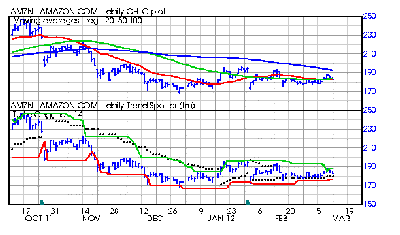 Disclosure: I am long AAPL.