Market Recap: The market was fairly mixed to start out the week without much movement in either direction as the market prepares for a big week of headlines and economic data. Headlines were fairly limited with China's surprise move to a trade deficit on increased imports kept the markets in check. At the same time, the market was continuing its winning streak from last week as the market moves higher on the news that Greece is slated to receive its second round of bailout money. The credit default event last week seems like a non-issue overall.
Tomorrow is a big day. We have the FOMC rate decision tomorrow afternoon. The Fed is not expected to do anything big, but we will be interested to see how they talk about the problem with rising oil and gasoline prices. Additionally, we have retail sales and business inventories due out tomorrow. We will get our first peek at how rising gasoline prices will affect retail sales. Overseas, we get the Bank of Japan rate decision as well as the German ZEW Survey, which is crucial to European markets. A busy day ... where will we go ... and what to play?

We are a fan of two trades right now: Gildan Activewear (NYSE:GIL) and Amazon.com (NASDAQ:AMZN). For long, we like Gildan. We have the company Buy rated with a $33 price target. The company looks to be breaking out to the upside right now and has been very strong since its Feb. 8 earnings report. The company broke the 200-day MA last week and looks to be moving higher. We recommend going long on GIL on any dips. Options are limited on the company.
Amazon.com looks like a great short right now. The company broke out of its downward channel on the iPad 3 release. Today's sellout news from Apple (NASDAQ:AAPL) has reinvigorated selling on AMZN. We believe the stock will hit 170 before 190 right now. The PE is too high, and the success of the iPad is not good for AMZN.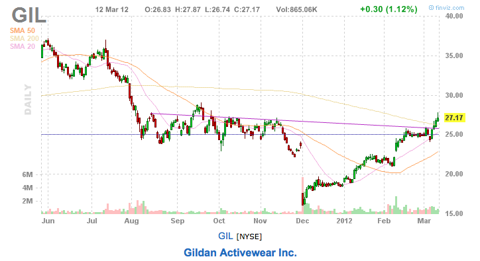 Tomorrow's Outlook
The market could go either way tomorrow, and we have a ton of important information out tomorrow that we mentioned before. We tend to believe as we move our attention away from Greece to the domestic here at home, U.S. markets will bring more upside. The Fed has a big influence on tomorrow, but we expect upside into the report. Positive commentary from them and some discussion of attention to rising commodities should help as well. Data points are important as well. It is a big day, and we have a lot to digest.
Analyst Action
There was not a ton of big upgrades and downgrades today that we found interesting. We did see an upgrade to Buy for Hershey (NYSE:HSY) from Goldman Sachs. We like HSY as a solid blue chip that can be bought on weakness and has some support from analysts. Bank of America/Merrill downgraded two airlines in United Continental (NYSE:UAL) and Southwest Airlines (NYSE:LUV) to Neutral from Buy. Airlines look weak as long as oil prices stay higher.
Commodity Talk
We continue to like shorting oil and United States Oil Fund (NYSEARCA:USO) as we discussed last week. Oil came down nicely today on what was fairly limited news, and it may be broken now. Upside seems very limited, and we continue to hold a bear call spread on USO fro 42/43 strikes. Any QE talk tomorrow, however, could send oil higher again by dropping the dollar. We will definitely need to watch this. No talk of QE is a good place to short oil. We prefer Ultrashort Proshares DJ-UBS Crude Oil (NYSEARCA:SCO).
Oxen Group Moves
We had a quiet day here as we had no exits, but we did add several new positions. We added a bull put spread for Apr20 in Starbucks (NASDAQ:SBUX) at 48/47 strikes. We also added a short in Apollo Group (NASDAQ:APOL). We also added four new swing positions in Apple, Gildan Activewear, Thor (NYSE:THO) and Constellation Brands (NYSE:STZ).
We have the following positions. In our Short-Term Equity Portfolio we are long Coventry Healthcare (CVH), Boston Beer (NYSE:SAM) and short APOL. In our Options Portfolio, we are long Ralph Lauren (NYSE:RL), McDonald's (NYSE:MCD), Panera Bread (NASDAQ:PNRA), Bed, Bath and Beyond (NASDAQ:BBBY) and Discover Financial (NYSE:DFS). We are short Amazon.com , APOL and USO. In our Earnings Portfolio, we are long Ulta (NASDAQ:ULTA), FedEx (NYSE:FDX), Activision Blizzard (NASDAQ:ATVI), Monster Beverage (NASDAQ:MNST). We are short Navistar (NYSE:NAV).
Chart courtesy of finviz.com.
Disclosure: I am long SAM.