On Monday night, Majesco Entertainment (NASDAQ:COOL) announced Q1 revenues of $66.2 million. This number blew out even the highest estimate on Wall Street ($62 million) and was more than 20% ahead of the consensus estimate.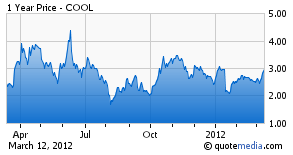 Non-GAAP EPS came in at 18 cents, shy of the Street's 20-cent consensus. A $1 million impairment charge represented 2 cents of EPS, accounting for the miss.
During the quarter, the Street was expecting 17 cents, but ratcheted expectations ahead of the call. On the conference call, CEO Jesse Sutton said "we were able to reinvest some of our earnings into the marketing and development of our most important brands as well as our new emerging social and mobile business". This implies that the company decided to beat the Street's 17-cent number and pour the rest into growing the business.
Considering the momentum behind Zumba and the growing interactive fitness craze, this decision seemed to be a smart one. If the Wall Street analysts had left their estimates unchanged (or if the company had chosen not to make certain investments), earnings would have followed the top line beat, surely sending the shares up on the news. However, before this was explained on the earnings call, investors bid the shares down, unaware of the extraordinary items.
As the call proceeded, it became apparent that the quarter marked a strong step forward for the company. Regarding the company's flagship title, CEO Jesse Sutton had this to say:
Zumba Fitness Rush came out last month on Kinect for Xbox 360 and has been very well received. It was recently rated a 9 out of 10 by the official Xbox Magazine and has been featured on national media including the Today Show with Kathie Lee and Hoda, the Martha Stewart Show, Live! with Kelly, On-Air with Ryan Seacrest, OK! Magazine, a number of local news programs, and even on TMZ.
In addition to this, Majesco already has two downloadable content add-on packs "with more digital content to come later this year for the Xbox live marketplace." This makes Mr. Sutton confident that the game "should have long legs on the rapidly growing Kinect platform."
As it stands, our data shows that Zumba sales for the April quarter are nicely ahead of where they were at this time last year. This was partially confirmed by Majesco's advanced payments for inventory (on the balance sheet), which were up 80% year-over-year to $1.2 million. Quite simply, they've made more advance payments for product they expect to sell in the coming quarter. This bodes well for COOL's second quarter results (now if they can just get those pesky analysts to stop raising their EPS expectations).
Along those lines, there were a several financial items that could have made the EPS as big a surprise as the revenue number was. For example, COOL's cash and book value increased by 20-cents per share. Cash flow from operations was 23-cents per share.
CFO Michael Vesey conveyed this point, expressing satisfaction with posting 18-cents of EPS "despite reinvesting approximately $1 million in our online and mobile games business, $2 million in advertising our products and incurring $1 million charge for a canceled game". Indeed, each of these items were voluntary (even the game cancellation could have / would have waited until next quarter if they wanted to inflate its earnings number). Back these out and earnings could have exceeded 25-cents per share.
The balance sheet also looks great, highlighted by $37 million total cash availability. That alone represents close to $1.00 per share and is up 50-cents over last year. That's a big increase for a stock trading below $3.00. More importantly, this is a cash measurement. Many other measures can be manipulated to make earnings look better than they are…but cash is cash.
Another measure of COOL's earnings quality was capitalized development. Many companies understate their expenses by placing an excess amount of development costs on the balance sheet. This enables them to report stronger earnings. Majesco did the opposite. Capitalized development was reduced by $8.3M to $4.2M. That's a 66% reduction, as compared to a reduction of 28% during last January's quarter.
Another positive sign is that only $3.2 million is committed to completing its current game lineup as compared to $5.5 million last year. Considering that this year's lineup includes its motion-based NBA game, investors should be even more excited by this year's lower R&D commitment. It certainly appears that the company is excited by the prospects for the game. They'll share more next month and likely make a big splash at E3 in June.
As for its other game, Cooking Mama 4 should continue to sell for several quarters (if not years), as the 3DS installed base steadily grows. On the Facebook platform, Mini Putt Park also looks promising, thanks to a feature that will enable users to create and share custom holes on Facebook. This will give the game a quality to Minecraft, which could make it a bigger hit than anyone expects.
Investors' initial reaction to the headline numbers was understandable after Majesco's October-quarter miss. However, investors should remain focused on the company's $11M revenue blowout and future prospects -- not a $1 million cancelled-game charge.
Indeed, Zumba is still in the early stages of growth and the company is an early mover in the exploding market for interactive fitness games. With motion-based controllers moving to the PC (and soon TVs), Majesco's opportunities look as good as ever.
In our pre-earnings analysis, you'll notice that only two things have changed: 1) revenue is growing much faster than anyone expected and 2) the company is investing excess profits into future growth. Despite these investments, EPS should reach 35-cents this year. That's an increase of 75% year over year (and that's after backing out the 10-12 cents the company is investing into its social / mobile game business). On an apples-to-apples basis, EPS will likely be up by well over 100%.
Backing out the company's cash availability, investors are currently paying less than $2.00 per share for 35-cents of earnings, 100% earnings growth, and a promising social / mobile gaming business. Zumba continues to drive the train but Majesco has a motion-based NBA title on the way and continues to explore ways to leverage its early lead in the interactive fitness segment.
If a company with this profile came public today, it would likely fetch something closer to 20 times earnings, net of cash. For COOL, that would represent a current valuation of $8 per share.
Indeed, smaller, less profitable companies like Glu Mobile (NASDAQ:GLUU) attract twice the valuation that COOL currently commands. Thus, in addition to its numerous investment considerations, COOL is also a ripe acquisition target.
Retail investors may not have much time to connect the dots on last night's earnings report. Even before backing out the impairment charge, Majesco topped most analyst's revenue and EPS expectations. Those analysts can be expected to inform their clients of the company's momentum. Further, management will be presenting to institutional investors at the ROTH Capital Partners Investment Conference tonight at 5:30 PT / 8:30 ET.
Disclosure: I am long COOL.