As we learned in the tall tale of Three Little Pigs and the Big Bad Wolf, risk is inescapable and loss is what happens when risk meets adversity. And like the intelligent three little pigs, a skilled and sophisticated investor can look at a portfolio in good times and determine whether it's a low-risk, medium-risk, or high-risk operation. Risk assessment is an essential element in the investment process and the most skillful investors are distinguished by outstanding risk-control that is invisible in good times.
As the three little pigs learned, risk control is essential, and doing that well is what separates the good guys (the pigs) from the bad (the wolf). Similarly, outstanding investors are distinguished at least as much for their ability to control risk as they are for generating returns. A remarkable record of decades of consistent risk control (not just high returns) is what separates the best from the rest.
The House of Straw (High Risk)
As the three little pigs learned, a straw house is not an enduring model which is sustainable over time. Likewise, mortgage REITs are known for their volatility and higher risk composition. Unlike other types of dividend-paying companies which pay the same dividend each quarter, the dividends paid by mortgage REITs are very unstable and are cut often -- sometimes drastically -- when interest rates and/or mortgage defaults rise.
Many mortgage REITs, including Annaly Capital Management (NYSE:NLY), Chimera Investments (NYSE:CIM), American Capital Agency Corp. (NASDAQ:AGNC), and Armour Residential REIT (NYSE:ARR) are connected to debt-laden deals. That increases the leverage, which in turn adds a high volatility component to a REIT's earnings and dividends. Moreover, since mortgage REITs do not own or control property, judging its financial prospects is more of a guessing game.
Mortgage REITs that engage in leverage (i.e., borrowing money to magnify returns) also benefit from a steepening of the yield curve which can increase profit margins by widening the spread between the interest cost of borrowings and the interest income from the mortgages themselves. Interest rates are typically much more volatile than real estate prices, so mortgage REIT investors experience a bumpier ride than equity REIT investors.
The House of Sticks (Medium Risk)
Though mortgage REITs can produce significant returns (sometimes in short time frames) they also carry significant risks. Since they only hold debt instruments and not property, mortgage REITs cannot participate in the appreciation of the collateral properties. Their value is also quite sensitive to interest rate fluctuations. This isn't a large factor in equity REITs, as they generally are financed by fixed rate mortgages. With interest rate influences being so important to mortgage REITs, their prices tend to be more volatile than those of the equity type. Owned property values are more stable and predictable than the mortgages in the mortgage REIT.
Today there are 126 equity REITs with a combined market capitalization of $454.58 billion (source: FTSE NAREIT) and these risk-aligned investments are differentiated by consistent dividend yields and capital appreciation -- or combined total return. Conversely, an equity REIT is a more durable choice (compared to mortgage REITs) with consistency measured by uninterrupted records of dividend performance.
The House of Brick (Low Risk)
As legendary investor and author Ben Graham wrote, a "defensive investor must confine himself to the shares of important companies with a long record of profitable operations and in strong financial condition." And he added, "One of the most persuasive tests of high-quality is an uninterrupted record of dividend payments going back over many years." In Graham's classic book, The Intelligent Investor, he portrays a "brick house" strategy that is built on successfully managing risk, not avoiding it.
The three little pigs recognized that risk is the potential for loss when things go wrong and that a house made of brick is able to withstand adversity when risk is encountered. Likewise, investors can build a sound safe-margin portfolio that separates low-risk alternatives (a house of brick) from speculative high-risk options (a house of straw). As the pigs learned, the sharper the low-risk differentiation, the greater the advantage and chances for long-term success.
Federal Realty - A House Built of Brick
As one of the oldest equity REITs in existence, Federal Realty (NYSE:FRT) has built its sound 50 year old investment strategy on repeatable profitability and enduring dividend performance. Based in Rockville Maryland, Federal Realty has built its differentiated low-risk shopping center strategy on sustainable earnings growth and consistent dividend results.
This extraordinary consistency is the foundation of Federal Realty's "brick house" platform and one that leads ALL other equity REITs in the record of increasing dividends paid. With over 44 years of consistent and increased dividends paid, Federal Realty has maintained the longest record in the REIT industry. As illustrated below, Federal Realty's lasting dividend differentiation is a remarkable record based on decades of consistency:
Click to enlarge images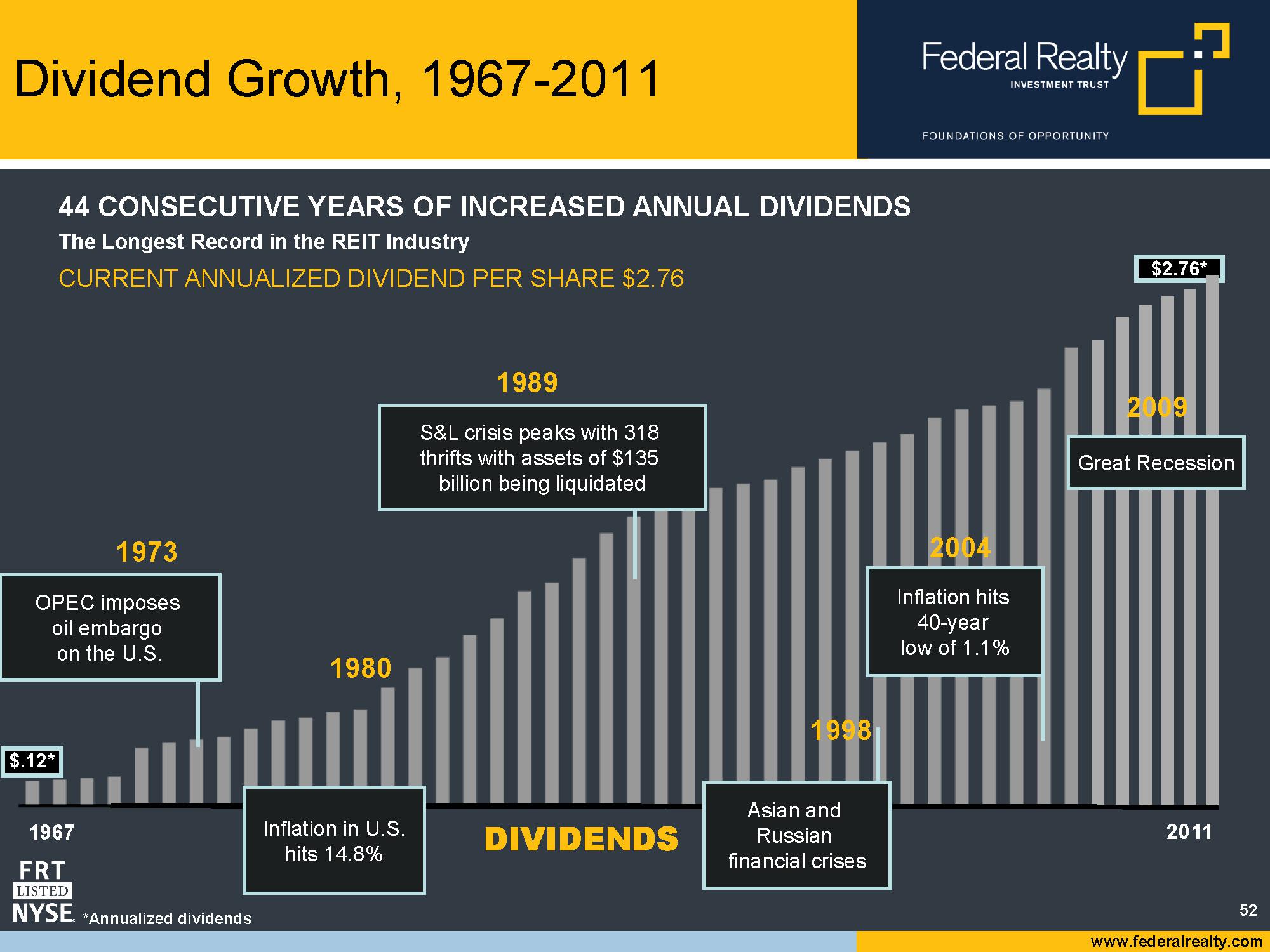 Built Like an Amazon
As the Commodores wrote sang in the 70's soul song, Brick House:
She's a brick----house

She's the one, the only one,

who's built like a amazon

We're together everybody knows,

and here's how the story goes.
Federal Realty owns a portfolio of 87 properties (approximately 19.3 million square feet) located primarily is strategic metropolitan markets in the Northeast, Mid-Atlantic, South Florida, and California. This integrated, low-risk operating strategy provides for unique opportunities to capitalize on infill assets with strong demographics. Because of the stable portfolio fundamentals, Federal Realty enjoys a continuous stream of cash flows providing for suitable risk-adjusted returns. Here is a snapshot of Federal Realty's core markets (representing 25.4% of U.S. Retail Expenditures):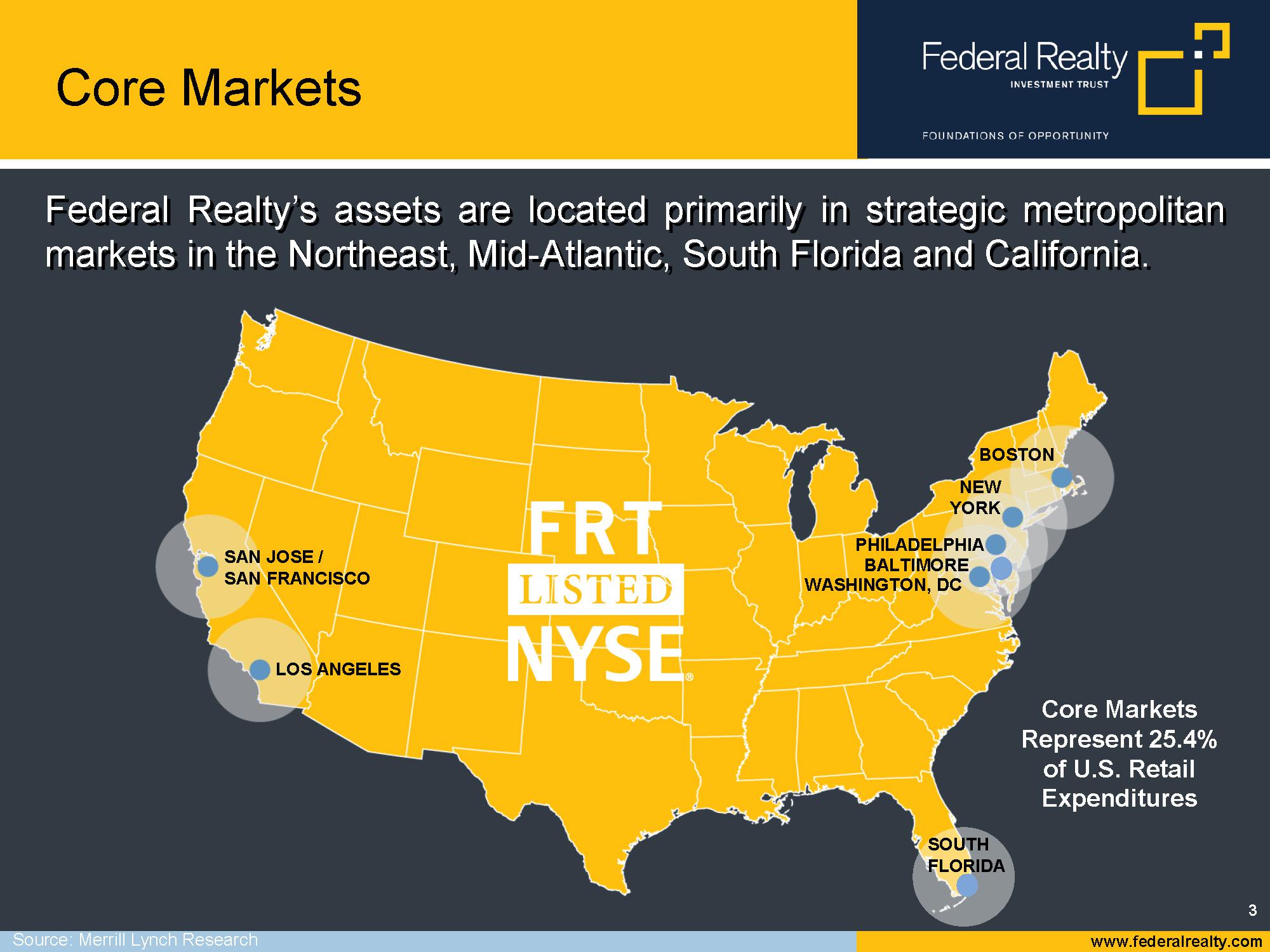 Federal Realty has the greatest concentration of assets in the nation's top 20 markets, which comprise 41% of retail expenditures in the United States. As compared with the peer group Regency Centers (NYSE:REG), Kimco (NYSE:KIM), Equity One (NYSE:EQY), Washington REIT (NYSE:WRI), and Diversified Developers (NYSE:DDR), Federal Realty has one of the highest quality portfolios in the sector: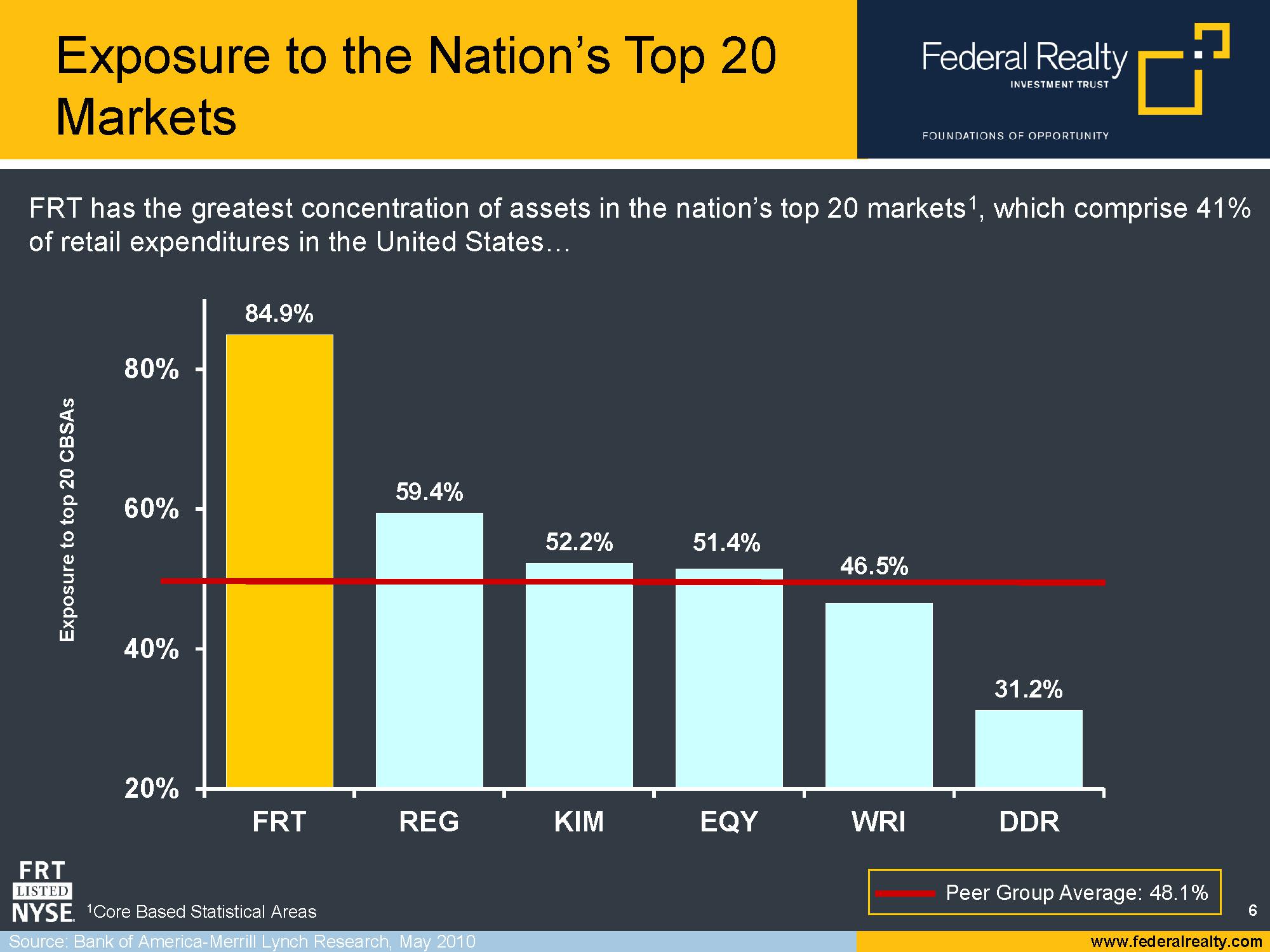 As further evidence, Federal Realty demographics are unequaled, with a median household income that exceeds the shopping center peer group by over 25% and the national average by about 48%. See snapshot below: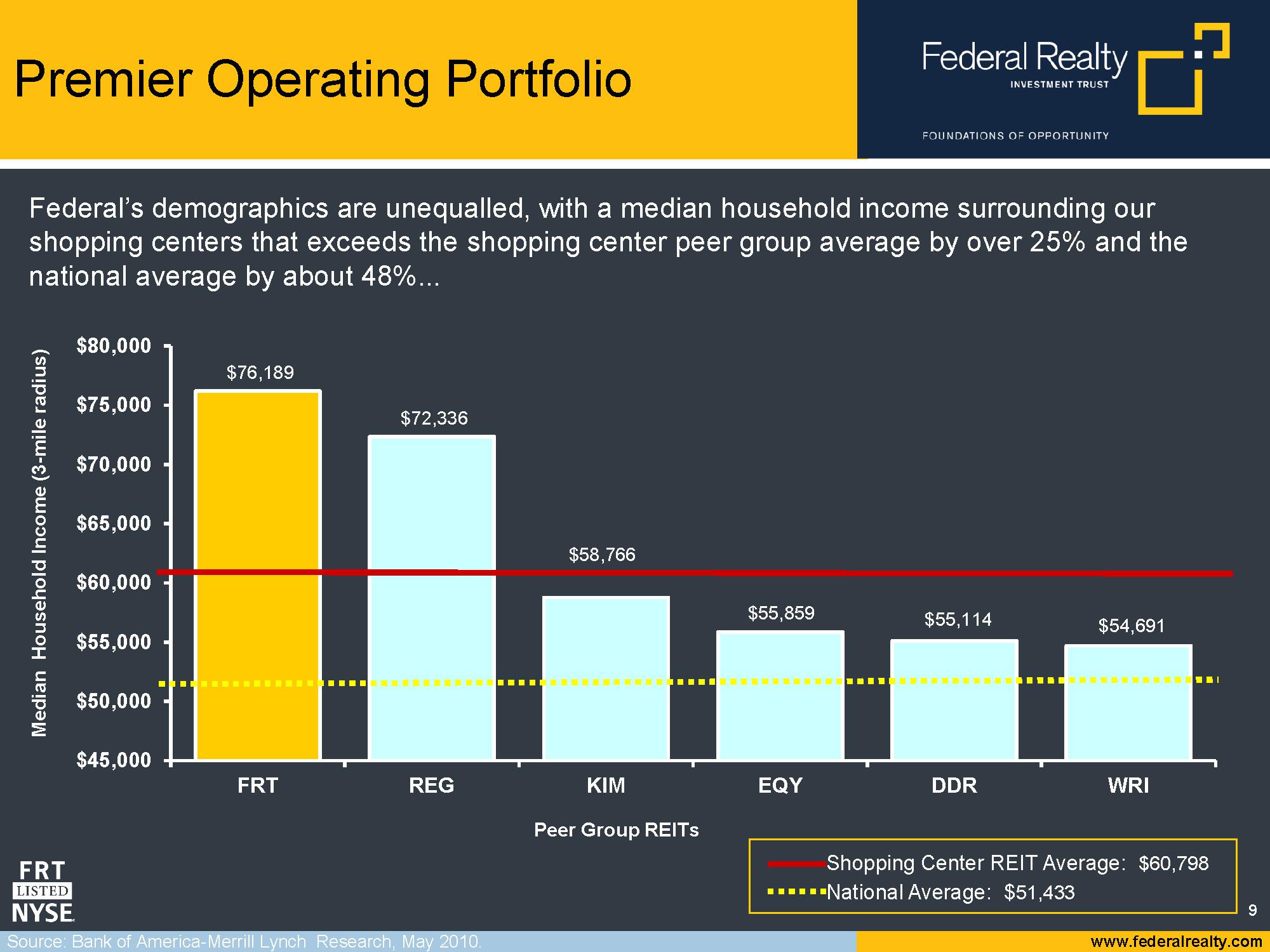 This demographic positioning is almost "off the chart" and clearly an indicator that Federal Realty is built like an "amazon" REIT: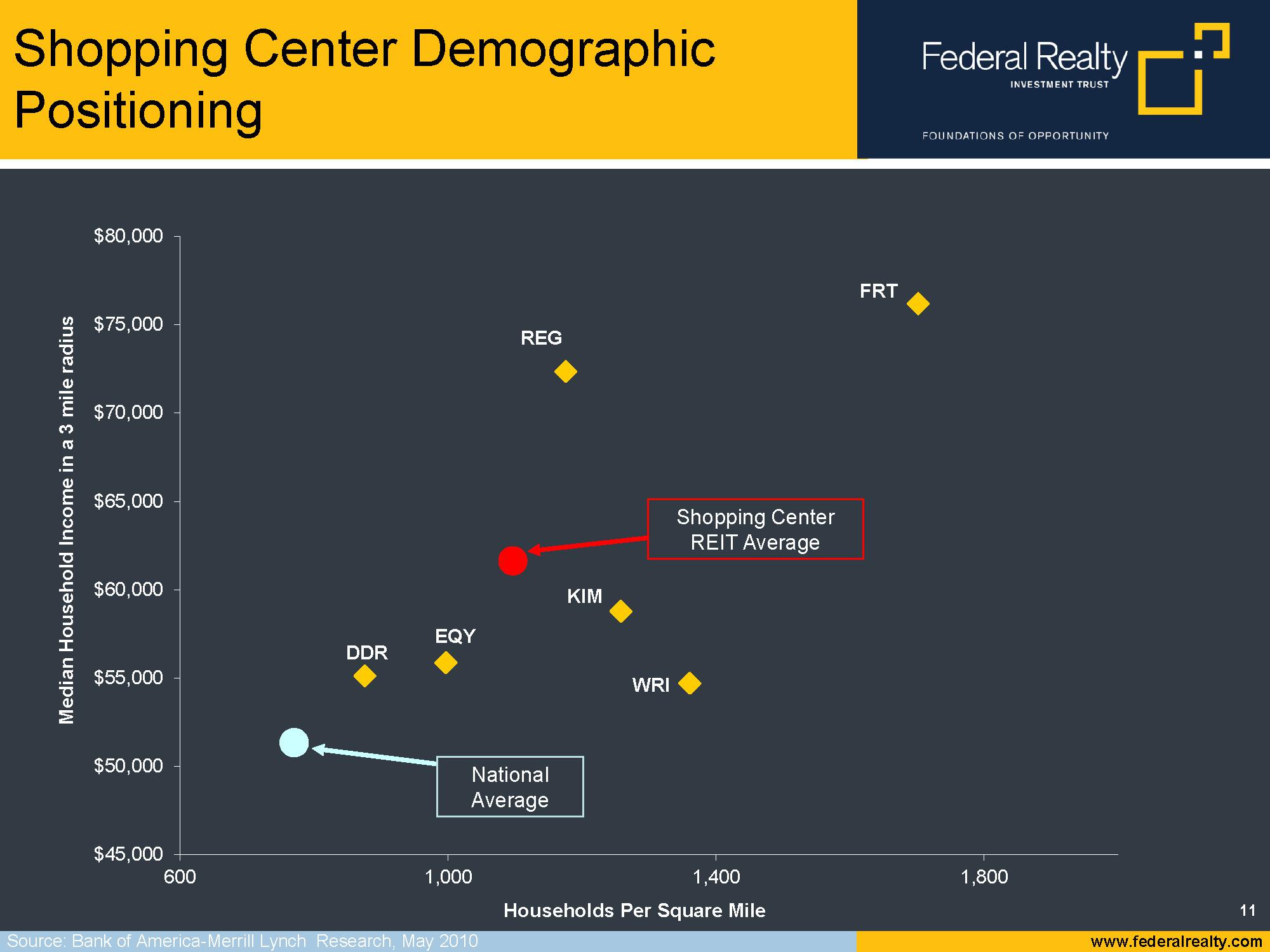 Bring you to your Knees
As the Commodores sang in the Brick House:
The clothes she wears, the sexy ways,

make an old man wish for younger days

She knows she's built and knows how to please

Sure enough to knock a man to his knees
Federal Realty's latest year-end results are "knee buckling." For the year-ending December 31, 2011, the brick house REIT reported FFO of $251.6 million, or $4.00 per diluted share compared to $239.2 million or $3.88 per diluted share (for 2010). Net income for the year (2011) for common shareholders was $143.4 million and earnings per diluted share was $2.28 compared to $122.2 million and $1.98 for 2010. The overall portfolio was 93.4% leased as of December 31, 2011, compared to 93.9% (for 2010). Despite the effects of the economic downturn, Federal Realty demonstrated its high-quality portfolio composition: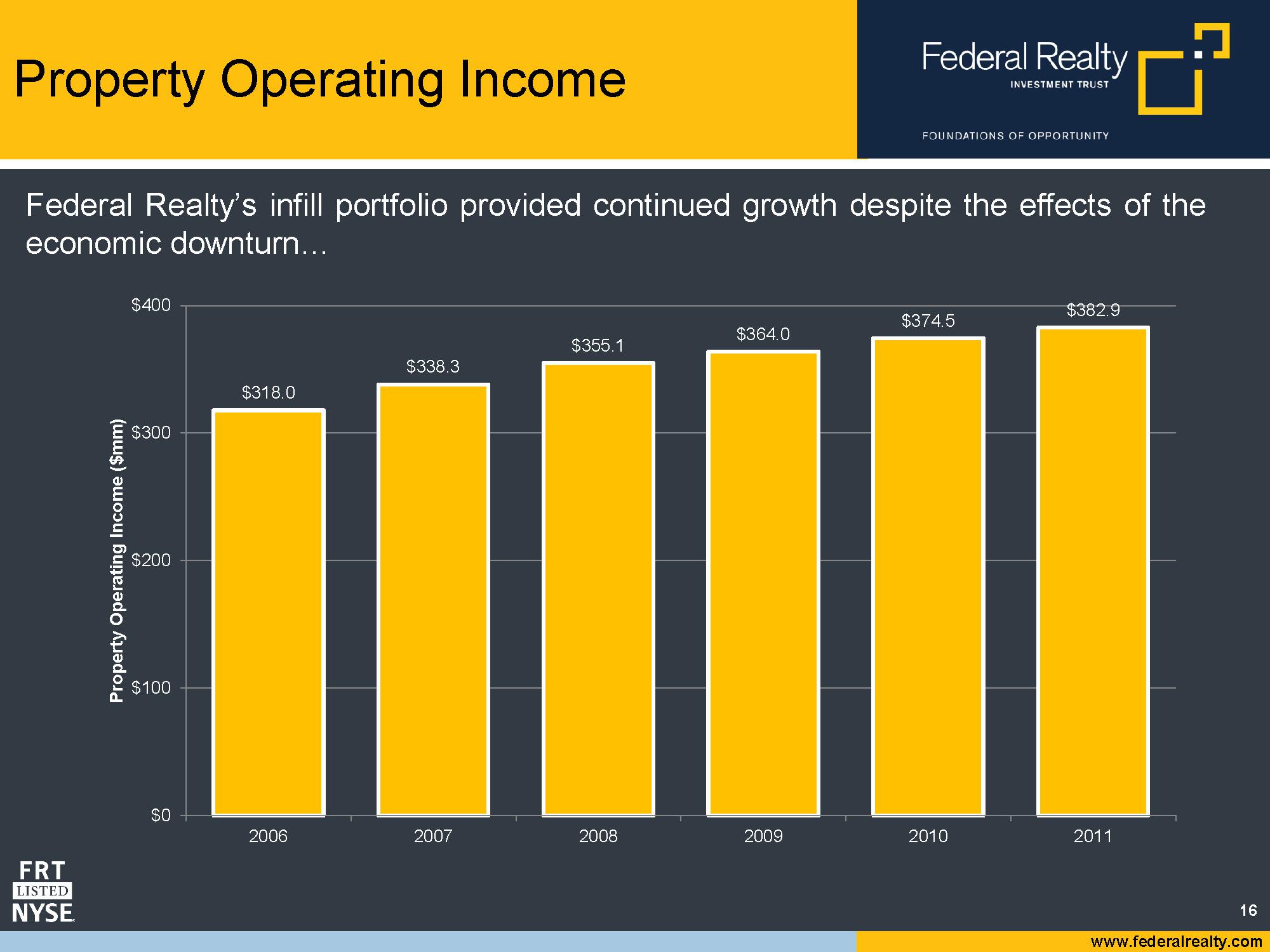 Clearly, Federal Realty is built to last and its stewardship of NOI, G&A, and an extraordinarily healthy balance sheet was apparent throughout the economic downturn: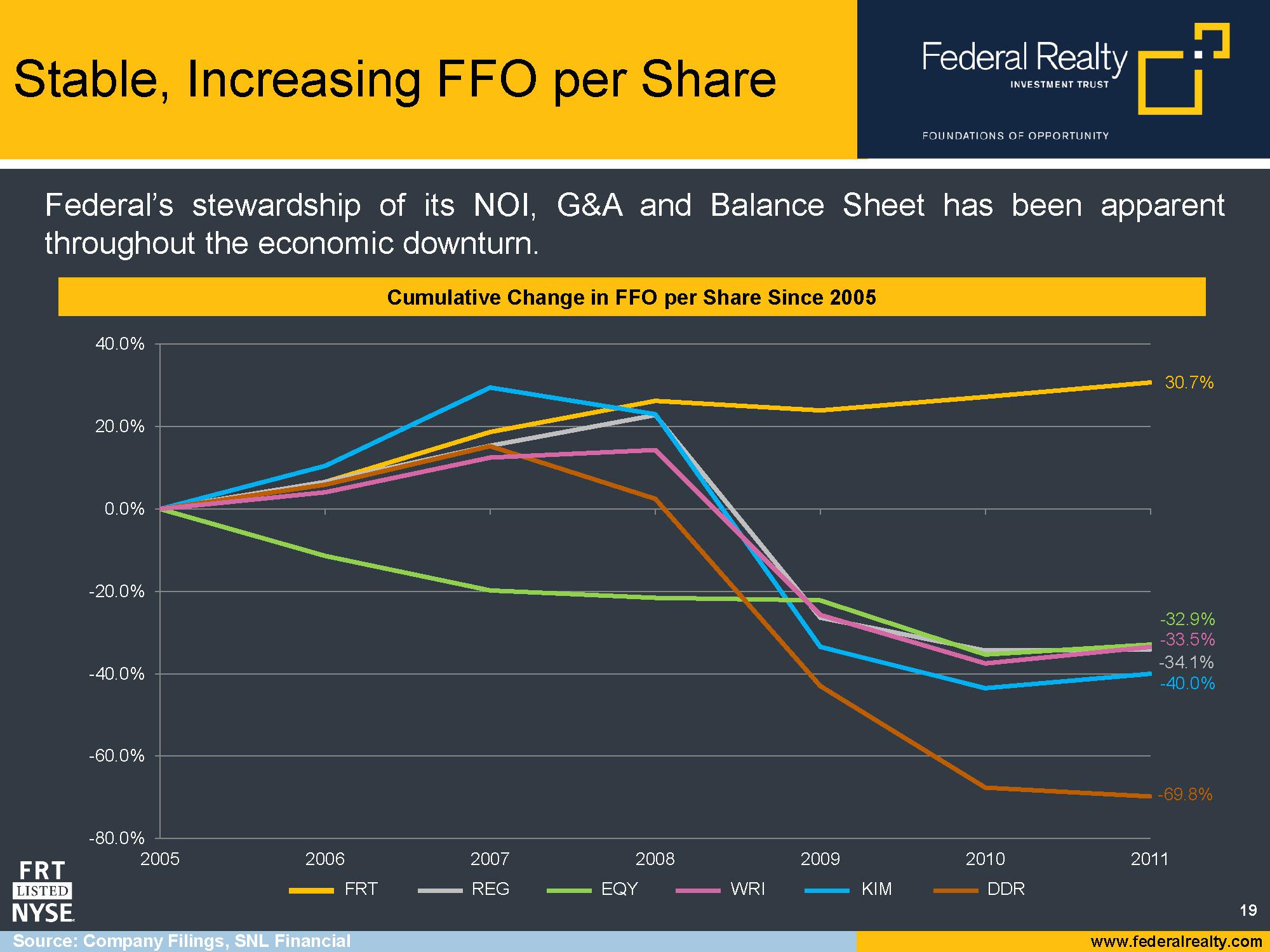 Safeguard Your Portfolio with a Brick House REIT
As the three pigs learned, a brick house is essential to avoiding losses. Conversely, investors should safeguard portfolios to protect from principal losses and high risk alternatives. By investing in a strong platform of core property operating income, Federal Realty provides one of the safest alternatives around. This reliable fixed-income strategy promises to produce consistent top tier earnings growth at the lowest risk in the sector.
Federal Realty has a market capitalization of around $6.14 billion and its current dividend yield is 2.9%. The stock closed Monday (3/12/12) at $95.88 and is trading near the 52-week high of $97.84. The valuation is high relative to the peer group; however, one must consider the alternatives and perhaps Federal Realty's peers are more risk-aligned with other traditional "dividend champions" (a.k.a. Seeking Alpha writer David Fish) such as Coca-Cola (NYSE:KO), Colgate-Palmolive (NYSE:CL), or Procter & Gamble (NYSE:PG).
Federal Realty's skillful risk control is the mark of a superior REIT. As the wolf in the three little pigs learned, when you "boil it all down", it's the investor's job to intelligently bear risk for profit. Doing it well is what separates the best from the rest.
Disclosure: I have no positions in any stocks mentioned, and no plans to initiate any positions within the next 72 hours.