This article is the next in my Sun Tzu series, and I will be discussing the importance of the principles contained in Sun Tzu's Chapter 3 - Planning Offensives. The main focus stocks in this article will be Caterpillar (NYSE:CAT), BHP Billiton (NYSE:BHP) and Wal-Mart Stores (NYSE:WMT), and their relevance to this discussion on investing in dividend growth stocks. I will also discuss why Patriot Coal (PCX) is no longer in the portfolio.
Background
For those who have been following, I am writing a series of articles, that seek to apply the principles of the art of war, by the ancient Chinese warrior Sun Tzu, to investing. For those who haven't yet seen the original article, you can read it and the subsequent updates on the portfolio by accessing them via my page on Seeking Alpha. It's important to read the original article (and revisit it) to understand the rationale for including stocks in the portfolio, and to follow the strategy as we discuss Sun Tzu's principles in each subsequent article.
Planning Offensives
Sun Tzu's observations on planning offensives is focused on military strategy, though there are lessons which are relevant to both individual investors and fund managers. The key lesson to be learned from can be summed up by the five principles which show the way to victory:
One who knows when he can fight, and when he cannot, will be victorious.

One who knows how to employ large and small numbers will be victorious.

One whose upper and lower ranks have the same desires will be victorious.

One who, fully prepared, awaits the unprepared, will be victorious.

One whose general is capable and not interfered with by the ruler will be victorious.
(Source: Sawyer, 2004, The Art of War, pp. 178-179)
In managing a portfolio, two things are key: Strategy, and planning. As General Eisenhower said "Plans are nothing, planning is everything". Understanding the principles above is the key to planning offensives, and in preparing your portfolio to weather the storms that the market throws at it. In implementing strategy you need to ensure you keep contingency plans up to date.
Do you know when you have the upper hand to adjust your portfolio? Do you know what to do when opportune buy and sells present themselves?

Are you as comfortable with the macro decisions (investment of capital) as well as the micro decisions (redirection of capital, reinvestment of dividends)?

Is everyone working towards the same goal? Is your investment partner theoretical (a mentor), emotional (a spouse or friend), or objective (a like minded investor equally invested in your fund)?

Are you fully prepared for the known as well as the unexpected? Do you have tight stop losses set? Do you have a % of the fund held in reserve cash, for opportune buys? Will you let your profits run in a extremely volatile market?

As the decision maker are you free to make independent decisions? Do you need approval from your spouse or business partner? Are you investing someone else's money, who has the overriding authority for control?
These are simple translations of the military principles to finance and investment. Let's now look at this in terms of applying it to some of the stocks in the Sun Tzu Investment Portfolio, and its key goal of:
Finding undervalued blue chips stocks with good fundamentals and a historical record of paying dividend income streams, with a view to holding for long-term positions.
Caterpillar
Caterpillar is currently trading at $108.94 and represents 16.9% of the share component of the portfolio. It remains a solid blue chip stock, the price is currently pushing all time highs, and the company continues to perform.
On the downside for Caterpillar is that the stock is currently undergoing some sell off given current prices and concerns about economic slowdown in China, which is important given its status as bellwether for the markets. Decreases in demand for resources to supply China will have a correlating effect on company's sales, with potential lags in new sales, and cancellation of backlog orders.
On the upside, Caterpillar is a company that routinely prepares for bear markets and flat economic conditions. Knowing that it supplies a cyclical industry, management strives to make the company profitable in lean times, to ensure it is postured to reap dividends during boom times. Caterpillar is truly a company that embodies the phrase "know thyself and know thy enemy" - a principle that will become even more important as it faces competition from other Chinese equipment manufacturers.
I like Caterpillar for its business model and historical record for paying strong dividends. Dividend income from portfolio inception is $169. Share price has ranged from 10.9% to 42.0%, currently sitting at 34.9%. I took some profit on January 30 2012 when it was up approximately 37%, as I wanted to rebalance the weighting, and I invested the proceeds into Chevron Group (NYSE:CVX) for reasons outlined here and here.
Caterpillar - 3 Month Performance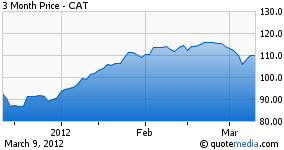 BHP Billiton
BHP Billiton is currently trading at $73.50 and represents 25% of the share component of the portfolio. A solid blue chip stock, the price is currently under its intrinsic value, and the company continues to perform over the long-term. I have a stated long position in the stock (5 years plus), seeing value in its structure as a diversified miner, and the potential it stands to reap from the Olympic Dam Expansion Project. I sometimes question if I am overweight this stock, but I like it for its historical stability in price (though more volatile post-financial crisis), and for paying strong dividends. Dividend income from portfolio inception is $363 for Q1 2012 (Q4 2011 missed due to entry point). Share price has ranged from -6.9% to 5.6%, currently sitting at -2.27%.
BHP Billiton - 3 Month Performance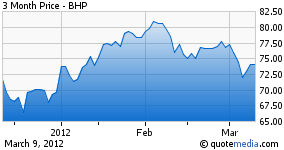 Wal-Mart
Wal-Mart Stores is currently trading at $60.68 and represents 10.5% of the share component of the portfolio. It is a solid blue chip stock, price is pushing all time highs, and the company continues to perform in the long term. I like its business model and historical record for paying strong dividends, and its steady revenue stream (when times are good people shop there, when times are tough even more people shop there). Dividend income from portfolio inception is $139. Share price has ranged from 6.5% to 10.5%, currently sitting at 8.9%.
Wal-Mart Stores - 3 Month Performance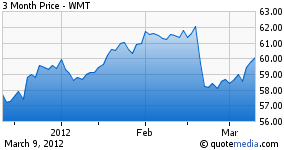 Volatility and Speculation - A Lesson
Readers should be aware that I included Patriot Coal as a pure speculative play, a deviation away from the portfolio's fundamental strategy:
My one exception to my focus on reliable blue chips is to place a small stake in a speculative stock... I believe the stock is a high risk high gain option that has an enduring market to supply with fewer fluctuations on demand compared with other commodities.
The downside: I took a stop loss exit on Patriot Coal at $8.00 per share, when the stock didn't pull back from lows driven by global demand. I missed an opportunity to exit the stock, when it was at $13.36 per share (up 37.9%) two weeks after I bought it; but then again my strategy was a long position.
The upside: The stop loss prevented me from learning an even more expensive lesson - Patriot Coal currently sits at $6.22 (down 35.8% from my entry point).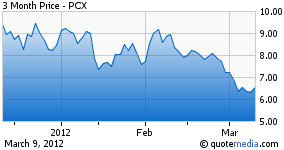 I chose the stock after reading some excellent articles written by Peter Epstein. I liked Peter's rationale and understanding of the coal sector, and his in depth knowledge of the opportunities available. Although market demand has changed since his earlier piece on Patriot Coal, had I read his recent piece on Walter Energy (NYSE:WLT) (if it was available then), I may have reconsidered my inclusion of Patriot Coal. My error (entirely mine) was in not fully understanding the risks associated with the position I chose to enter in the coal industry, which at the time I did not understand as fully as I should. Reading Peter's (and others) articles on the sector has given me a much more detailed understanding, as well as ways to seek the upside in depressed markets (warrants and options).
Summary
The day you stop learning is the day you die. I have learned many lessons so far since I have been investing, and every day you can access free advice on Seeking Alpha and elsewhere. I hope by sharing my experiences, and the rationale behind the Sun Tzu portfolio strategy, that other investors (especially younger ones) interested in dividend growth investing may learn these lessons and apply the theory to their own portfolios.
In writing this article, it has helped to crystallize my thoughts, and it has drawn me back to my original intent - blue chip stocks with strong potential for capital growth in price, and in dividend income. On that basis Caterpillar, BHP Billiton and Wal-Mart Stores remain good choices, Patriot Coal should not have been included, and Alaska Air Group (NYSE:ALK) needs to be revisited (but that will be another article) as I want all holdings to be strong, dividend-paying growth stocks.
I believe we as investors can all learn from Sun Tzu's five principles for the way to know victory:
Thus it is said that one who knows the enemy and knows himself will not be endangered in a hundred engagements. One who does not know the enemy but knows himself will sometimes be victorious, sometimes meet with defeat. One who knows neither the enemy nor himself will invariably be defeated in every engagement.
Portfolio Summary
Total dividend returns to date = $933.62

Total capital growth to date = $8,551.55 / 9.58%

Total cash in reserve = $11,071.95

Total value = $109,811.45
Portfolio Exits
Caterpillar, rebalance portfolio, 35.3% return

Citigroup (NYSE:C), exit position, 15.9% return

Patriot Coal, forced stop loss, -17.4%
Current Portfolio Position as at 9 March, 2012 (Click to enlarge)


Disclosure: I am long BHP.
Disclaimer: This advice is general advice only. You should seek independent financial advice prior to making any investments of your own.