I saw the following news item Monday:
The United States, Japan and European Union plan to bring a new trade case against China over its export restrictions on rare earth minerals used in a variety of high-tech and clean energy products, senior administration officials said on Monday.

They were responding to a published report by the Associated Press which said President Barack Obama would announce on Tuesday that the United States would ask China for talks on the issue at the World Trade Organization, the first step in filing a trade case, and be joined by the EU and Japan.

Beijing's restrictions on exports of the valuable minerals became a flash point in 2010, when China halted rare earth shipments to Japan during a diplomatic dispute.

The United States and the EU have long been expected to file a WTO case against China's rare earth mineral export curbs, but appeared to be awaiting the outcome of a separate case against Beijing's exports on a long list of other raw materials.
Naturally, one would assume that, if successful with the WTO, prices would fall given the increased supply coming out of China. This to me is a point of debate. Yes, rare earth prices have come down from their peak, but I believe this is due to two factors: slow global growth, and concerns that replacements will be found (Econ 101). I think that slower global growth is a given, but what of replacement?
At the end of January, Toyota (NYSE:TM) fired a missile across the bow of Chinese and other rare earth producers (well, soon to be producers) by stating that they could have induction technology on the market within two years if rare earth prices don't come down. This strikes me as interesting, as if two years was an achievable goal, why add a caveat if rare earth prices don't come down? The ability to reduce reliance on any supplier/resource would be done - if it were economical.
Fast forward to today again and consider the following story:
The automobile sector has been waiting with bated breath since Toyota Motor Corp. announced that it has developed a method to manufacture hybrid and electric vehicles (EVs) without using increasingly expensive rare earth metals.

It was soon evident that Japan was growing tired of operating in a market where it was victim to price manipulation. This impatience came to a head with the country's announcement that a team of researchers from Toda Kogyo Corp. and Tohoku University had succeeded in creating a magnetic material without the use of rare earth metals.

According to researchers, the material is made from readily available iron and nitrogen, and the goal is to commercialize the compound by 2023 with help from both Toyota and Honda Motor Corp.

The compound will be "60 percent more powerful than existing magnets," according to Professor Migaku Takahashi of Tohoku University.
2023. The goal is to commercialize an alternative by 2023 - over ten years from now. We now have two replacement choices for electric vehicles - two years for a replacement technology if rare earth prices don't come down or eleven years for a replacement compound.
Given China's loss at the hands of the WTO on other raw materials, I have no doubt that the ruling will be extrapolated to include rare earths - the question is when and how will China respond.
Personally I believe that, as Chinese exports were approximately 50% of government quotas last year, we will see increased rare earth exports from China and that is a good thing. Why? Because in order for anything to be successful (resource, component, technology or widget), end user markets have to know supply will be available in order to integrate the resource into their designs and products. In this light, increased supply helps fuel demand.
I do not expect China to start dumping heavy rare earth elements (HREE) on the market, as there is still a demand for them within its own borders, but a relaxation in quotas would help supplement other projects coming on-line.
Great Western Minerals Group (OTCPK:GWMGF) recently announced that its wholly owned subsidiary Less Common Metals, has been granted its environmental permit to carry out electrolytic production of rare earth metals at LCM's new Hooton Park location. The company also has plans to restart production at the Steenkampskraal mine and build a mixed rare earth chloride plant at Steenkampskraal , and a separation plant near Steenkampskraal. Think of REEs (I usually focus on the higher value HREEs) somewhat like oil - getting it out of the ground is one thing, but refining it is another.
Another company which is ready to start turning HREEs into useful raw materials/metals is Lynas Corp (OTCPK:LYSCF). Lynas recently got a temporary operating license for its Lynas Advanced Material Processing plant in Malaysia - construction is more than 90% complete and commercial shipments are expected later this year.
As the following graph shows, 2011 prices were not sustainable and, in reality, not healthy for rare earth producers.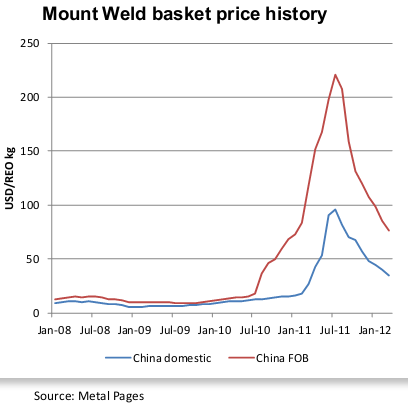 Prices soaring that high in 2011 did nothing but attract new entrants into the market - with their existence premised on artificially high prices. With lower sustainable prices, the economics of many of these players will vanish and only the survivors will emerge intact.
The following chart from Lynas' BBY Rare Earths Conference shows that a structural deficit still exists for rare earths and should continue to exist in the coming years: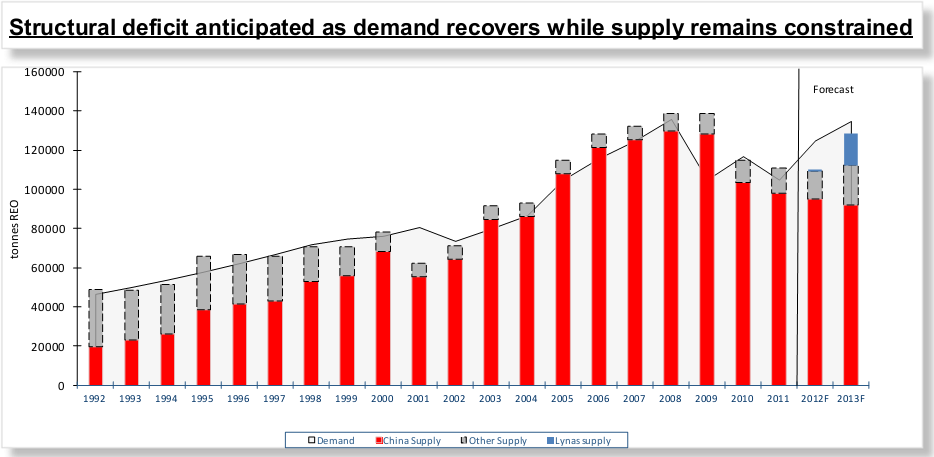 Click to enlarge
Bottom line: Investors need not be afraid of increased exports from China, they will only serve to make the rare earth sector more sustainable over time. The replacement cycle is only viable with artificially high prices, reasonable prices will delay/defer rare earth replacements. As rare earth producers have fallen precipitously from their highs achieved last year, the current market environment (while having rebounded somewhat lately) creates an attractive entry/re-entry point.
I am sure I will catch heat for not mentioning all the players in the HREE industry as well as Molycorp (MCP), but I will address these companies in a future article - the purpose of this article was to show the thesis remains intact. I have written about my thesis regarding rare earth's here, here and here.
Disclosure: I am long OTCPK:GWMGF.