Last December, Baidu (BIDU) launched its first mobile OS, Baidu Yi, which is an Android fork. To read my analysis on Baidu Yi, please see my December 5th note titled "Baidu Yi Heats Up China's Mobile OS Market". Currently, Baidu Yi, which operates on Dell (DELL) Streak Pro D43, is available via the Dell website, 360Buy.com and China Unicom (CHU). Last quarter, Baidu did not disclose the official figure on Baidu Yi's penetration rate, but I believe that the company will likely report this figure once the mobile platform begins to gain traction.
In my view, Baidu Yi is user friendly, technologically equivalent to major functions on the Google (GOOG) Android and will likely appeal to both the high-end and low-end Chinese mobile phone users. The key selling points on the Yi are the intelligent search feature, Baidu apps, and cloud storage.
Intelligent Search
Intelligent Search includes startup search, voice search, and keyword search. Startup search allows the user to input search queries into the Baidu search bar as the mobile device is starting up. After the device becomes operational, the search engine automatically returns the result to the users.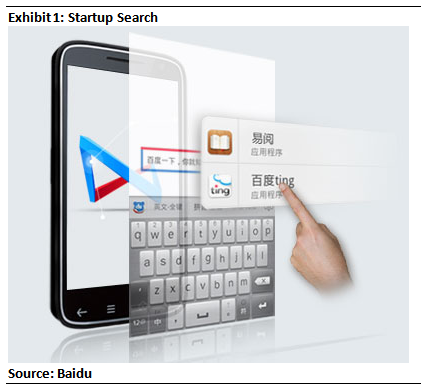 Voice search operates similarly to that of the Android, which allows users to activate the search function via voice command.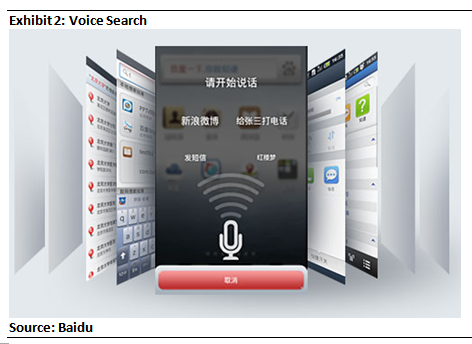 Finally, keyword search allows the user to highlight certain keywords on the screen and run them in the search engine.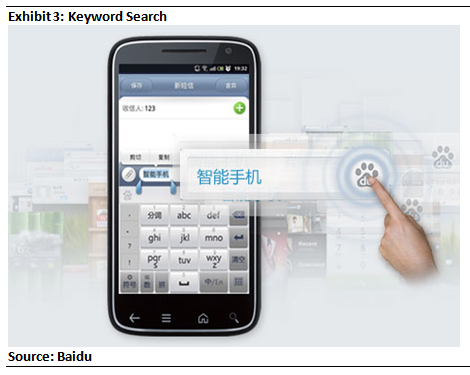 Intelligent search gives users multiple options and flexibility while conducting their online search therefore creating superior user experience and user stickiness.
The App Ecosystem
Aside from the search bar, Baidu Yi has a rich portfolio of apps that are directly relevant to the Chinese users. For example, Baidu Yue, one of the most popular eBook reader platform replaced Google eBooks as the default eReader; Baidu Map, which features more precise and detailed geographical information, replaced Google Map; Baidu's popular "Ting" is the default music services; and Baidu Shen Bian, which features local recommendation, has more local information than Google Places. All these functionalities are directly relevant to the Chinese users and will be the key selling points to generate growing interest among the current iPhone and Android users in China.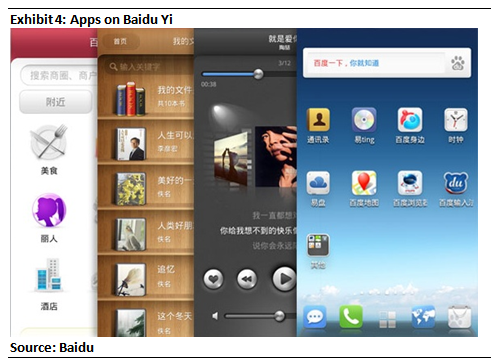 Since Baidu Yi is an Android fork, many Android applications are compatible with Baidu Yi, which poses a threat to Google because users' switching cost is extremely low. While the current dynamic allows Baidu to benefit off Google, it is unlikely that Google will allow this trend to continue in the future. Therefore, Baidu has taken precautionary measures to work with third party app developers in creating its own app ecosystem to prevent users from switching to the competing OS.
Baidu Cloud
Baidu Cloud gives each user 100GB of cloud storage to store their music, photos, videos, documents so users can access the files from various devices such as the web, PC and tablet. In addition, the platform also features free music and e-book services that are highly attractive to the Chinese users.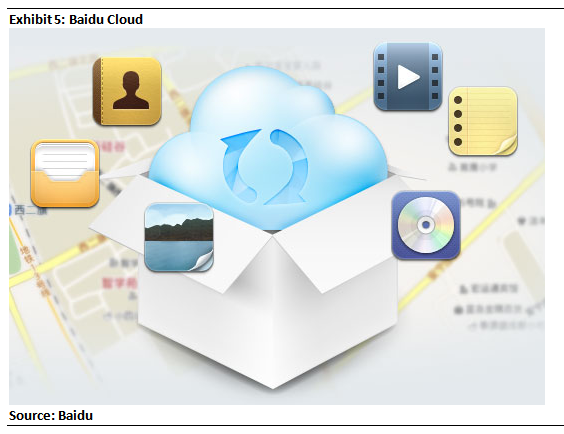 Cloud computing will be a major initiative for Baidu. In November, the company announced in an internal memo that it was reorganizing its mobile internet unit to create "Baidu Mobile/Cloud Computing Division". The new division includes Cloud Computing, Mobile Platform, Mobile Product and Mobile Development teams. Baidu Yi will be managed under the Cloud Computing Platform team, which is also in charge of Baidu's cloud platform, cloud service, and cloud apps. The new division will be led by Baidu's VP of technology, Mr. Wang Jing.
Competitive Landscape
Baidu is not the first company in China to develop its own mobile OS. Other internet and telecom companies have their own mobile OS based on the Android platform.

In my view, Baidu Yi stands out as the most probable winner in the domestic mobile OS market due to:
Rising usage of online search via mobile phones
Baidu's leadership in China's online search market
Dell Streak Pro's Rmb 2,999 price point places the device as a mid-range phone that should be attractive to both the low-end and high-end users