In sports, defenses win championships. In business, good defense protects against over-commitment and bankruptcy. But after a period of cost-containment, a firm must shift gears to take risk and do the things that will expand sales. Businesses are not yet willing to take that step. Wholesale sales fell by 0.1% in Jan 2012-- a sharp deceleration from +1.4% in December. But even with sales growth firm, inventory building is still not really in gear as businessmen refuse to drink the Kool Aid of good and new. They are still guzzling the elixir of caution.
Inventories ratcheted down their rate of growth but grew faster than sales for the first time since October 2011. Inventories rose by 0.4% after rising by 1.1% in December.
Inventories continue to grow at a much more modest pace than sales. Inventory growth exceeds sales growth in only 30 % of the categories over thee-months; for no categories over six-months and in 50% of them over 12-months. Sales growth exceeds inventory growth over three-months and six-months but lags it for 12-months at 7.9% compared to 9.4% -- a small margin. All this means that firms are unwilling to let inventories run in excess of sales growth-- a clear mark of caution or conservatism.
Inventories are being held in check, even as growth in sales is accelerating for some sectors. The overall growth rate for sales is pretty steady on the main 3 month, 6 month and 12 month horizons in a range of 7% to 8%. But excluding autos, durable goods sales are accelerating in three-months compared to six-months. Sales for non-durable goods excluding petrol are the fly in the ointment-- they are weaker over three-months. But across all categories, sales growth rates are accelerating in half the categories over thee-months up from 40% over six months and up from 20% over one year. The breadth of strengthening sales growth is advancing. Still firms are keeping a lid on inventory growth.
Click to enlarge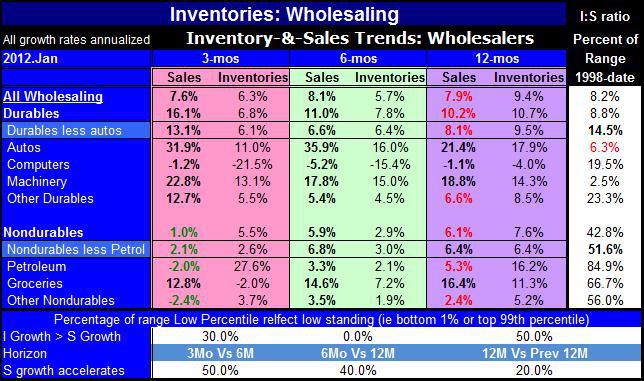 Click to enlarge
There are several points here showing that inventories are being managed conservatively. Its not just that growth rates lag the rate for sales.; the level of inventories relative to sales is low and has been falling. Overall, the wholesale inventory to sales ratio has been greater than its January level 92% of the time in the past five years! Inventories are incredibly weak relative to sales, sales growth is firm and yet inventories are are not being 'rebuilt'! Businesses still do not want to grow inventories at a speed that is even as fast as sales!
Thus we infer caution; even in an environment of improving consumer attitudes (all surveys!), fast improving job growth, falling unemployment rates, low corporate lay-offs and moderate weekly jobless claims-- inventory growth is stultified. Even auto sales are on a very steady climb to higher ground. Yet, skepticism is the currency of this realm, perhaps led to that conclusion by a Federal Reserve that sees weakness as far as the eye can see, and even beyond the horizon when forecasting has merit at all! The Fed's own caution, meant to signal its willingness to keep rates low for an extended period, has the 'unintended' side effect of keeping everyone in a state of fear over an economic relapse of weakness, even in the midst of gathering strength.
Thanks for nothin', Ben and Co! Having a 'best case' forecast that sees growth locked in an under-performing path does not encourage confidence and risk-taking. Inventories for durable goods are very low; inventories for non-durable goods are more in the middle of their range but the overall statistics are skewed by durable goods because durable goods dominate inventories to a greater extent.
In short, inventory behavior tells us that firms are still being very conservative and that behavior is not yet changing, even as many signs of better growth are flourishing. It's as though we are seeing the green shoots of spring and the Fed is warning that winter lies ahead. As a result, businesses have not crossed the Rubicon from caution to boldness. Merchants are still playing defense and the Fed is cheer-leading their caution with its own skepticism.
Disclosure: I have no positions in any stocks mentioned, and no plans to initiate any positions within the next 72 hours.