Bank of New York Mellon (BK) is a financial institution that provides financial services for institutions, corporations, and individuals. The Bank of New York and Mellon Financial merged to form this company. BK is divided into seven divisions. The largest two bring in about 86% of its revenue. Asset Servicing is the largest (55%). This segment includes foreign exchange-related services like global custody, global fund services, securities lending, and government securities clearance. Issuer Services (31%-- the second largest) does business with global fixed income and equity issuers. IT services $12 trillion in outstanding debt in 20 countries.
One thing BK has going for it long term is its cash flow. With the continued accumulation of cash and its large custodial portfolio, the company is set to prosper as interest rates rise bit by bit.
Unfortunately, this is not something that will happen overnight. In an election year we cannot expect much movement but when it is over, the probability of interest rates going up is very strong. This is when BK will have the best opportunity to increase value as a stock.
Click to enlarge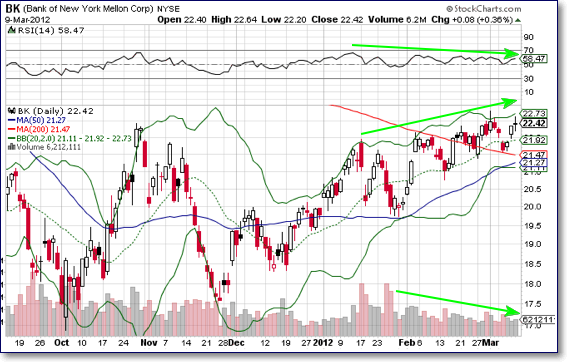 In the short term, it appears that sentiment is not favoring much further growth. With a yearly price target only 10% above where it sits presently, analysts have quietly moved toward holding the stock and not buying it. With strong resistance at about 24.4, the stock does not have much more room to move before it hits this level. The sentiment is not expecting a drive through this resistance level, and continuing upward this year. Quite possibly, it will be 2013 before we see this significant growth.
With this in mind, we would expect BK stock to pull back soon. As sentiment turns to hold, we also can observe the up-trend weakening as the RSI gives us a negative divergence with decreasing volume. At the same time, there is a rising wedge pattern that continues to show us a reversal pattern. Every sign points to a pullback-bearish move coming soon. For this reason we are going to look at a Bear Put Spread.
The Option Play
Buy a September 2012 '22' put option (priced at $1.89)
Sell a September 2012 '21' put option (priced at $1.46)
Net Debit to Start: $0.43
Maximum Profit: $0.56
Reasoning behind the Trade
There are many determining factors that lead us to believe the stock will pull back soon. A negative divergence in the RSI shows the uptrend has been weakening. Volume is lower as the prices increased. The 'rising wedge' formation is a reversal pattern indicator. Analysts have been moving away from the company as a buy and toward a neutral position.