Oil prices are rising, but analyst estimates for oil companies' earnings per share have not followed - last week on TradingFloor.com I explained why.
Mixed EPS momentum
Taking a dive from the overall oil industry level to company-specific EPS estimates reveals that in many cases they are being revised downwards, see chart 1.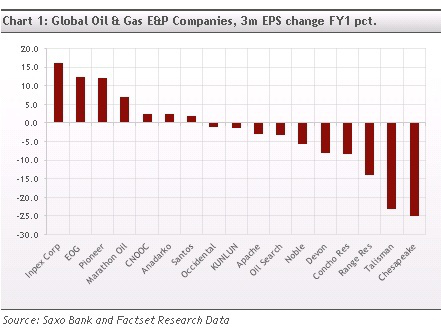 It was a surprise to me to see such a large proportion of the companies are facing reduced earnings estimates - at the same time as the oil price has risen just shy of 20%. I would stay away from any company whose estimates are being cut right now, as there is something in its business model that is not to investors' advantage.
How I looked for possible investment opportunities
When I analyze companies, I like to look at Price-Book versus Return-on-Equity. Placing the data into at scatter diagram, as in charts 2, tells me something about what an investor would get in return on his or her dollar.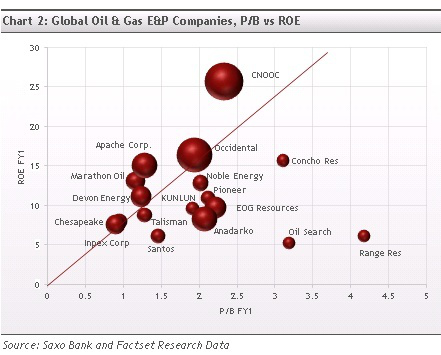 I have for this purpose laid a line which illustrates a return of 8%. If I pay twice the book value of a company the return should be twice as high. A P/B of 2 times should therefore match ROE of 16% etc.
The line tells me that some of the companies (for example Oil Search and Range Resources) are too expensive, as the estimated return next year is simply not high enough to compensate for the high P/B. Of course, they could have great projects coming online farther into the future, but for this exercise, I am looking only at FY1.
Look above the line to find companies that could provide a better-than-expected return than 8% on your dollar.
The cross section
In table 1, the 7 companies with returns above the line are highlighted (bold). The companies in the table are listed by the highest EPS revisions, and the positive revisions are above the bold line in row 7.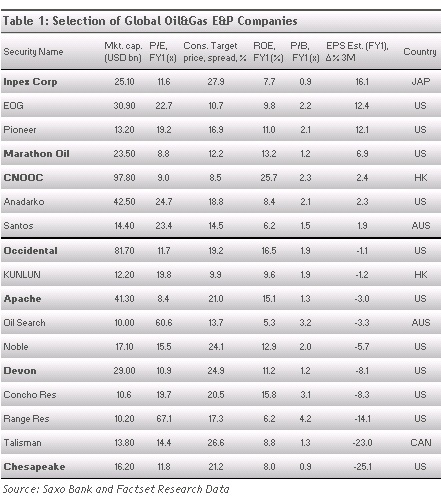 This method leaves me with three names - Inpex Corp.(OTC:IPXHF), Marathon Oil (NYSE:MRO), and CNOOC (NYSE:CEO) - where I would begin my more though research. If a stronger-for-longer oil price is followed up by higher EPS estimates, then the above companies could be in the sweet spot. The P/E on each of the three highlighted companies is between 8.8 and 11.6x earnings, which seems a very attractive level compared to the other companies in the table.
There are risks, of course. Oil prices are volatile, and exploration by its nature produces many disappointments. Investors in these or any other oil company face a substantial downside risk if oil prices drop or projects fail to materialize.
Disclosure: I have no positions in any stocks mentioned, and no plans to initiate any positions within the next 72 hours.