We believe ChipMOS (NASDAQ:IMOS) shares at 4.5x EV/trailing free cash flow, and 4x forward FCF are still at over a 50% discount to fair value of $30+. The company will report 4Q11 results this Friday and we expect an optimistic outlook and some key questions to be answered. As we previously wrote, normalized EPS will begin to approach FCF as the company's high depreciation (from excessive/above trend cap-ex in 2006-7) starts falling significantly this year. Accelerating improving fundamentals provide an even more positive backdrop.
ChipMOS provides monthly sales data and has already reported 4Q revenues of $152.3 million (up 3% q/q) at the high-end of guidance, so there should be few surprises regarding 4Q.
We expect 4 important questions to be answered on the call:
What has been the tone of business since the company's January 16th press release when they guided to "approximately 10%" revenue growth for 2012?
Has management been active in its buyback and will it increase the buyback further?
Will the company remain committed to disciplined cap-ex, resulting in huge free cash flow and EPS in the years ahead?
Is the company working on additional initiatives to create shareholder value?
Our answers to these questions follow - we are confident that if we prove accurate, shares will go higher over the near term.
1. We expect the company to maintain its 10% revenue guidance for the year out of conservatism, but think ChipMOS will indicate that the tone of business and visibility has improved. We believe Elpida's bankruptcy will likely serve as a catalyst for increased orders from Micron (NASDAQ:MU), a top-5 customer. We also expect the company to point to increasing order visibility from LCD driver-IC customers, which appears to be improving dramatically in recent weeks - with visibility out through the end of 2Q according to Digitimes.
ChipMOS will provide 1Q revenue guidance that ought to be extremely accurate given that only 2 weeks remain in the quarter when they report. We expect guidance for revenue to be flat to down a couple percentages, with GMs up slightly from 4Q due to lower depreciation. 1Q typically provides a good picture into full year revenues. Should ChipMOS surprise with a sequentially up 1Q, it bodes extremely well for the remainder of 2012.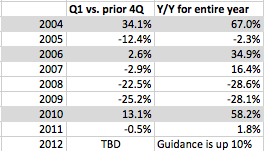 Source: Company filings
It's worth noting that 2011 was a horrific year for several of ChipMOS' end-markets - former DRAM customer ProMOS is in bankruptcy, the NOR flash segment slowed dramatically in the 2nd half, and LCD driver-ICs were sluggish.
We believe the NOR segment has bottomed, and with DRAM stability and LCD improvement, the company is setting up for huge 2Q growth, although they are unlikely to provide specific guidance until their 1Q conference call. Still, we expect a very positive tone regarding growth prospects.
2. We are confident that the ChipMOS has been in the market repurchasing shares. Given the low trading volume until the last few weeks, and legal volume restrictions limiting daily repurchases, we'd expect that several million dollars remain on the buyback. However, we believe the company will move as expeditiously as possible to use up the buyback at current share prices, and are hopeful they will announce an additional $10 million for further repurchases. Having listened to the company's quarterly calls for the last several years, we believe ChipMOS management is focused on creating shareholder value - they realize their stock is cheap and repurchases are accretive to future earnings.
3. We expect full year 2011 cap-ex to come in at about $80 million, similar to 2010. The company's unusually large depreciation dates back to the $479 million spent in 2007 when the company was ramping capacity to service Spansion under a long-term supply agreement - Spansion proceeded to go bankrupt in the 2008 downturn. Since then, ChipMOS has learned fiscal discipline, and is extremely judicious in its spending. In addition, it is structuring intelligent deals - such as its recent deal with AKM, where they received equipment from AKM for free, and are getting paid for assembly and test services.
We expect ChipMOS to guide to cap-ex of $85-95 million for 2012 and, if asked, suggest that their preliminary cap-ex estimate for 2013 is about $95 million, both of which would result in free cash flow of $110-$120 million (approximately a 25% free cash flow yield). We are confident that management will not veer from a disciplined growth path, and that modest cap-ex, resulting in significant free cash flow, is their foreseeable business model. If this is not the case, we will need to reassess our thesis, however, if management confirms our thoughts on 2013, then we our confident this stock will prove a home run.
4. We expect management to discuss other means of creating shareholder value. Given ChipMOS' exceptional free cash flow the company will be virtually debt free by the end of 2012. We believe management is aware that they are moving to an excess cash position, and will continue with buybacks, but might also institute a dividend should shares appreciate to the point where a buyback is not accretive to earnings (in the $30+ range). The company could issue a $1 annual dividend, using just 25% of their free cash flow, resulting in a 2.5% yield if shares were $40 (and 3.33% if at $30). We do not expect management to do this in the short term, but believe a dividend is being contemplated for later in 2012.
We also expect the company to discuss a listing on the Taiwan market and a sale of ADSs in the US. A Taiwan listing would likely result in a dramatically higher share price, as ChipMOS' closest comp in Taiwan, ChipBond trades at significantly higher multiples. At the same multiples, ChipMOS would be between $30 and $50 a share. Notably, from late 2003 to late 2007, ChipMOS did in fact trade between $20-$55 - we highly recommend reviewing their financials which make for interesting reading. They will make clear that ChipMOS is a much stronger and more profitable company today.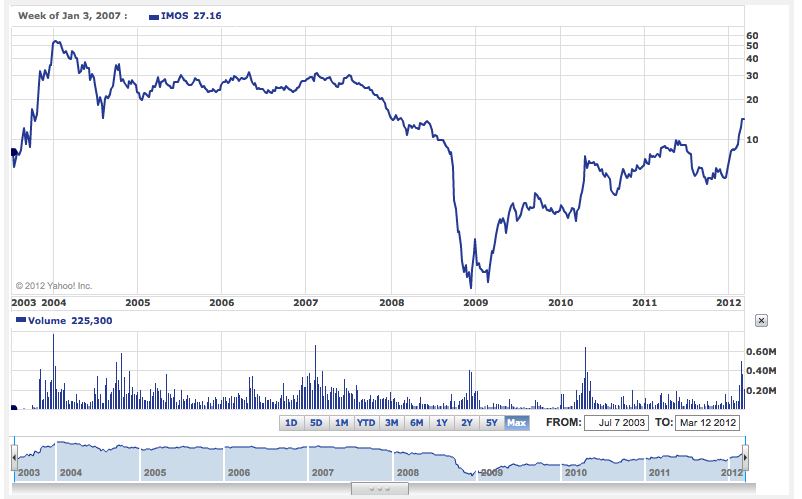 Source: Yahoo Finance
To sum, we expect a very upbeat, but not promotional call - this is not a promotional management. We think an announcement of an additional buyback (hopefully at least another $10 million) would be a very material positive and drive shares higher. Confirmation of disciplined cap-ex plans are also likely to be positively received.
We believe that investors that are long Amkor (NASDAQ:AMKR), who also recently added to their buyback, should consider switching into or simply buying ChipMOS shares. Notably, Amkor has an enterprise value 5x that of ChipMOS, but similar free cash flow. That is, IMOS trades at 20% the valuation of AMKR on an EV/FCF basis. We also think investors who are betting on cyclical DRAM improvement and own Micron should look at ChipMOS.
Finally, as a tangential way to play the largest megatrends in technology, Apple (NASDAQ:AAPL) and the explosion of tablets and smart phone, ChipMOS stands to benefit enormously from the proliferation of screens and ensuing demand for packaging and testing of LCD driver-ICs. This represents 40% of ChipMOS revenues and appears to be just on the cusp of a major uptick.