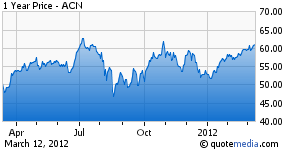 Accenture (NYSE:ACN) is a global management consulting, technology services and outsourcing company, with more than 244,000 people serving clients in more than 120 countries. Combining unparalleled experience, comprehensive capabilities across all industries and business functions, and extensive research on the world's most successful companies, Accenture collaborates with clients to help them become high-performance businesses and governments by improving operational performance, delivering their products and services more efficiently and growing their businesses.
DURABLE BRAND
Prior to a transition to a corporate structure, Accenture had operated as a series of related partnerships tracing their roots back to 1950. On January 1, 2001, Accenture introduced their new name to the world when they became a public company. The company has spent the past decade building their brand, which has now become synonymous with their commitment to help clients achieve high performance. By continually investing in their brand, Accenture has built a strong and durable global brand boasting a value of $8 billion and which is now ranked No. 45 on Interbrand's 2011 ranking of the top 100 global brands.
Today, with more than $25 billion in net revenue, Accenture operates globally with one common brand and business model designed to deliver competitively-priced, high-value consulting, technology and outsourcing services that help clients measurably improve business performance.
Accenture serves more than three-quarters of the Fortune Global 500. By delivering real business value year after year, 99 of the company's top 100 clients in fiscal 2011 have been clients for at least five years. In addition to expanding relationships with existing clients, Accenture continues to attract new clients. Geographic expansion is a high priority for the company, especially in rapidly-growing emerging markets.
Management's financial goals are to grow revenue faster than market growth, achieve double-digit EPS growth and maintain a strong balance sheet and cash flow, while continuing to return a substantial portion of cash to shareholders through dividends and share repurchases.
Fiscal Year August
4-YR

CAGR

2011
2010
2009
2008
2007
Sales (000,000)
6.7%
$25,507
$21,551
$21,577
$23,387
$19,696
Net Income (000,000)
10.3%
$2,553
$2.060
$1,938
$2,197
$1,723
EPS
14.6%
$3.40
$2.66
$2.44
$2.64
$1.97
Dividend
26.6%
$.90
$1.125
$.50
$.42
$.35
Profit Margin
10.0%
9.6%
9.0%
9.4%
8.7%
STRONG FREE CASH FLOW
Over the past five years, Accenture has generated $13.6 billion in free cash flow. During the same period, the company paid out $2.5 billion in dividends and repurchased $10.7 billion of stock. In fiscal 2012, Accenture expects to continue to generate strong free cash flow, which should be in the range of $3.1 billion to $3.4 billion. This is equivalent to an approximate 8% free cash flow yield based on the firm's current market capitalization.
Management plans to return the majority of this cash to shareholders through further share repurchases and growing dividend payments. The company recently increased its dividend 50% to an annual rate of $1.35 per share with the dividend currently yielding a solid 2.3%. During the first fiscal quarter, Accenture repurchased 5.3 million shares for $285 million at an average price of $53.36 per share. $5.8 billion remains authorized for future share repurchases.
HIGH RETURNS ON EQUITY
Accenture's business model generates high returns on equity which have averaged an outstanding 62% over the last five years. This is even more impressive given that the company had no long-term debt and more than $5 billion in cash on the 8/31/11 year-end balance sheet. Accenture reported strong first quarter fiscal 2012 results as revenues increased 17% to $7.1 billion with EPS up 19% to $.96. This represented the company's highest quarterly revenue ever with double-digit local-currency growth in all five operating groups and all three geographic regions. New bookings for the quarter were $7.8 billion, with consulting bookings of $4.2 billion and outsourcing bookings of $3.6 billion. New bookings for the full fiscal 2012 year are targeted in the range of $28-$31 billion. Net revenue growth is expected in the range of 7%-10% for fiscal 2012 with EPS expected in the range of $3.76-$3.84, representing double-digit growth as operating margins expand.
Long-term investors should consult Accenture, a high quality firm with a durable brand, strong free cash flows and high returns on equity. Buy.
Disclosure: I am long ACN. Hendershot Investments holds a long position in each stock presented. The content in this article should not be taken as investment advice or construed as a recommendation to buy or sell any security. Ideas expressed may not be suitable for every account, depending on an individual's investment objective, risk-tolerance and financial situation. Information presented here was obtained from sources believed to be reliable but accuracy and completeness and opinions based on this information are not guaranteed. It should not be assumed that investments discussed will be profitable or will equal the performance of securities listed here or recommended in the past. All data, information and opinions expressed are subject to change without notice. Further information on companies mentioned is available upon request.