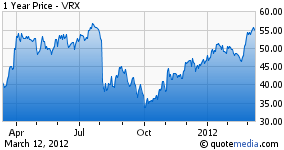 Though Valeant Pharmaceuticals' (NYSE:VRX) shares have surged over the past three years, the company is still misunderstood and underappreciated by much of Wall Street. Its counterintuitive acquisition strategy continues to reap strong dividends with little sign of slowing. We believe that once the market re-evaluates Valeant and takes a hard look at its upcoming earnings and cash flow streams, the stock will be properly revalued at a higher share price.
Valeant sells branded neurology, dermatology and generic products as well as over-the-counter generic products in the North American, Latin American, Central / Eastern European, Australian and New Zealand markets. VRX is led by CEO Michael Pearson, former head of McKinsey's Global Pharmaceuticals Practice, CFO Howard Shiller, former head of Global M&A at Goldman Sachs and COO Rajiv De Silva, formerly of Novartis and McKinsey.
Valeant has succeeded by eschewing conventional wisdom. Its core difference from other pharmaceutical companies lies in its growth strategy. Instead of concentrating on organic growth, the company focuses on taking over small profitable biotech firms who have drugs in more niche sectors, typically avoiding more competitive areas such as oncology, vaccines, and cardiovascular. These smaller firms are typically available at low multiples, and are often poorly run.
These acquisitions can be materially value-enhancing, as Valeant is able to take over small companies, sometimes at fairly low valuations, and streamline them. Valeant is able to use its scale to improve distribution of products while also improving cost structures. On average, Valeant has been acquiring companies at 6 to 7 times forward 12 month earnings. The company uses the free cash flow generated from these accretive acquisitions to make further acquisitions and repurchase Valeant shares.
As the graph below shows, this model has been profoundly successful in recent years in growing both the top and bottom lines, with revenues and profit nearly tripling since 2009. Yet this business operations growth has not come at the expense of shareholder dilution, and the company's stock price has also more than tripled since 2008. (FY '12 figures are estimates, in Canadian $, with a current C$=U$ exchange rate of 1.00)
Valeant has been able to achieve growth in both business profit and its stock price through intelligent selection of acquisition candidates and effective operational integration of acquired targets. Much of the credit goes to the management team. At Valeant, M&A is a CEO-level responsibility, and the company has focused on acquiring low-cost, low-risk drug programs. For example, VRX seeks out under-managed small firms that have achieved marketability for their drugs, but do not have a sufficiently strong infrastructure to optimize the drugs' profit potentials. In other cases, VRX has targeted biotechs that have attractive drug portfolios and pipelines, but are over-investing in R&D and SG&A.
In general, the company's acquisition strategy has focused on growing its geographic reach into areas with low competition and favorable market dynamics. The Company has made inroads in Mexico and Eastern Europe, for example, and has in certain cases leaned towards drugs with a high proportion of private payors, thus reducing reimbursement risk.
Yet despite its strong management, intelligent growth strategy and verifiable track record of operational execution, the Company struggled during periods of 2011 to convince analysts that its historical strategy would continue to be successful. For instance, the stock dropped sharply with the release of second quarter results on August 4th, 2011, when its U.S. operations fell below analyst expectations. Valeant CEO J. Michael Pearson stated:
"While the organic growth in our U.S. operations faced a number of headwinds this quarter, such as a tough comparison to the second quarter of 2010 when Legacy Biovail product sales were at unusually high levels, coupled with lower than expected results delivered by partnered Legacy Biovail generic products, we still delivered solid pro forma organic growth. We remain confident that our full year pro forma organic growth should be approximately 8 percent due in part to the strong performance from our businesses in Europe, Latin America, Canada and Australia. In addition, we are pleased to report that our cash flow from operations generation was particularly robust this quarter, demonstrating the solid execution of our business strategy."
The market used the lackluster year-over-year comparisons from that one quarter to wonder whether Valeant's model had broken down entirely. Spectators were quick to fret about an apparent slowing of the company's internal growth rate and Valeant's problems with sales in the American market. Some analysts figured that Valeant's organic growth rate would not be able to sustain the 8 percent rate that the company had been targeting for FY '11. These concerns, though valid, were vastly overblown and in no way justified the punishing drop the stock endured, as it fell from 57 all the way to 36. Results from later in 2011 have shown that the CEO's confidence was not misplaced.
And insiders were quick to take advantage of the unusually low price for their company's shares following the market's doubts. Valeant witnessed strong insider buying following the August outlook statement sent shares tumbling. Five different insiders purchased shares of Valeant in the month following the stock's overreaction, led by CEO Michael Pearson, who acquired 155,642 shares at $38.62. This purchase amounted to a more than $6 million vote of confidence in his company.
Looking forward, we think that Valeant will continue to have success increasing its equity value through acquisitive growth. Within the United States, dermatology continues to be a key driver, with sales from the company's Zovirax product increasing 28% in 2011. Its non-U.S. growth continues to be healthy, fueled by the company's notable international acquisitions over the past year. For example, the company's larger acquisitions last year included Australia-based iNova Pharmaceuticals (Australia) Pty Limited in December, Switzerland-based PharmaSwiss S.A. and Lithuania-based Sanitas AB. PharmaSwiss and Sanitas both have strong presences in Eastern Europe.
Essentially, Valeant is a financially driven pharmaceutical company, rather than an innovation-driven pharma company like most of the sector. Management has demonstrated that external M&A can be more rewarding for shareholders than internal R&D, particularly over the short-term given Valeant's ability to strip out costs. Valeant pursues new revenue opportunities via balance sheet investment (cash and debt spending) rather than via internal R&D like traditional pharma. In our view, the merger strategy will remain scalable for a much longer period than analysts are expecting currently. We'd estimate that there are roughly 1,000 small niche companies that make possible acquisition targets within Valeant's target market throughout the world, and as of yet, Valeant has only made 20 acquisitions.
All evidence suggests that Valeant's acquisitions have continued to work. The company has been able to acquire companies that have been able to grow at an average of 10% annually after being taken over by Valeant. This compares favorably to the internal organic growth rate that Valeant strives for - 8% - and has been able to maintain despite the momentary dip during its second quarter last year. The combination has been a win-win for Valeant. It maintains consistent internal growth on a small research budget; CEO Michael Pearson cut the R&D budget 60% when switching to the M&A oriented strategy, and yet the company has been able to continue growing despite the leaner research resources. Meanwhile the acquisitions made at an already attractive 6x earnings continue to grow earnings and cash flow after Valeant acquires them. Valeant is a cash flow generating machine.
Add it all together, and you get a rapidly-growing dynamic company with a great motivated management team. The company has given us a FY '12 estimate of $3.95-$4.20/share in earnings. And this estimate may underestimate the accretive benefits of further acquisitions throughout the year. Based on this conservative figure, the company is selling at a cheap 13x-14x forward earnings multiple.
We estimate that analysts are underestimating forward earnings significantly because they are not fully factoring in more M&A activity. We conservatively project that Valeant will continue to engage in M&A activity at a run rate of roughly $2 billion a year over the next 3 years, adding roughly $2.5 billion in revenue and ~$2.75 a share to earnings at the end of FY '14.
Finally, we'd note that the structure of executive compensation is favorable for shareholders. The management team has been incentivized to focus on delivering sustainable long-term gains rather than operating with a short-term quarter-to-quarter results-based outlook. The majority of shares the management team receives vest over a 4 year period, and those share grants are directly tied to returns that shareholders receive. CEO Michael Pearson must hold his granted shares until 2017, giving him further reason to prioritize long-term shareholders' results. And management has been quick to support its stock. Valeant has engaged in significant share buybacks, and management has personally bought sizable additional stakes in the company during periods of weakness such as what was experienced during last summer.
The future appears bright for Valeant. We anticipate earnings will continue to ramp and believe the company's shares should trade higher as analysts realize the durability of Valeant's M&A strategy. With a highly competent and motivated management team, we expect Valeant to continue executing in the same effective manner that has led shares to quintuple over the past three years.
Disclosure: I am long VRX.