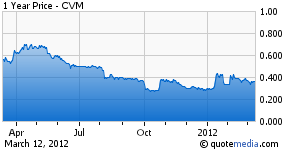 Cel-Sci (NYSEMKT:CVM) is working in conjunction with Teva Pharmaceuticals (NYSE:TEVA) in the development of Multikine, a revolutionary drug for head and neck cancer which is on the verge of the largest head and neck cancer clinical studies even conducted. The study is underway now, with at least 880 participants undergoing the Phase III trials in 48 medical centers located in 9 separate countries.
The current treatment for head and neck cancers is the typical removal surgery followed by radiation and chemotherapy to suppress remaining cancer cells. Multikine uses a completely different mechanism by which it attacks cancerous cells. Instead of orchestrating a direct attack of the abnormal tissue, Multikine attempts to illicit a natural immune system response to rid the body of abnormal cells. Unlike radiation therapy, Multikine would leave a patient's immune system intact after use. Not only could this prove safer, but it adds immense positive weight to the benefit/risk ratio that the FDA will use to justify the drug's approval.
Multikine has been granted orphan drug status in the United States, which guarantees the drug seven years of exclusive marketing rights in the U.S. given full FDA approval. In addition, Cel-Sci seems to believe that Multikine will only need one Phase III trial with strong results for FDA approval, in part because of the severity of the disease.
According to the National Cancer Institute, about $3 billion is spent annually on head and neck cancers. Although the incidence rate and mortality rate of this type of cancer is in steep decline, there is still a significant unmet need for better treatments. Cel-Sci's website claims that half of those diagnosed with head and neck cancers die within just three years. Due to the benefit versus risk system that the FDA uses to judge approvals, investors may buy en masse if the trials prove a reasonable amount of efficacy. This is helped immensely by the danger associated with conventional cancer treatments.
The penetration rate for this drug is estimated by the company to potentially be as high as 66%, meaning that two out of every three head and neck cancer patients might be using Multikine over traditional surgery and radiation therapy. This has recently caused analysts to set the price target for shares of CVM to a whopping $2, over 500% over the current price of the stock. Teva Pharmaceuticals has continued to buy marketing rights for the drug in more countries as the drug shows more promise in clinical trials.
While the full results of the massive Phase III trial being conducted for this drug won't be known yet, there is huge potential in the stock given decent results. Some of the subjects have had their tumors vanish completely in the trial, which is an incredibly encouraging sign. As Teva grows increasingly interested in its stake in this orphan drug Multikine and as the study (potentially) continues to bring solid results, it can be inferred that many new buyers will step in given the heavy undervaluation of the company's stock.
Disclosure: I have no positions in any stocks mentioned, and no plans to initiate any positions within the next 72 hours.