Valuentum's stock-selection methodology, the Valuentum Buying Index, looks at many factors before arriving at a rating, including technicals and our discounted cash-flow model to name a few. This focus on different approaches left us very intrigued by a recent Harvard Business Review article. In the October 2011 issue there was an interview with Michael J. Mauboussin (Chief Investment Strategist at Legg Mason Capital Management) on his views regarding complexity. This is what he had to say:
"If you're an investor and you're only looking at your Bloomberg terminal and reading Forbes and Fortune and the Wall Street Journal, it's unlikely you're going to get a lot of really interesting ideas. You need to read and think more broadly. Great investors most definitely do that already."
Investors and even analysts can become overly focused on one variable or one approach, leading to neutral or even poor results compared with the market. When markets are working efficiently changes in a company's performance or dividend may already be reflected in the stock price. Because of this the well-known, tried and true companies may provide stability and certainty, but they may not provide the most incentive to investors. On the other hand, a small or unknown company may provide all risk and no reward. What is an investor to do?
In this complex and intertwined world, investment ideas come from many sources, and looking outside the box - outside the investment world - is a must. We outline our best ideas in our market-beating monthly Best Ideas Newsletter, and we highlight some of our best ideas below that came from looking beyond traditional news and employing our fresh, unique investment process.
EDAC Tech (NASDAQ:EDAC)
Why it piqued our interest: We first became interested in going long EDAC Tech a number of months ago when we wrote our June 6, 2011, article on Seeking Alpha on some of the best ideas in the commercial aerospace supply chain. We knew the aerospace cycle during the next few years would be robust, and we were surprised to see EDAC Tech trading so cheaply from a valuation standpoint. The company had a huge and growing backlog, and from our experience in the aerospace supply chain, we knew EDAC Tech would experience substantial operating leverage as throughput increased. The company's market cap was roughly $20 million at the time, so it didn't fall on many investors' radar screens. But that didn't stop us from profiting. We highlighted the company as a best idea to our subscribers, and it subsequently more than doubled in price. We still think it has upside, and our fair value for the company is $15 per share.
AMR Corp, the parent of American Airlines
Why it piqued our interest: We first became interested in going short AMR Corp, the parent of American Airlines, a number of months ago when we wrote our May 19, 2011, article on Seeking Alpha on why we thought the company's equity was practically worthless. At the time, many sell-side analysts and independent research shops were still bullish or neutral on the airline space. We were surprised, to say the least. However, our fresh thinking led us to believe that a significant decline in AMR would be in the cards, as its current free cash flow stream was nowhere close to being sufficient to create any value for shareholders over the long haul. Though American Airlines is a firm that many investors have heard of, our process and view on the poor dynamics of the airline industry led us to develop an iron-clad thesis on the firm's valuation. As a result, we highlighted to our subscribers the firm's impending decline, and AMR has subsequently declared bankruptcy from about $7 per share at the time of the printing of the article.
Netflix (NASDAQ:NFLX)
Why it piqued our interest: This is a firm that many, many investors know very well after the well-documented missteps by management. However, before the significant share price fall, we were one of the only firms pounding the table that a massive decline was coming. In fact, we challenged the investment community in our July 2011 article on Seeking Alpha when the shares were trading at about $250 each to arrive at a valuation that was anywhere near Netflix's current share price. Simply put, our research advantage with respect to valuation analysis allowed us to uncover this short-idea gem, as other firms remained enamored with its potential growth prospects. Our differentiated investment process allowed our subscribers to steer clear of this land mine and avoid a massive sell-off that has left Netflix's shares wounded.
Apple (NASDAQ:AAPL)
Why it piqued our interest: Okay, yes, this is a name that probably has found its way into everyone's portfolio at some time or another -- so it is not hidden. But what is hidden is the best entry and exit points in this behemoth of a stock. Our process allowed us to pinpoint a near-term bottom in Apple's share price as we noted in our June 17, 2011, article on Seeking Alpha that the iPad maker was reflecting nothing more than inflation-like expansion beyond years two or three. We thought this was conservative, and our technical-analysis process flashed a bullish signal that prompted us to add the firm to our Best Ideas portfolio. Our subscribers were well-rewarded as Apple has run up to over $530 per share. We still think Apple's valuation has upside, even from these levels.
In the spirit of transparency, we have disclosed the performance of the portfolio of our Best Ideas Newsletter below: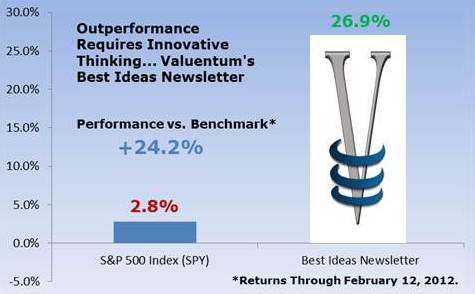 Disclosure: EDAC and AAPL are included in the portfolio of our Best Ideas Newsletter.