With the continued low interest rate environment leading investors to reach down the credit quality spectrum to obtain palatable investment yields, returns on corporate bonds in 2012 have been monotonically related to credit risk.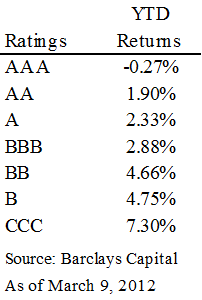 It stands to reason that investors increasingly willing to lend money to highly levered corporations, may be willing to look even further down the capital structure of a company and move beyond its debt to its equity. This article examines the highest dividend payers in the S&P 500 (NYSEARCA:SPY), positing that some investors may prefer owning the residual cash flows of stable corporations as bond prices continue to rise and yields ratchet lower. (All dividend yields are indicated yields, the most recently announced gross dividend annualized based on its frequency and then divided by current share price.)
Frontier Communications (NYSE:FTR) is the fifth largest incumbent local exchange carrier and largest rural local exchange carrier in the united States. The company provides telecommunications services in 27 states, boasting over 5 million access lines and more than 8 million voice and broadband customers. FTR cut its annual dividend from $0.75 per share to $0.40 per share during its recent earnings announcement, but this dividend rate still leaves FTR with the highest yield in the S&P 500. '
Frontier's wireline telephony business is in secular decline as more households transition to wireless only. The company lost nine percent of its access lines in 2010 and another 8.3% in 2011. The high distribution rate to shareholders is a function of limited capital investment opportunities inside the company.
Those seeking a steady stream of income may be better served examining FTR's bonds. The company's Ba2/BB/BB+ rated 8.25% bonds maturing in April 2017 trade in the $107 context to yield 6.6%. While its business prospects are declining, the subscription nature of the revenue stream generates steady and predictable free cash flow. Total leverage is currently around 3.1x on a net basis, and the company's dividend reduction and meaningful free cash flow could see the company achieve its leverage target of 2.5x over the next several years. While investors may be contemplating moving from fixed income to equity to juice their investment yields, FTR is a name where the opposite trade will probably lead to better risk-adjusted returns.
click to enlarge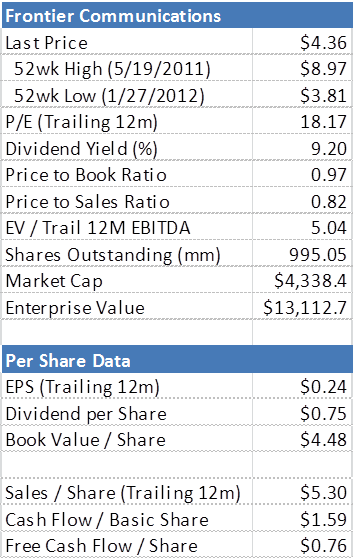 Click to enlarge
Like the aforementioned Frontier, Windstream (NASDAQ:WIN) is a landline telecommunications company that serves as the incumbent local exchange carrier in rural markets in 29 states. Customer attrition has been slightly slower at Little Rock, Arkansas-based Windstream than at Frontier as residential voice access lines have declined at an annualized rate of 4%.
On a revenue basis, the residential segment, which composes roughly two-thirds of access lines, declined at an 8% rate year-over-year, while the business segment declined at a 4% rate. The company's leverage was around 3.7x at year-end, and WIN management targets a 3.2x - 3.4x long-term leverage target. This is a secularly declining business, and probably an inappropriate long-term holding for those seeking a consistent stable cash flow stream.
Despite being lower rated (Ba3/B+/BB-) and operating with slightly higher leverage, WIN bonds trade about 125 basis points through FTR, which has a more front-loaded maturity profile to work through over the next several years.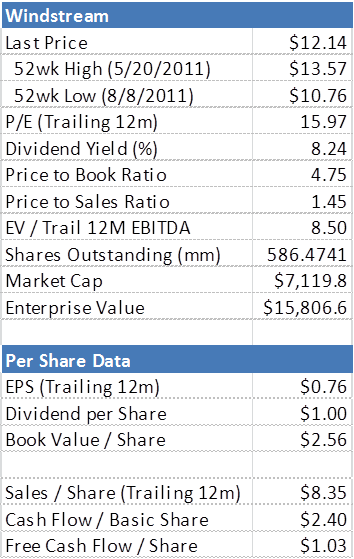 Click to enlarge
One of the original 500 members of S&P's benchmark index, Connecticut-based Pitney Bowes (NYSE:PBI) manufactures hardware and software related to mailing and shipping. With "snail mail" increasingly giving way to electronic mail and transactions, PBI is seeing declining earnings prospects.
At its most recent earnings release, the company cut guidance for revenues and earnings to forecast negative growth. Every business unit showed either flat or negative revenue and margin growth in the reporting period. The dividend now looks to consume upward of two-thirds of analyst projections for 2012 earnings.
At an enterprise value of 6.9x its 2011 EBITDA, PBI is probably overvalued given its declining business prospects, and we will likely see its history of consistent dividend growth snapped in the intermediate term.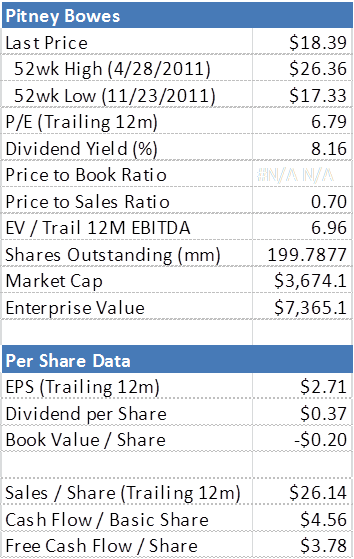 Click to enlarge
R.R. Donnelley (NASDAQ:RRD) is the world's largest commercial printer, another industry undergoing a secular transformation given the digitization of books, newspapers, and other media. The commercial printing industry remains highly fragmented, RRD's market share of non-newspaper printing is roughly four percent. Given the highly fragmented and commoditized nature of the industry, declining volumes could see the weaker players forced out, which could give surviving companies a chance to increase scale and improve market power.
The company has recently reversed course on its capital structure positioning. The company sacrificed its investment grade ratings in mid-2011 with an aggressive share repurchase plan, but took a more cautious tone in its 4Q11 earnings call regarding capital allocation.
The company issued Ba1/BB+/BB+ rated seven year notes at the end of February at 8.25%. Given the asset intensive nature of the business, and management's own uncertainty over capital deployment, whether this is a name to play in equity or bonds is an evolving question.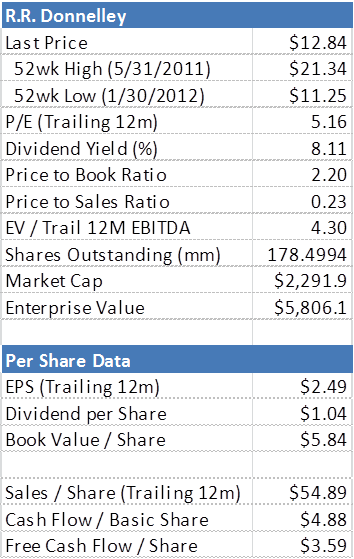 Click to enlarge
Rounding out the top five dividend payers in the S&P 500 is our third telecommunications company. Headquartered in Monroe, Louisiana, Centurylink (NYSE:CTL) offers local exchange data and broadband services to rural and suburban customers throughout the United States. It is the third largest telecom company based on total lines served behind only industry behemoths AT&T (NYSE:T) and Verizon (NYSE:VZ). Centurylink has been busy over the past several years, acquiring Embarq in 2009, Qwest in 2011, and Savvis later that year. With 2012 revenue guidance of around $18bn, CTL is now twice as large as peers WIN and FTR combined. CTL's ability to squeeze synergies out of its recent acquisitions could drive cash flow.
The company issued Baa3/BB/BBB- rated notes on March 5th. The company was able to place $1.4bn of 10 year notes at 5.8% and $650mm of 30 year bonds at 7.66%, which it used to repay borrowings under its credit facilities and tender for high coupon short-term debt at its Embarq box. The company's balance sheet flexibility sets it apart from both WIN and FTR, and in this declining industry where there is a constant tussle between shareholders and lenders regarding capital structure positioning, CTL is likely to outperform its peers.
When the thirty year bond issue was priced last week, I thought about the dim prospects of owning a wireline business for a generation. Despite CTL's relative attractiveness versus FTR or WIN, this is still a tough business to like longer-term.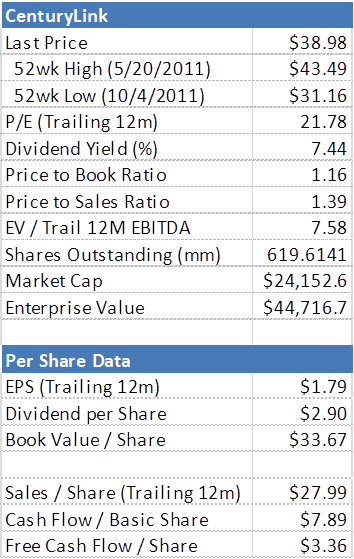 Click to enlarge
If there is an overarching theme for the dividend payers in the 99th percentile amongst S&P 500 constituents, it is secularly declining business trends and revenue and margin erosion. Sometimes a company has a high dividend yield because its organic investment opportunities or prospects for mergers and acquisitions in its industry are dim. That is the case with all five of these companies. While they all have stable, albeit declining cash flow profiles, the high dividend yields are likely going to be a return of investor's capital rather than a return on their capital. The highlighted companies' enterprise value is more largely composed of debt than equity, and these companies will have to walk a fine line between appeasing shareholders and the potential for financial distress if their secular trends are exacerbated by a cyclical shock.
Despite some of its recent stumbles, I would much rather be a long-term holder of AT&T (T), the sixth highest yielding stock in the S&P 500 at 5.65%, than own any of the aforementioned wireline names long-term. In a continued comparison of bond and dividend yields, AT&T thirty-year paper trades at around 150/30 year or 4.7%. The company could issue thirty year debt and use the proceeds to repurchase shares, cutting its distributions to shareholders in the form of dividends by more than the amount of interest it would send out to bondholders.
As investors look beyond traditional fixed income instruments to achieve higher yields, they must be wary of businesses with unsustainable payouts. If the companies are unable or unwilling to re-invest in their own business, then potential investors shouldn't be willing to invest their money in the business either, especially if their goal is to generate consistent, long-term income.
Disclosure: I am long SPY.