"Why should I buy a stock that insiders are dumping at a rapid rate? Is it because I should pretend that I am smarter than them or should I assume that my due diligence is far superior to their board meetings? Let's be realistic."

- Cameron Kaine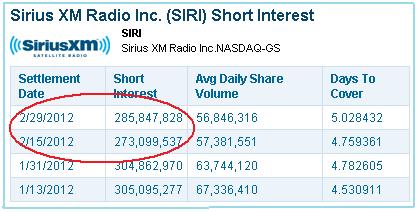 I took a lot of abuse from Sirius XM (NASDAQ:SIRI) shareholders on Monday for disclosing that I am now short the stock at $2.35. I say "abuse" to appease the readers that feel they are having some type of an impact on my psyche. But then again, I also use the term "abuse" to describe sports fans who scream at millionaire athletes who are visiting their arenas and stadiums - so let's keep it in perspective. The fact of the matter is, Sirius XM by its lofty valuation has now become one of the top short candidates on the market. In fact, I will predict that in its next short interest report, investors should expect the number of short interest to re-emerge above 300 million. If that is not the case, I will refrain from discussing Sirius in any article for an entire week.
It is clear that Sirius investors still have not been able to make a distinction between the company and the stock. When I announced that I had sold my position at $2.15, I also then disclosed that at some point when a valuation justifies me to do so, I would consider establishing a short position on the stock. This obviously struck a nerve with many readers as the hate mail overwhelmed my inbox with "the short squeeze is coming." But I feel I need to clarify some things on this point and as it relates to my views and on trading in general.
Myths about Warren Buffett
Warren Buffett once said that "investors should buy companies, not stocks." I feel the need to introduce this quote because there is - and should be - a clear line that distinguishes between the two. And often, if the line is not clear, it results in drastic emotions that cause investors to do and say things that they would not want their own children to do or repeat. Investors have a knack for piling into investments at the top and selling at the bottom. Many get caught up in media hype or fear and buy or sell stocks at the peaks and valleys of the cycle. This makes me think of another Buffett quote where he says, "we simply attempt to be fearful when others are greedy and to be greedy only when others are fearful."
But speaking of Warren Buffett, it seems several investors and authors want to use his name with Sirius XM as if he bought the stock. When did this happen? It is incredible and an embarrassment the manner in which we strive to (without shame) bottom feed off Mr. Buffett's investments to the extent that we reach for the slightest possible derivative. Mr. Buffett bought Liberty Media (NASDAQ:LMCA), not Sirius XM. Ask yourself this, would Warren Buffett buy stocks that insiders are selling? To the extent that we even came up with his cost basis in Sirius? I found it also interesting that readers did not address such gibberish as "misleading." Let's stop pretending that he is pitching a product that clearly he has no interest in. When you buy a hamburger, do you then go and make the claim that you bought some lettuce for lunch - though lettuce may have been included? His purchase of Liberty was a purchase of Liberty, nothing else.
Investors need to understand that the due diligence process involves more than reading headlines. When I announced that I was short SIRI's valuation, some readers mentioned that they "didn't have the courage to do it" or they were "afraid that the stock might take off." I think that speaks to how strong information is. Without it, there is often fear of the unknown. Warren Buffett summed it up best when he simply said "fear comes from investors not knowing what they are doing." Also, investors need to ask the very important question: If a company is sound, why would investors take short positions?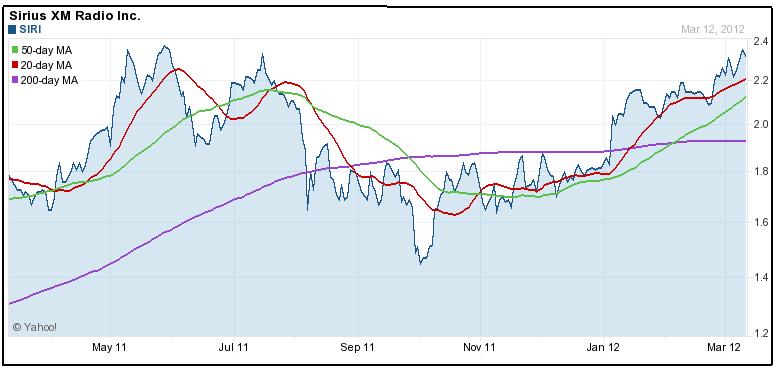 Take a look at the graphic above and you will see what the stock has done since the last week of February - rising above several key moving averages. I asked the question: What was in the company's earnings report that justified the current run in the stock? Nobody could answer that. The disappointing numbers were one thing, but the real disappointment was guidance where the company only projects 1.3 million net subscriber additions for 2012 versus consensus estimates of 1.5 million - keeping with its conservative M.O. of under-projecting to over deliver.
Add to the fact that its share price has established a 7.42% distance from its 20-day moving average, 10% from its 50-day and 20% from its 200-day. Nobody thought this was abnormal? I certainly did, and it was at that point I decided to short the stock.
Summary
Valuations and fundamental metrics are things that are often considered "un-important" by investors of stocks that have reached cult status. As Sirius' fundamentals continue to improve, so will its stock price. However, as Sirius maintains its cult status while having some of its fans who chose to disregard fundamentals, Sirius will be a prime target for shorts. Because shorts continue to bet that of the 60% retail that holds Sirius' stock, if even half of that group are buying without regard to fundamentals, the assumption is they also may not have the wisdom to see what's in front of them.
Disclosure: I am short SIRI.