You know things are not going to go well for your "coffee" company when you have to team up with a competitor of sorts in order to increase revenues and garner business from customers you could otherwise never obtain. It hurts just a bit more when not 6 months back a renowned hedge fund manager declares your stock as his favorite short-sell candidate and creates a 110 slide presentation, with mocking title, on all the reasons why your company does not deserve its rich valuation.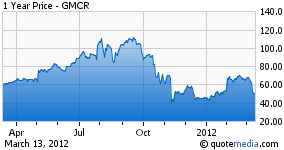 If all this wasn't enough to give Lawrence Blanford, CEO of Green Mountain Coffee Roasters (NASDAQ:GMCR), a stomach ache, things only got worse over the past two weeks. First, in late February, two directors and the chairman of the board unloaded what was the equivalent to $38 million worth of GMCR stock. To add greater insult, the "other" coffee company, who happens to be Starbucks (NASDAQ:SBUX), came out and announced that they would be releasing their own single serve coffee maker.
GMCR executives have come out and said that the Starbucks single serve coffee maker won't compete entirely with GMCR's Keurig machine because it focuses on Lattes. This is a sheepish attempt to hide the fear that every GMCR executive has at the moment. The company's K-Cup patent is running out and competitors are already lining up to eat the "technology" side of their business. Dunking Donuts and Starbucks each agreed to deals with GMCR to have their coffee packaged in K-Cups. While it is obvious to see that Dunkin' Donuts (NASDAQ:DNKN) won't be making the move into home brewing, GMCR has already allowed Starbucks to do some "risk free" field testing to see if they should move into the segment.
Even after a 50% drop in share price from when David Einhorn released GMCR as his favorite short, the stock remains a strong sell in my humble and honest opinion. Looking at future earnings, analysts anticipate the company growing earnings at a rate of 32% over the next 5 years. This rate does not include any loss of revenues due to increased competition from the newly announced Starbucks Verismo. That being said, and keeping in mind the company will be facing an expiring patent in September of this year, I believe the company will see a significant drop off in sales. Wholesale clubs and small retailers alike are going to decrease GMCR's sales as well as force lower price margins upon the company by flooding the market with cheaper K-cup knock-offs. For this reason, I will leave the 2012 revenue growth at the analyst consensus of 80%, and I'll even be so generous as to have their 2013 revenues to grow at the analysts 32% consensus, but after that I won't be giving the company any more luxuries as I believe they will not be able to maintain such robust growth in an increasingly competitive market. By 2014, I believe they'll see revenue growth diminish to approximately 15% and slowly deteriorate to 10% thereafter. To properly discount the company's future earnings, I'll use an industry average for the weighted cost of capital which happens to be approximately 8%.
When it is everything is said and done, GMCR's estimated Fair Value comes to about $44/share, which translates to a 16% drop from the current valuation. Even at this $44/share price target, the company still seems to be highly valued, with a book value of $13.11/share. And with only $0.54/share in cash on hand the company couldn't even offer it's investors a sustainable dividend if it wanted too! As far as I can see, there is zero incentive to invest with GMCR. Pardon the pun, but I believe GMCR is roasted!
Disclosure: I have no positions in any stocks mentioned, but may initiate a long position in GMCR over the next 72 hours.