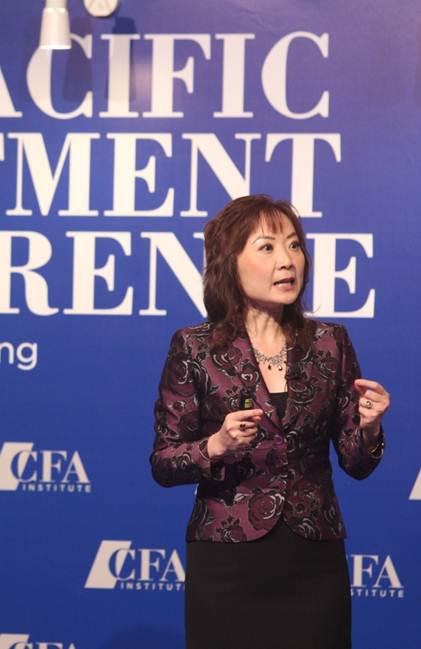 By Samuel Lum, CFA
Jing Ulrich, J.P. Morgan's managing director and chairman of global markets for China, began her presentation at the CFA Institute Asia Pacific Investment Conference last week by surveying the audience's opinion on whether they believed China's economy would suffer a "hard landing." Only a few hands went up. Ulrich said she asked the same question of another audience of some 800 people from across the United States the previous week. Only a single hand went up. These results stand in sharp contrast to sentiment from just three months ago, Ulrich said, when about a third of her audiences were expecting a hard landing. The view on China's macro picture has changed, she said.
China is itself in the midst of transition. On the political front, Vice President Xi Jinping and Vice Premier Li Keqiang are preparing to take over as China's top leaders later this year. With regard to social reform, new measures to improve education, housing, and quality of life, among other priorities, are being implemented and more are being planned. At the same time, the Chinese economy has already begun rebalancing toward a higher consumption share of gross domestic product (GDP), with much of the growth coming from internal consumer demand rather than exports and fixed asset investments. As Ulrich noted, Premier Wen Jiabao just announced a lower GDP growth target of 7.5% for 2012 at the current National People's Congress, as China moves into a new era of slower and rebalanced growth that is in line with the 7% average growth target over the period covered by China's 12th Five Year Plan (of which this KPMG report offers a helpful overview).
Against this backdrop, Ulrich expects the Chinese central government to focus on six policy initiatives in 2012 that are likely to be the defining drivers of market, industry, and corporate performance in China. They are:
monetary easing
income growth (especially for lower-income segments)
support for small and medium-sized enterprises (SMEs)
tax reform
special support for strategic areas of the economy
consumption incentives
Monetary Easing
Ulrich told delegates that loan growth remained substantial in 2011, although it has reverted back to a historical norm of around 15% — well below the peak level of 35% in 2009. Meanwhile, the reserve requirement ratio (RRR) has been trending up since 2006, when it was at the 8% level, and peaked in early 2011 at around 21% for large banks and 19% for small- and medium-sized banks. The first RRR cut has recently taken place, and in 2012 Ulrich expects three more 0.5% cuts in the RRR — and there is ample scope for more cuts if necessary, she said. Each 0.5% cut is expected to inject RMB 500 billion into the banking system.
Still, current lending growth in China is focused mainly on policy-targeted sectors such as affordable housing, SMEs, service industries, priority projects identified in the 12th Five Year Plan, and strategic industries. Policy will remain tight overall for property developers and heavy industrials with overcapacity, Ulrich said.
Targeted Tax Reform
Ulrich laid out the following five key tax policy changes that she anticipates this year:
Consumption tax reduction. The tax is currently levied across some 5,000 goods in China, and the policy change will include cutting consumption tax for some luxury items that are commonly being bought offshore where there is little or no tax — an effort aimed at repatriating the spending.
Transitioning business tax to value-added tax (VAT). Last month, the pilot program to replace the business tax with a VAT was implemented in Shanghai, benefiting logistics, transportation, and the service industries. This is being rolled out to other major cities.
Broadening the resource tax. China will expand the resource tax levy across all provinces, not just the 12 resource-rich provinces, and the tax payments will go directly to local governments. This will provide the much-needed boost to the finances of local governments and makes them less reliant on land sales for revenues. The policy will also help reduce distortion of property markets, speculation, and corruption.
Broadening property taxes. The pilot program for charging recurring annual property taxes, introduced in 2011 in Shanghai and Chongqing, may be extended to more than 30 additional cities. This increases holding costs and helps curb speculative behavior.
Levying an environmental tax. This will be applicable to heavily polluting industries, in line with a major theme in the 12th Five Year Plan.
Policy-driven Strategic Sectors
For investors, Ulrich said, it is particularly important to study the 12th Five Year Plan and other political developments, and monitor closely the sectors that have been explicitly singled out for support and development. These sectors include:
energy conservation and environmental protection
new generation information technology
biotechnology
high-end equipment manufacturing
new energy
new materials
clean energy vehicles
Property Markets
China's property markets have garnered plenty of attention, including at the conference. Ulrich indicated that statistics are showing that the correction in property prices slowed in recent quarters after the market dropped sharply in the first half of 2010. On the ground, however, she reported that many cities are still experiencing 20% to 30% year-over-year drops, as inventory levels are still extremely high — as much as 14 months of supply in some areas. She expects that prices and volumes will remain soft until the second half of 2012.
Nevertheless, the worst is over, Ulrich contended, as government restrictions are selectively being lifted but remain firm to protect against speculative activities. Property developers focusing on affordable housing and ordinary housing with low-cost land banks may do better than what investors in general might expect. The outlook for construction companies and luxury housing developers will remain poor, she predicted, given the large inventory overhang and policies that tend to favor lower-end housing going forward.
Capital Markets Reforms
The reform of China's capital markets continues apace. Ulrich told delegates that policymakers' focus will be on four key areas, as follows:
Regulators are implementing measures to favor secondary market investors instead of overly promoting primary market issuance.
Regulators are also mandating minimum dividend payouts on corporates, thus giving investors more stable long-term returns.
The approval of the Qualified Foreign Institutional Investors (QFII) quota will be processed at a faster rate to allow for more foreign institutional participation in China'a A-share market, which is still 60% to 70% down from its all-time high. (Ulrich contended that the A-share market will likely perform better, though bearish sentiment will not completely dissipate in the near future.)
The Road Ahead
Ulrich concluded her presentation by outlining China's key policy objectives for 2012:
Achieving a soft landing for the economy
Continuing to be prudent in guarding against inflation
Structuring the overall economy to produce a more sustainable growth trajectory
She also left the audience to ponder two black swan events that could cause major problems for China's economy and dramatically impact the investing landscape: large-scale social unrest and a possible breakup of the euro. However, Ulrich emphasized that in her view both developments are highly unlikely.