When the going gets tough, the tough go shopping. But not just anywhere. They go shopping at places like the Ross Dress for Less outlets of Ross Stores Inc (NASDAQ:ROST), where they can buy designer label merchandise at prices up to 60% lower than those charged by stores such as Macy's (NYSE:M), Saks (NYSE:SKS), Bloomingdales , Sears (NASDAQ:SHLD) and privately-held Nieman Marcus. Ross Stores claims to operate the largest off-price apparel and home fashion chain in the U.S., at 1,037 locations in 29 states, the District of Columbia and Guam. The company buys high-quality close-out inventory resulting from overproduction, miscalculations, errors of judgment, cancelled orders and liquidations, in large quantities at rock-bottom prices. Their efficient distribution system, no-frills stores and generally lean cost structure allow them to pass on most of these savings to the consumer.
There is a concentration of Ross Dress for Less stores in California, Texas and Florida, but none in New England, New York and most of the Midwest. This is a deliberate strategy: locations are chosen to be visible and accessible in areas with a high concentration of middle-income households, but the Midwest is now in the company's sights with twelve Chicago stores that opened in October 2011. It's a simple enough concept, and Ross Stores has spent more than fifty years perfecting it. The company has the whole spectrum of the market covered, with an additional 88 dd's Discounts (that's dd for deep discounts of up to 70%) neighborhood stores which undercut the likes of Wal-Mart (NYSE:WMT), Target (NYSE:TGT) and Kmart . The company sees a long-term potential for 500 dd's Discounts stores nationwide.
Ross Stores' buyers based in New York and Los Angeles maintain close relationships with name brand designers and manufacturers worldwide in order to negotiate advantageous buying opportunities as soon as they appear. The products available in Ross Stores are current season, first-quality, constantly renewed, high turnover apparel and home-ware items. It seems counter-intuitive that a business whose turnover is dependent on consumers' discretionary spending should thrive during a period of economic downturn. Yet Ross Stores has attracted shrewd shoppers in the good times and gained new customers in the lean years, clients prepared to forgo glitzy service but not life's other luxuries, making them willing to spend a little more time on a self-service designer label bargain hunt. The company cites market research by NPD Group, demonstrating that national apparel sales from all retailers recorded a 5% decrease in 2009 and a minor increase of 2% in 2010. In contrast, the total sales of the top five US off-price retailers grew by 7% in 2009, followed by a further 8% in 2010.
Ross Stores sales in the past five years support the total off-price retailer statistics. They have grown each year, from $6 billion in 2006 to a forecast $8.6 billion for 2011, a compound annual growth rate of nearly 11%. In fiscal 2011 ladies apparel accounted for 29% of sales, with household items adding a further 25%. The balance of sales shows a fairly even mix of menswear, children's clothing, shoes and accessories. Rather than having a one size fits all merchandising policy, the company takes a local approach to make sure it has the most suitable products in each store. Extensive TV advertising is used to reach the 75-80% female customer demographic. Higher gross margin and continued focus on reducing operating costs are expected to deliver EPS of at least $2.85 for fiscal 2011, which ended on January 28 2012 . This represents a 23% increase on 2010. The company's guidance for fiscal 2012 forecasts 7-8% sales growth, 80 new stores, and EPS at least 23% higher, in the range $3.12 to $3.27. (This is a figure quoted for comparison purposes, since it will be halved by a December 2011 2-for-1 stock split.) February 2012 Investor Presentation (pdf)
These results have been achieved in spite of the risks presented by the pressure on consumer spending exercised by the financial downturn, a threat which Ross Stores appears to have leveraged into an opportunity. Other risk factors faced by the company include the usual hazards presented by fluctuating energy and commodity costs, extreme weather conditions, supply chain disruptions and most of all the fickle tastes of consumers. Joining Ross Stores in facing these challenges are their direct off-price competitors TJ Maxx and Marshall's - both owned by TJX Companies (NYSE:TJX) - as well as Big Lots (NYSE:BIG) and Stein Mart (NASDAQ:SMRT).
During the Q3 2011 earnings call Michael Balmuth, Ross Stores' vice chairman and CEO, highlighted the improvements made in inventory shortage control, a standard problem faced by retailers when they compare physical with book inventory and realize the extent of theft or recording errors. Shortage control initiatives as well as smaller store inventories have contributed to the company's recent gross margin growth, but CFO John Call commented on the tougher pricing outlook which will exert downward pressure. During the Q&A session, COO Michael Sullivan said that expansion into the Midwest would be measured rather than aggressive, and that the company was keeping a close eye on the potential for e-commerce but had no immediate plans to diversify into that area.
An apparent change in consumer behavior towards more value-focused shopping is allowing Ross Stores to add new customers to its already wide base of middle-income, brand-aware shoppers. The departure of other retailers who have gone out of business, and the closure of some other full-price retail stores, have delivered increased market share to Ross Stores. The company has confidence in its strategies of unhurried expansion into new states and careful consideration before committing to e-commerce.
Ross's stock price has gone ballistic over the last eight months as shown below: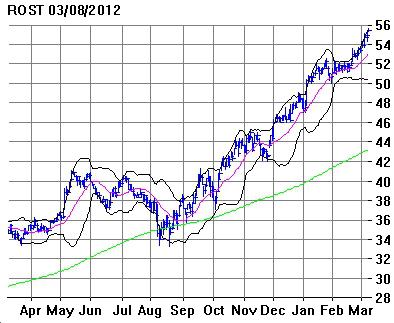 So, what goes up and never comes down? Nothing, when it comes to stocks, and with Ross's ramping stock price, the company's stock is due for a hit. With Ross's upcoming earnings conference call on Thursday, March 15, 2012, an investor in Ross might consider protecting the position, just in case the company releases bad news.
A position to consider for Ross is a protective covered call or collar. A protective covered call may be entered by selling a call option and using the proceeds from selling the call option to purchase a protective put option.
Using PowerOptions tools, a protective covered call position was found with a potential return of 2.1% (11.3% annualized) and a maximum potential loss of 9.6% as shown below:
The specific call option to sell is the 2012 May 57.5 at $1.70 and the put option to purchase is the 2012 May 50 at $0.55. A profit/loss graph for one contract of the position is shown below: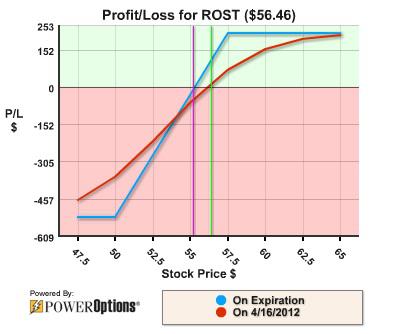 As a bonus, if the price of the stock is grater than the $57.5 call option strike price at option expiration in May, the position will return 4% (21.5% annualized). Additionally, if the price of the stock increases to around $60, an investor may have the option of rolling the position in order to generate additional potential income.
Disclosure: I have no positions in any stocks mentioned, and no plans to initiate any positions within the next 72 hours.